May was my best ever month for blogging income! May is always a great month for affiliate income because the temperatures start to rise and people are more likely to refresh their wardrobe or furniture choices during the warmer seasons.
New here? Read my first income report to learn about the blog I started to begin earning money online!
I am super happy with how May turned out, and I accomplished one of my long time goals: getting a second site set up with Mediavine ads! So let's jump into my May blogging income.
Income
| Source | Income |
| --- | --- |
| AdSense | $162.68 |
| Mediavine Decor | $579.29 |
| Mediavine Travel | $67.62 |
| RewardStyle | $2,361.04 |
| ShopStyle | $1,065.87 |
| Amazon | $183.32 |
| Bluehost | $100.00 |
| Skimlinks | $5.81 |
| Shareasale | $0.46 |
| Viglink | $6.00 |
| Total | $4,532.09 |
Ads on My Travel Blog
I finally launched Mediavine ads on my travel blog during May! I wanted to wait until I hit 25,000 sessions to get Medavine installed, but it has just taken me way longer than I had hoped, so I figured I should just go for it sooner.
My travel blog is more of a passion project. All the photography is taken by me personally. I don't use stock images, not even for pins. So while I'm a decent photographer, I don't think my images were unique or attention grabbing enough to get a decent amount of traffic from Pinterest. I also write about individual cafés and restaurants in the places I travel, which obviously result in far lower traffic.
I have been reaching 20,000 pageviews for the last month or so, which means I'm going to earn a nice chunk of advertising revenue, though not as much as my home decor blog.
Here's an overview of the traffic for this blog. As you can see, I've been working on it for a really long time, but didn't really put much effort into getting traffic until January of 2018 when I started writing posts that I knew would do well on Pinterest.

Even so, it took me a really long time to grow the traffic for this blog from Pinterest. It's also very image-heavy so I didn't put much focus into SEO at all. At least now I'm finally making some progress and can profit from the high traffic summer months ahead! The last bar to the far right is May 2019 when I finally broke 25,000 pageviews!
My only concern is that the RPM on this blog is still quite low, around half of my home decor blog's. I'm not sure if it's because a good chunk of the viewers are from outside the USA, or if it's just because the blog is new to Mediavine, but if the RPM doesn't rise in another month or so, I will probably reach out to Mediavine to get some insight here.
Income Notes
I'm not sure if I should report the Mediavine income as one sum (two blogs) or keep them separate. For now, I'll report them separately.
Also a quick note about ShopStyle: that is the reported figure I have in my account, but I'm positive I will receive considerably less than that. Since returns are so common in the fashion industry, I'm expecting a payout rate of beyond 50%. Since I'm still new to the network, I'll need to analyze over time what my payout tends to be monthly and will probably adjust the amount I report accordingly.
With RewardStyle, for example, my return rate can range from 10–20%, so I don't lose too much income to returns. With fashion I'm assuming it's going to be much higher though! (FYI I use RewardStyle on my home decor blog and ShopStyle on my fashion blog to keep the income separate, even though both networks serve both niches).
Expenses
My blogging expenses to date are:
Blog Posts: Quality vs. Quantity
Within the blogging Facebook groups I'm a part of, there is quite a lot of discussion around whether it's better to write long-form articles less often, or publish short posts more frequently.
Obviously the ideal situation is to publish long-form articles every day, but since most bloggers work independently this just isn't realistic!
I did a little experiment on my home decor blog beginning in mid-to late April where I posted one short-form post every day. I did this all throughout May and as you can see, it really paid off income-wise!
I scheduled my pins so that there was one new URL (meaning one new post) coming from my domain every day on Pinterest. While my traffic didn't grow intensely from April to May, I definitely got a nice bump in pageviews. It was my best traffic month since January! So that's a plus.
Traffic
Here's an overview of that traffic. I do think it will take some time for me to see the results of the articles I published in May.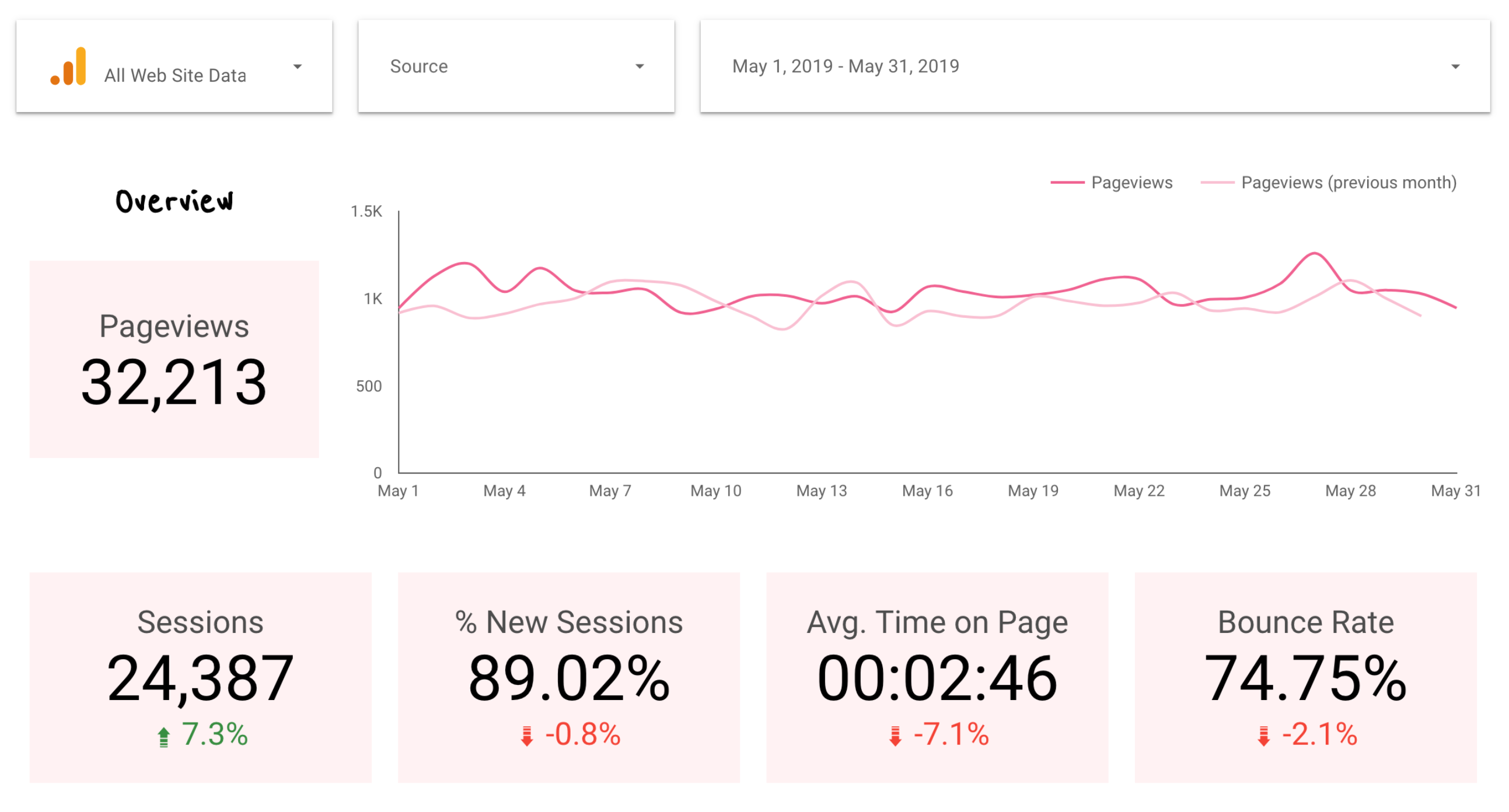 Sessions were up 7% from the previous month so that's a plus. Time spent on my site was way down though, probably as a result of the short form articles!
Plans for Next Month
You may have heard that there was another Google algorithm update at the end of May/beginning of June. Personally, I haven't seen a huge drop or increase in my Google traffic, but I'm going to be keeping an eye on this throughout the month of June. My traffic has generally been up as people are buying things and making travel plans during the warmer months. So there's also that factor to consider.
How was your May blogging income?