About two years ago, I decided to refinance my student loans with Earnest, a technology-first lender based out of San Francisco. Here's my story of the application process, paying off my loans and my experience negotiating a lower interest rate.
Is Student Loan Refinancing Smart For You?
I did a ton of research before making the decision to refinance my student loan. Refinancing isn't for everyone, but it's definitely something you should consider if you have student loan debt. Personally, I had two goals in mind when I decided to refinance: lower my interest rate and consolidate my loans.
I was paying both federal and private loans when I decided to refinance, at various rates between 3 and 8%. I would say the majority of the loans had a 5-7% interest rate. First I applied with SoFi, another student loan refinancing company that advertises a ton. I was denied by their team, so I applied with Earnest.
Earnest Application Process
The Earnest application process is really straightforward. Earnest requires applicants to hold a college degree from a Title IV-accredited school and reside in one of the states they serve. Earnest currently serves Washington DC and all US states except: Alabama, Delaware, Kentucky, Mississippi, Nevada, and Rhode Island.
You must have either a job or a work contract that will begin in the next six months. 660 is the minimum credit score and $5,000 is the minimum required to submit an application.
Earnest will take a look at your financial history during the application process. They want to see that you earn more than you spend, that you don't miss payments and are generally in good standing with all your accounts.
When I applied, I had to submit information pertaining to all my financial accounts, in addition to proving my income and stating my monthly rent amount. At the time I applied I was living in New York City on a $50,000 salary with $1200 rental dues.
I was seeking to refinance $46,000 worth of loans I had accrued from tuition at a private art & design school. Earnest gives you a chance to submit a figure that you are comfortable paying monthly and partially bases your interest rate on this number, so aim high! At the time I was paying a total of $400 to two different lenders (the government and Chase). I was serious about aggressively paying off my loans, so I opted to choose $500 for this amount.
Terms of My Student Loan with Earnest
My loan application was approved within just a few weeks. I applied on September 6, my loan went into "review" on September 15, and I received a notification that it was approved on September 23!
I was nervous that my non-Ivy league degree and lowish salary would put me in a tough spot to get approved for a refinance at a favorable rate but I was so wrong!
Earnest gives you the option to choose between a Variable APR (changes each month based on the LIBOR rate which is essentially a "benchmark" rate used by many banks) and a Fixed APR (doesn't change but is usually high). I oped for the Variable APR because it was considerably lower – just 3.81%!
Earnest explained that the rate could fluctuate no less than once a month, yet it will never exceed 8.95% APR. I am also allowed to change my loan to a fixed rate after making six months of consecutive on-time payments. On the low end, my payments would be $500 monthly, but on the high end, they could be up to $622 monthly. This was written very clearly on the offer in easy to understand terms.
My loan offer letter was really clear about the long-term costs of my loan as well. In total, I would be paying almost $9,000 of interest over the course of my term, for a total of nearly $56,000 as long as the interest rate didn't change.
Earnest additionally offers a .25% discount if you add a debit card to your account and allow them to auto-deduct your monthly loan payments. (Heck yes!)
What really sold me on refinancing with Earnest is that there are very few fees involved in this loan. There's no fee to sign the loan. There's no "late fee" if you forget to make a payment. Lastly, if you win the lottery and want to pay off your loan at once, there is no fee to do that either! Earnest understands that people are human and mistakes can happen. Everyone falls on hard times at some point or another so why should your credit take a beating?
My Experience So Far With Earnest
I am so happy I accepted Earnest's offer to refinance my student loans.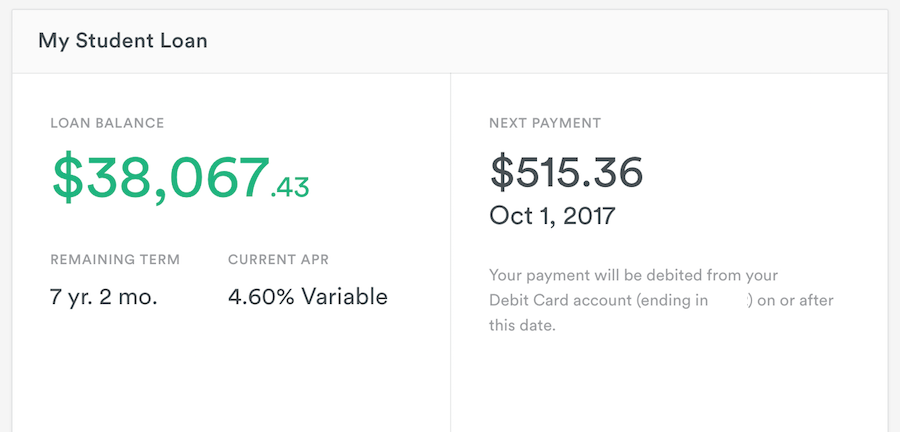 Making my student loan payments with Earnest has been completely painless! Their web interface is extremely user-friendly and their customer support team is always helpful when I call. I love making one payment each month that I don't have to worry about because it's auto-debited from my account. I was even able to change the payment date to the 1st of the month, the day after I receive my paycheck.
A couple of times I've wanted to pay more than my monthly required payment. However, I was concerned that this additional money would go to "future" interest, as it has in the past when I've done this. With Earnest, this isn't the case as you can see below. My last three payments had a minimum of around $515 and even though I increased the amount for the last two payments, the bulk of that money went towards my principal balance.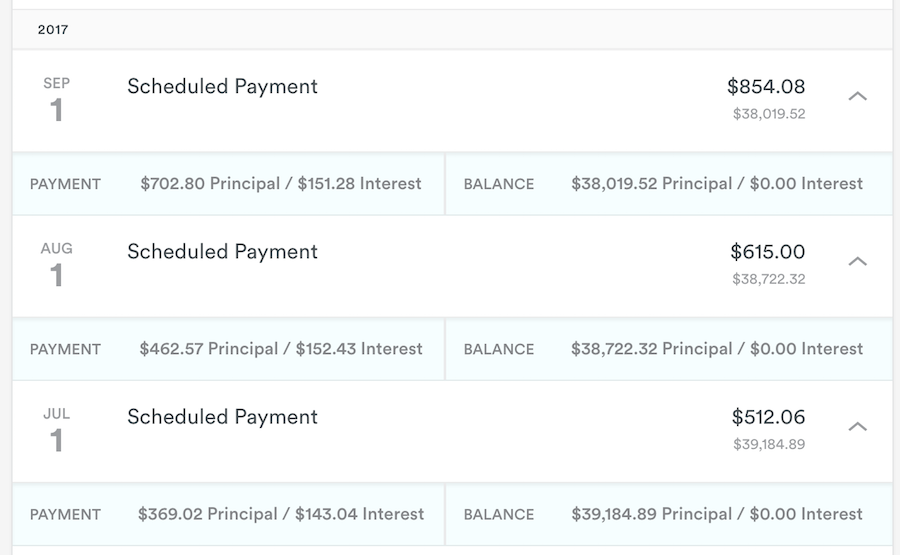 You can make an extra payment to Earnest at any time during the month very easily on the website (Put your bonus to good use!). Earnest gives you a choice to change your autopay amount for one single upcoming payment or for all future payments:

On the flip side, if you need some extra spending money, you can actually skip one month's payment entirely as long as you contact Earnest five days ahead of time.
A Second Refinance With Earnest
My variable interest rate remained steady for the first year or so after refinancing with Earnest. More recently, I noticed it started to go up by a little each month. Nothing major but I know enough about finance that small changes in interest rates can have drastic consequences long-term. My monthly required payment went from $500 to $515 most recently, and my variable rate has increased to 4.6%.
After thinking about it for a few months, I recently decided to re-apply for a loan with Earnest and hopefully negotiate a lower rate, closer to what I received when I first applied. My income had increased by nearly 50% due to a new job I had since over a year and since I'm a natural saver, my savings had gone up considerably. I actually amassed more money than the loan was worth! I assumed these would help me get a lower rate than when I previously applied with a more modest income.
But they didn't.
The rate Earnest offered me was a Variable APR of 5.5%, almost a full percentage point more than my current rate! This was a big let down so I sent a support request to their team.
The response I got was:
Thank you for the note. Unfortunately, we're not always able to improve upon someone's current repayment plan including the rates offered. While we've given you credit for the increased income and savings as well as your overall financial profile, market rates including both fixed and variable rates, have increased significantly since you last signed your loan offer. We sincerely apologize for the inconvenience!
If you have any other questions or concerns please let us know.
Kind regards,
Aldren
That was a bummer, but overall my rate is still much lower than it would be had I stuck with my private and federal loans. This means I'm saving a ton on interest in the long run by refinancing with Earnest. I absolutely recommend Earnest if you're looking to refinance your student loans. You can apply for a refinance with Earnest today right here!