If you're a woman ready to start a blog, then bravo! You're taking the first step towards female entrepreneurship and financial freedom. Blogging is something that has not only changed my life, but countless others' as well. Nowadays, you can start a blog on nearly any subject and find a way to make it profitable. While blogging used to be dominated by men, today many women are finding success as bloggers. Subjects like fashion, beauty and nutrition and health for women are all now very popular topics to create a blog around.
Finding a Topic
The best idea for a blog is the one you are most passionate about. When it comes to blogging, you'll never succeed unless you write and post consistently, and it's easiest to keep a steady writing flow about a topic you are passionate for.
Narrow it Down
Because blogging is so popular nowadays, you'll want to find a way to stand out from the crowd. It's very difficult to start a successful fashion blog, for example, but if you start a blog about sustainable fashion, or clothing designed and made locally in New York, then you're much more likely to find success, due to lower competition around these topics. Ideally you want to establish yourself as the "expert" in this field, but don't worry if you're not – many people love reading about the journey to expertise in a certain subject!
Start Writing
I recommend writing the first 10 articles of your blog before you even set up your site. This is good for a few reasons. 1. You can see just how passionate you are about a topic, and how much you really have to say. 2. It will help you come up with names for your blog. 3. You will realize if there are any other topics you want to cover that you may not have thought of originally, and it may shift the direction of your blog.
Choose a Name
Once you've written the first few articles of your blog, you'll need to chose a brand name. Maybe you even thought of one as you were writing your articles! Whatever you choose, the name should be short, catchy, and easily memorable. Be sure to verify your name is available as a domain before settling on it. If you're stuck on choosing a name, then read about my own process for choosing a blog name!
Purchase Your Domain
If you're serious about blogging, then a custom domain name is a must. I always purchase my domains on Namecheap because they have coupons every month, and their prices are unbeatable!
Purchase Your Hosting
While it's entirely possible to run a blog with a custom domain using Blogger, I highly recommend against it if you are serious about creating a profitable blog. You may get by in the first few months, but after your blog takes off you'll wish you had set up a self-hosted blog in the first place.
Hosting really isn't that expensive. It can be as cheap as $3 per month! That being said, you want to choose a host that is reliable and helpful. I recommend hosting with Siteground if you're looking to host one site only ($4 per month), and A2 Hosting if you're hosting more than one site ($5 per month). Avoid hosting your site with GoDaddy or Bluehost at all costs! The headaches you will face are simply not worth it.
Install WordPress
WordPress is the golden standard when it comes to blogging. In fact, it currently powers around a third of the entire web! Although Squarespace has gained popularity in creative fields, its capabilities still pale in comparison to WordPress. I highly recommend WordPress due to their numerous integrations and advanced features. Plus, it's totally free to use! Depending on your host, you can most likely log in to your admin panel and have WordPress installed for you automatically. Click here to learn how to install it the easy way.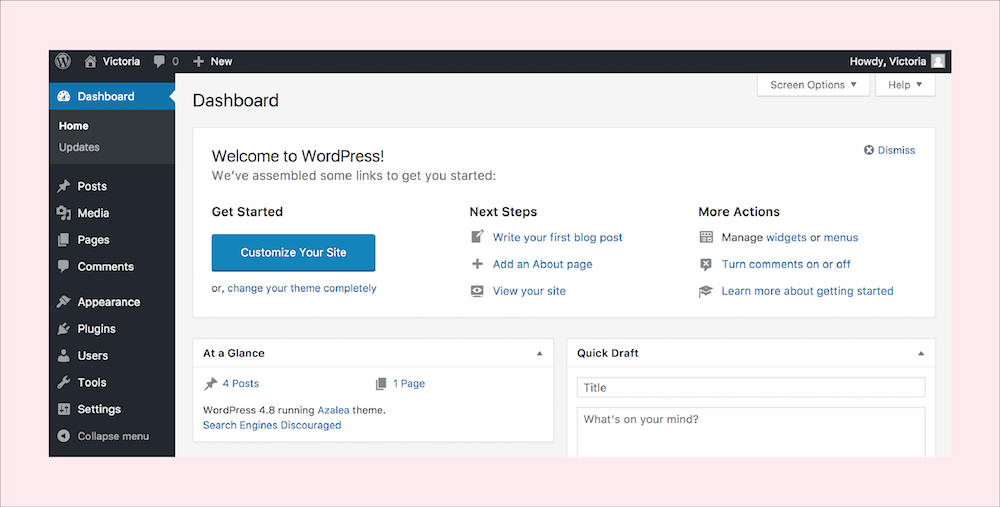 Choose A Theme
There are several great themes you can get for free like Olsen and Azalea. Check out more beautiful free themes in this post. If you're open to purchasing a theme, I recommend looking through Creative Market and Etsy!
Start Posting
Once your theme is installed, start creating your posts! You can do this by clicking the "+New" button on the top navigation bar, or from the admin panel, you can mouse over "Posts" and then select "Add New." What's great about WordPress is that you can schedule posts in advance, so feel free to set up and format all your articles and watch them post automatically when you choose!
Go through the Newbie Blogger's Checklist
Now that your blog is set up and ready to go, head over to my newbie blogger's checklist to sign-up for social media accounts and services that will ensure your online presence is complete.
Develop a Monetization Strategy
There are endless ways to monetize your blog. Depending on your audience, you'll need to figure out the best way for you to make money. The easiest way to start making money is using display ads. Google's AdSense program is an easy way for new bloggers who want to put ads on their site and start earning some money.
Next, you'll want to start thinking about Affiliate Marketing, where you link to products and earn a commission when one of your readers makes a purchase. You can read more about affiliate marketing in this introductory post, and learn which networks to join in this one.
Optimize
Over time, you'll need to optimize your strategy and adjust it. You may want to think about investing in traffic generating tools like Tailwind and Boardbooster.
I hope this post has been helpful to anyone who wants to start a profitable blog. Making money from your blog may seem like a dream, but trust me it's not! Just take a look at my Income Reports for proof. That being said, making money blogging takes a lot of hard work and dedication. It won't come easy, but it will be worth it!