If you're ready to start a home decor blog, then bravo! You're taking the first step towards entrepreneurship and financial freedom. Blogging has not only changed my life but countless others as well.
Blogging about home decor, interior design, and furniture has become extremely popular ever since Joanna Gaines shot to fame with her hit TV series Fixer Upper. There are lots of home decor bloggers looking to share their Farmhouse homes online and give advice on how to style different rooms of your home.
While the Farmhouse style is immensely popular, it's also quite saturated, so you may want to consider another home decor niche if you're interested in sharing your home on a blog. Then again, if you're truly passionate about a particular home decorative style, then just go for it! You'll just have to find a way to make your blog unique.
Now, is home decor blogging a get-rich-quick scheme? Absolutely not! Interior design blogging can be extremely profitable in the long run, but make no mistake: it takes a lot of up-front effort to see a return on your investment.
I earn a full-time living with home decor blogging (check out my 2021 income), soo I'm in a unique position to share exactly how I grew my small blog into a profitable business.
Here is how to start a profitable home decor blog today.
PS. If you aren't sure you want to start a decorating blog, then head over to my How to Start a Blog guide to read about starting a blog when you aren't sure of what your topic will be!
Find a Home Decor Blogging Topic
The best idea for a home decorating blog niche is one you are passionate about. When it comes to home decor blogging, you'll never succeed unless you write articles and post them consistently and it's easiest to keep a steady writing flow about a topic you are passionate for.
When choosing a topic, it's helpful to think about the following:
What advice can I offer?
What does my personal home decor style look like?
What do I want to learn better?
Each of these topics could be a great starting place for your decorating blog. Many people associate DIY and home decor blogging together but your blog could feature just one or both. It's up to you!
A few of the popular home decor blogging niches that I have seen are Modern Farmhouse decorating, Coastal decorating, Boho decor, French country decor, Furniture for first-time apartment renters, affordable decor hunters, and DIY blogs.
Eventually, you will want to establish yourself as the "expert" in whatever decorating topic you choose, but don't worry if you're not right now. Many people love reading about the journey to expertise in a certain subject, too!
Because decor blogging is so popular nowadays, you'll want to really try to find a way to stand out from the crowd. If you can establish yourself as an expert in a particular decorative field, then you're much more likely to find success due to lower competition.
Successful Home Decor Bloggers
If you're stuck on a topic or are skeptical that it's really possible to make money home decor blogging, then take a look at these successful home decor bloggers for some inspiration! Each of these home decor bloggers has found a popular niche to share their tips and tricks for making your house a home.
Magnolia: Joanna and Chip Gaines began by blogging about their real estate, home renovation, and decorating business, Magnolia, in Waco, Texas. Soon enough, they became a nationwide sensation after the successful launch of their TV show, Fixer Upper.
Young House Love: This newlywed couple decided to share their journey as a young couple renovating their first home together. Through a series of money-saving DIY posts, the couple's blog exploded in popularity, leading to lots of high-paid collaborations with national retailers like Target!
Amber Interiors: Amber Lewis is an interior designer who began blogging about her client projects. She was soon able to launch her own shop (called Shoppe Amber Interiors) and sell her most inspiring home decorations.
Start Writing about Home Decor
I recommend writing the first 10 articles for your decorating blog before you even set up your site. This is good for a few reasons:
You can see just how passionate you are about your chosen topic, and how much you really have to say.
It will help you come up with names for your decorating blog.
You will realize if there are any other topics you want to cover that you may not have thought of originally, and it may shift the direction of your blog!
At first, the important thing is to just write. Aim for at least 1,000+ words per article but if your articles are image-heavy, then you can get away with as little as 300 or so words. The more the better when it comes to blogging!
Over time, you'll want to start to pay attention to the structure and organization of paragraphs within your blog posts, especially if they are long. Be sure to read my guide on how to structure a blog post when the time is right.
Choose a Name
Once you've written the first few articles of your home decor blog, you'll need to choose a brand name. Maybe you even thought of one as you were writing your articles! Whatever you choose, the name should be short, catchy, and easily memorable. Be sure to verify your name is available as a domain before settling on it!
Purchase Your Domain & Hosting
If you're serious about blogging, then a custom domain name and web host are a must.
Using a free Blogspot blog or WordPress.com blog domain isn't professional and won't allow you to work with a lot of the major advertising networks and affiliate marketing networks (where the big bucks are made). Furthermore, you technically don't own your blog when you host it with a free blog provider like Wix, Blogspot, and WordPress.com. These companies can shut your blog down on a whim!
You'll want to invest in a web host to store all the files, images, and text associated with your blog in one place. The good thing is that hosting is the only major expense you'll have when starting a blog!
Many hosting providers offer free domain names when you purchase your first hosting plan like Bluehost. If you're a first-time blogger, then this is a great deal!
If you're looking to start a second blog, then I recommend purchasing your domain from Namecheap because they have coupons every month, and their prices are unbeatable!
As mentioned above, the purpose of a host is to securely store your blog files. They serve these files as necessary to your website visitors from their servers as quickly as possible. Good hosts will back up these files regularly so you don't lose all the work you've put into your blog in the event of a hack! Generally, it's best to choose a host that is located in the country where your visitors reside.
Hosting really isn't that expensive. It can be as cheap as $3 per month! That being said, you want to choose a host that is reliable and helpful. I recommend hosting with Bluehost if you are a brand new blogger since you will receive your domain name free of charge with a 12-month plan. Bluehost is based in Utah and is the first web host recommended by WordPress itself.
While it's possible to run a casual blog with a custom domain using a free service like Blogspot or WordPress.com, I highly recommend against it if you are serious about creating a profitable blog. You may get by for the first few months, but after your blog takes off, you'll wish you had set up a self-hosted blog in the first place!
Visit Bluehost and click Get Started Now to begin.
From there, I recommend choosing the Basic plan. You can always upgrade later if you need to!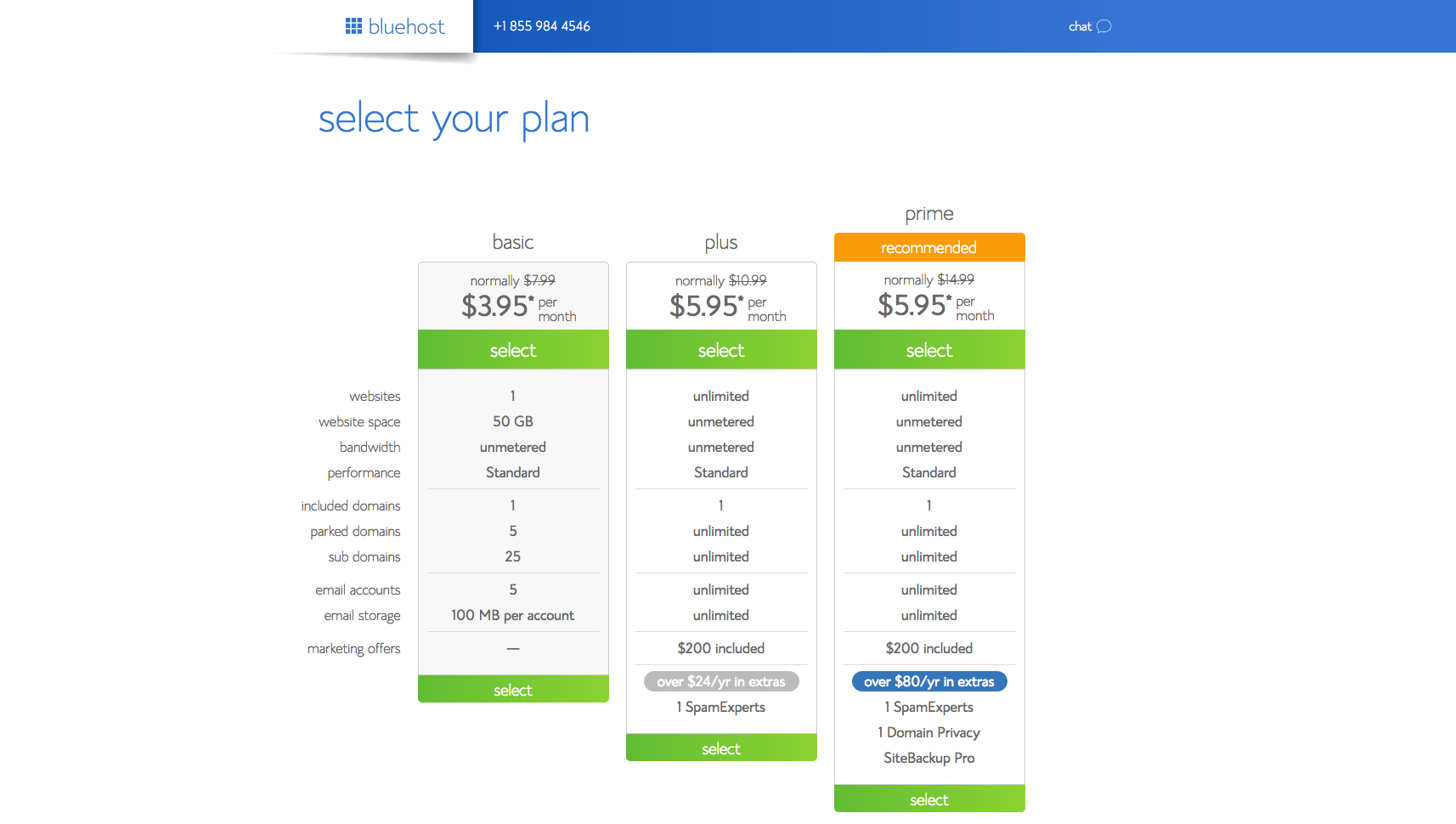 As far as the length of your hosting plan, I highly recommend choosing 12 months or longer. Blogging is something you need to dedicate yourself to for at least one year. If you don't think you can commit to blogging for that amount of time, I don't recommend getting started at all because it simply won't be a good investment for you.
Install WordPress
Now, I know I just told you not to sign up for a free WordPress blog, so why am I telling you to "install" it now?
Well, there are actually two WordPress platforms: WordPress.com and WordPress.org.
WordPress.com is for free blogs hosted on WordPress servers. These blogs typically have WordPress.com attached to the end of them (sampleblog.wordpress.com). WordPress.com is meant for casual bloggers who don't want to make a profit with their blogs.
WordPress.org is a self-hosted, content management platform for publishers and serious bloggers who want to turn a profit. It's a backend content management system that allows you to easily control the content put forth on your blog.
WordPress.org is the golden standard when it comes to blogging. In fact, it currently powers around a third of the entire web!
I highly recommend WordPress.org due to its numerous integrations, plugins, and advanced features. Plugins are essentially add-ons created by thousands of developers that improve your blog in a simple, easy way. If you want your blog to do ___, then there's probably a plugin for that!
WordPress.org is totally free to use on the majority of web hosts, too. It's so popular that you can most likely log in to your hosting admin panel and have WordPress installed for you automatically as I explain here.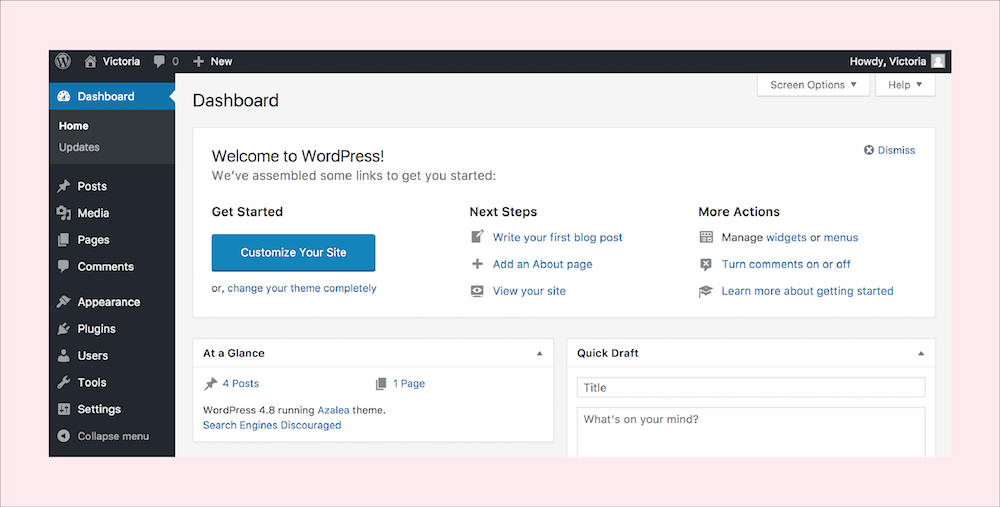 Choose A Theme
A blogging "theme" is just a set of files that make your blog look pretty and easy to navigate! The theme determines how information is presented to your readers on the front-end portion of your blog. There are themes that are better for visual content, and other themes that are better for written content. Most themes are pretty good at managing both, of course!
There are many great themes you can get for free through WordPress and various developer websites.
If you'd like to purchase a more advanced theme, then I recommend looking through Creative Market and Etsy.
To add a theme to your website, click over to Appearance on the black lefthand admin panel. From there, you can either upload a theme or search for one that exists in the WordPress repository.
Start Posting Your Articles
Once your theme is installed, it's time to start creating your posts! You can do this by clicking the "+New" button on the top navigation bar, or from the lefthand admin panel, you can mouse over "Posts" and then select "Add New."
Now, you can paste your pre-written article into the body of the post and give it a title, too.
Before hitting "Publish," you must assign the article a Category and a Featured Image.
Categories are basically sections where groups of articles are filed within your blog. Here are a few examples of Categories and the articles that might be filed under them for a home decor blog:
Category: Furniture
10 Best Coastal Style Beds
The One Piece of Furniture to Last a Lifetime
Why I Stopped Using My Armoire
Category: DIY
DIY Farmhouse Nightstand
How to Sew Your Own Throw Pillow Covers
DIY Christmas Decor Ideas
Category: House Tours
Our Summer House Tour
Our Master Bedroom Design Update
Transforming Our Kitchen
As you can see, Categories are broad topics that can hold a variety of blog posts. You may only have 1-2 categories at the beginning of your blog, but over time you can add more.
As for the Featured Image, this is one image assigned to your post that provides the reader with context as to what your post is all about. It usually appears in a few places around your website, like the home page, depending on your theme. Sometimes it appears within the blog post itself, and other times you may wish to manually add it within the text yourself.
Taking Photos for Your Home Decor Blog
Since home decor blogs are inherently visual in nature, your blog photography is going to have a large impact on your success. People want to get a good look at the furniture and decor inside your home.
You'll want to aim for at least one high-quality interior photo per blog post, but the more the better. Try to shoot at least one wide-angle photo of the entire room, but also experiment with close-up shots of a small decoration or single piece of furniture.
You can shoot quality images yourself with a smartphone camera like the iPhone, or you can invest in a digital camera like the Sony Alpha, which many bloggers swear by to shoot professional photos for your blog. Don't be intimidated by a professional camera, even if you have no experience using one. The majority of DSLR or Mirrorless cameras often have an "Auto" mode for beginners to use. The lens should do all the work for you. This is what I have done for the majority of my blogging career!
Shooting indoors is a bit more difficult than shooting outside, but don't let that scare you. Ensure your room is well-lit before taking photos. You may wish to purchase an inexpensive softbox lighting diffuser to illuminate any dark rooms in your home before taking photos.
Lastly, if you're not able to shoot any home decor images yourself then you can find a variety of free, non-copyrighted images from websites like Pixabay and Unsplash. Keep in mind that these photos should be used as a last resort, and original imagery is always preferred when it comes to blog photography!
Drive Traffic
Once your blog is set up you'll need to find a way to get people to visit your site! There are many ways to drive traffic to your site including:
Writing guest posts for other blogs
Leaving comments on other blogs
Sharing your posts on social media
Improving your Google Search presence
Optimizing your content for Pinterest
Personally, I have succeeded at getting traffic to my site by optimizing my content for Google and Pinterest, two of the most popular search engines in the United States. On this blog, I share several ways to drive traffic using some strategic methods.
I highly recommend reading these articles about getting traffic from Pinterest and SEO Basics, which is the method I used to optimize my content for Google search results. SEO stands for search engine optimization.
Google and Pinterest are businesses themselves, so relying on them for traffic is never going to be 100% secure. Their algorithms are constantly changing and you can easily gain and lose traffic from one month to the next.
For this reason, many people opt to create an email list to which they can always market. While you cannot change the whims and interests of Google and Pinterest, you own your email list and no one can take that away from you. It's important to sign up for Mailchimp, Mailerlite, or another email newsletter service so you can start collecting your readers' email addresses.
Develop a Monetization Strategy
Once you've got your blog set up, and a few posts published, you should start thinking about how your blog will earn income and developing a monetization strategy.
There are a few key ways to monetize a blog. Depending on your audience, you'll need to figure out the best way for you to make money. Is your blog product-focused, or more informational?
Display Ads
The easiest way to start making money with informational blogs is often by using display ads.
Google's AdSense program is an easy way for new bloggers who want to put ads on their site and start earning some money.
Once you get more than 25,000 sessions per month, you can apply to join a premium ad network like Mediavine.
Affiliate Marketing
Another popular way to make money with a home decor blog is through affiliate marketing, a strategy where bloggers link to products, decor, accents, and furniture they love and earn a commission when a reader makes a purchase. These links are found in general articles on the site, but they convert really well when placed in in-depth product reviews and product round-up posts.
Most bloggers join one of the major affiliate networks that gather up big national retailers, provide the cooking technology for you to create links, negotiate a higher rate for bloggers to earn, and manage your commission payments.
Making money with affiliate marketing takes time but the payoff can be huge.
---
Personally, ads and affiliate marketing are where I've found the most success on my journey to make money blogging!
Beyond ads and affiliate marketing, you could also pitch yourself as a freelance writer to larger publications, sell products like ebooks and courses, or offer consulting services to your readers around your blog's topic.
These tend to be monetization strategies for more experienced bloggers but it's great to keep them in mind even during the beginning stages so you can start brainstorming about products you can sell in the future!
Go through the Newbie Blogger's Checklist
Now that your blog is set up and ready to go, head over to my newbie blogger's checklist to sign-up for social media accounts and services that will ensure your online presence is complete. These tips aren't immediately necessary, but they should be done as you have time to really give your blog an edge.
---
I hope this post has been helpful to anyone who wants to start a profitable home decor blog. Making money from your decorating blog may seem like a dream, but trust me it's not! Just take a look at my income reports for proof. Home decor blogging is one of my main sources of income.
That being said, making money blogging about decor, DIY, and furniture takes a lot of hard work and dedication. It won't come easy, but it will be worth it!
Be sure to sign up for my mailing list below as I'm always sharing new ways to optimize your blog for success!