July shaped up to be a fantastic month for my blogging business. I broke a few of my own records including the total amount of revenue I generated for the month of July, my RewardStyle monthly revenue, and my ShopStyle monthly revenue. Notably, I didn't break my all-time traffic record on my home decor blog, which goes to show it's all about the content of your blog posts, not just how many pageviews you're getting!
If you're new around here, please head over to my first income report to learn about the blogs I make money from. You can also read my How to Start a Blog guide to learn my step-by-step process for creating a profitable blog.
Income
Here are the July totals for each of my blogging income sources!
| Advertising | Income |
| --- | --- |
| AdSense | $116.90 |
| Mediavine Home | $616.20 |
| Mediavine Travel | $259.85 |
| Affiliate Marketing | Income |
| RewardStyle | $2,904.33 |
| ShopStyle | $1,303.41 |
| Amazon | $121.96 |
| Skimlinks | $62.61 |
| Shareasale | $0.50 |
| Bluehost | $160 |
| Viglink | $3.88 |
| Sponsorships | Income |
| Sponsored Blog Posts | $1,400 |
Just $50 short of $7,000 in monthly blogging revenue but I can't complain, can I? Here's a visual overview of where my blog income came from this past month. The majority came from affiliate marketing, followed by sponsorships and advertising!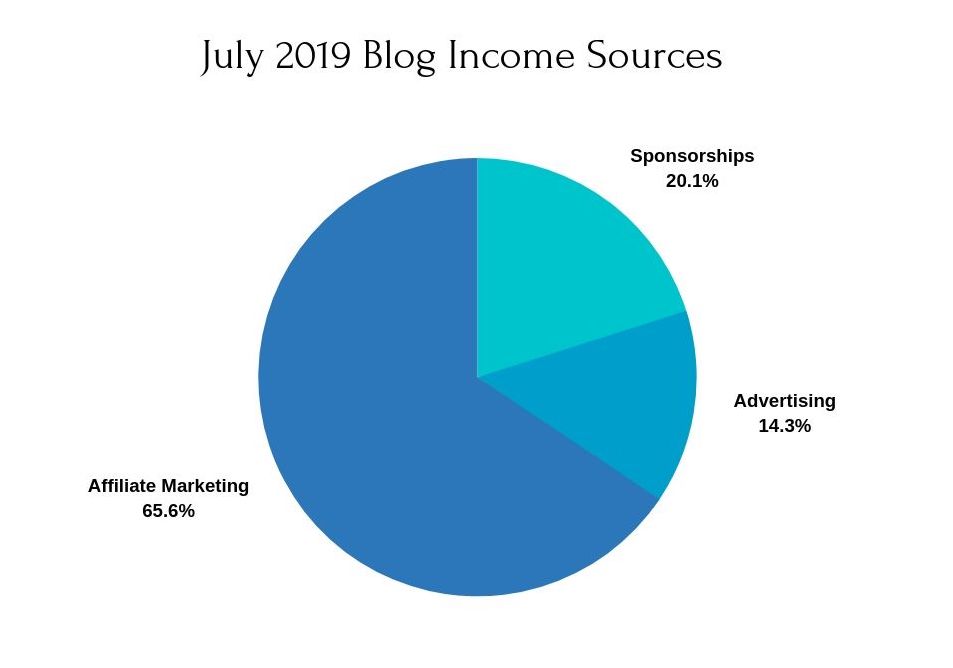 My RewardStyle revenue nearly hit $3,000 this month, I was less than $100 short! Luckily, my highest commission this month was $272.21 (from Wayfair) so I feel pretty good about this number sticking, unlike last month when I had one $1,000+ commission making up one-third of my revenue!
My Mediavine income topped $600 this month, a record for 2019, but still a little off from my all-time record of $677.30 from November 2017! Nevertheless, I'm really happy I integrated Medavine onto my travel blog a couple months back, earning me an extra $259.85 in passive income during July.
ShopStyle income more than doubled compared to last month! I think this is due to a few end of season sales that happened in July like the Nordstrom Semi-Annual sale, when people buy a bunch of clothes!
A large boost in my income came from my very first sponsored post which I secured at the end of June! Sponsored posts are a relatively easy bump in pay, and this one happens to be a 4-month long contract, so I'm super excited to be working on this project!
Expenses
My blogging expenses to date are:
Learn How to Blog
I have definitely been slacking when it comes to posting on this blog useful information beyond my income reports, and I apologize for that! I've been so busy creating content on my other blogs that this one tends to fall to the wayside.
Anyway, I did finally check one thing off my to-do list and that was to write niche specific guides to starting a blog. I published the following how-to guides on Blog Ambitious in July:
So if you were thinking about starting a blog in one of those niches, then now is your chance! You can read about my tips for that niche and get some inspiration from other bloggers who've "made it" in that category.
Keep in mind, I started from ZERO, just like everyone else. Blogging isn't a get-rich-quick scheme by any means, nor is it truly "passive" income, but it can be a great source of extra (or primary) income if you're willing to put in the time and effort to making it work!
Traffic
Traffic was up across the board on all my blogs. I saw record-setting pageviews for the year (2019) despite the so-called "summer slump" of June, July and August that so many bloggers complain about! It's like I always say: there's always someone on the internet, no matter what time of year it is! Don't make excuses for lousy traffic. If you're not getting pageviews, then you're doing something wrong! (Now, I will say that MAJOR American holidays are the exception: days like Christmas and Thanksgiving are normal to lose traffic on).
Traffic on my home decor blog hit 37,502 for the month!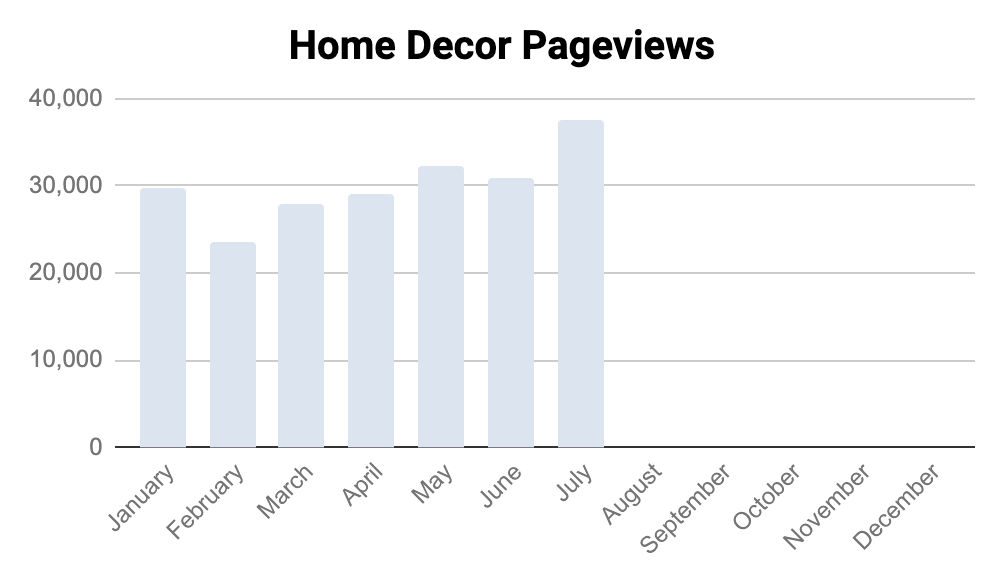 My blog traffic sources are finally starting to even out as my Google pageviews begin to rise: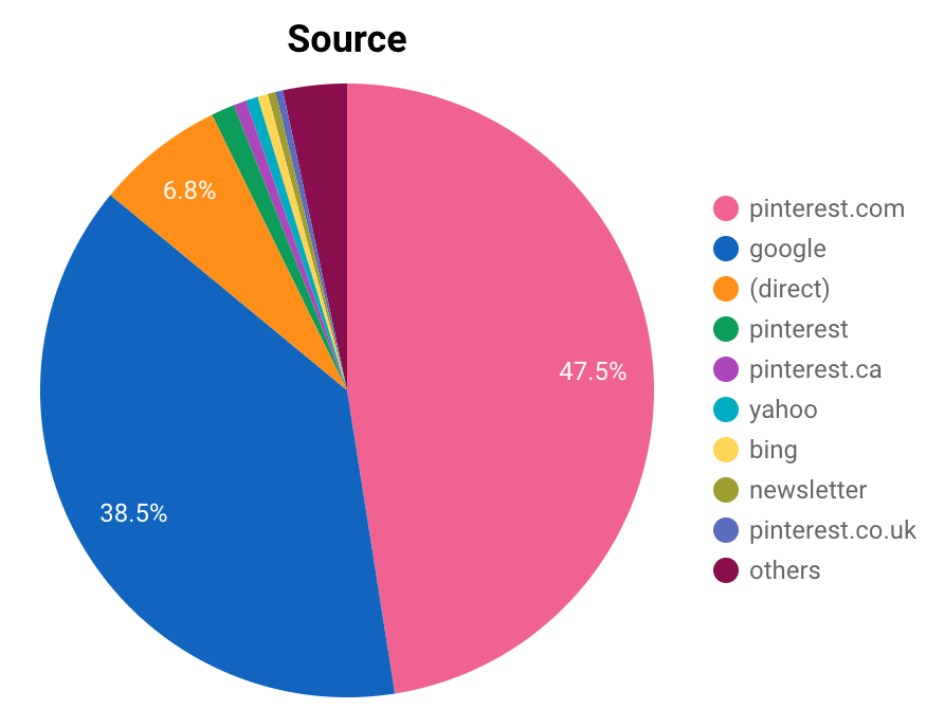 Plans for the Month
This month, I'm trying to keep up my keyword-focused publishing schedule. Here is a general overview of what I'm focusing on for each of my blogs this month:
Home Decor: I have been publishing short 250-500 word articles nearly every day since April on this blog. I've definitely missed days, but it's my longest stretch of consistent publishing for a very long time. I have quite a long list of keywords I'd like to target with this blog, so I'm just chipping away at it slowly.
Travel: This blog has been put on the back burner for the time being. I have a couple more micro-posts I'd like to write, but for now it's not a priority. My goal was to get it accepted into Mediavine so I could collect the passive income from it and move on. It was originally started as a passion project (I only publish my original photography on it, for example), and was never intended to be a cash cow like my other blogs. The RPM on it is extremely low, too, which further demotivates me from working on long form posts.
Blogging: I'd like for this blog you are reading to become a solid resource for people who want to make money blogging. There are so many expensive courses and paid ebooks for sale on how to grow a profitable blog and it kind of rubs me the wrong way. I don't want to say that I would never create my own paid course, but I tend to believe that knowledge should be free. I remember being so inspired as a kid that you could take Harvard University classes for free on iTunes podcasts. I thought that the world would truly be a better place if all knowledge was freely accessible. That's why I don't charge people for anything on this site. Of course, I may decide to offer some sort of paid mastermind group, or 1-on-1 advice in the future. But for now, I'd like to share all my blogging knowledge for free. It just keeps getting put off because I need to focus on projects that are more immediately monetizable for the moment.
Fashion: My fashion blog is doing really well. I found a great niche that I am passionate about and can't wait to grow this blog and its audience. I have a list of keywords that I'd like to target, so my goal for the upcoming months will be to tackle it!
That's it for July! How was your blogging income last month?