2021 Blog Income Report and Year in Review
Happy 2022! Another year as a full-time blogger has flown by. I had an unofficial goal of hitting $250,000 in revenue this year and I'm proud to announce that I hit it!
If you're new here, I recommend reading about the blogs I run first which earned the income reported here. If you're brand new to making money blogging, then you'll want to read about how bloggers make money first so this income report will make more sense to you.
Even though I worked very hard, I was still able to take time off when I wanted to and go on some very nice vacations to Spain and a few more lovely tropical places.
After all, having more freedom over my time was the primary reason I started my own blogging business in the first place!
My Schedule
My schedule this past year was quite ambitious. I originally wanted to publish 3-4 blog posts per day across my blogs, but this wasn't doable. I wanted to publish one blog post on my home decor blog (the primary money maker), and two posts per week on the other smaller blogs.
Instead, I ended up prioritizing the home decor blog since it's my bread and butter. I made some progress on the smaller blogs but I couldn't keep up with the publishing schedule I originally wanted.
That's ok though! I started the blogs as 'backups' in case my primary blog took a hit I couldn't recover from, like a lot of travel blogs did in 2020.
I wish I could say that I worked every week on my blog, but the truth is I didn't. While I do have an informal blogging schedule, I don't stick to it.
…and that's totally ok!
Some months (like January, when it's freezing outside), I work 12 hour days. Other months (like August, when I'm at the beach), I don't work at all.
To be honest, I really like this schedule and clearly, it's working!
Outsourcing Content
A big goal of mine in 2020 was to begin outsourcing most of my content. I achieved that goal, but I didn't realize how difficult it would be. I thought outsourcing work would remove things from my plate, but truth be told: it hasn't.
I still need to outline and edit most of the content I outsource, and some days it feels like it might be faster for me to just write it myself.
I've had the best luck on Upwork for high-quality content that needs very little editing. Writers on the Upwork platform use their real names and photos and have reputations to uphold.
Textbroker and iWriter are anonymous platforms which means people can plagiarize, submit horribly written, false articles, and suffer no consequences.
It ends up as more work than it's worth.
I shared my experience with outsourced blog posts recently.
Hiring People
I've thought about hiring someone like an Editor-in-Chief to help run my websites. I definitely have the income to do so and still live comfortably.
This would take a large workload off my shoulders, but like everything, it has a downside. Mainly, I would probably need to train that person and have weekly check-in calls.
I value my time enormously and having to manage someone as their 'boss' isn't something I'm ready for just yet. Yes, even one weekly meeting is off-putting to me!
Listening to Matt Giovanisci's video on starting a media company but then scaling it down to a lean business only further solidified the feeling I had inside myself early last year.
The more I think about it, the more I realize that I just like the idea of saying I 'created a job' for someone or that I own a business that has employees.
The reality is that I'd really like to build a million-dollar business that I can run all by myself.
This is a concept that I first heard about on the My First Million podcast.
It's actually a growing phenomenon, with the top 3 categories being e-commerce, manufacturing, and…. Informational content creation! Looks like I'm not alone in this thought.
Of course, if I magically found the right person, I'd probably hire that person. But right now, it just seems like a superfluity.
2021 Blog Revenue
Ok, now for the money. I doubled my blog revenue from 2020 and hit $258,361 total which I'm ecstatic about!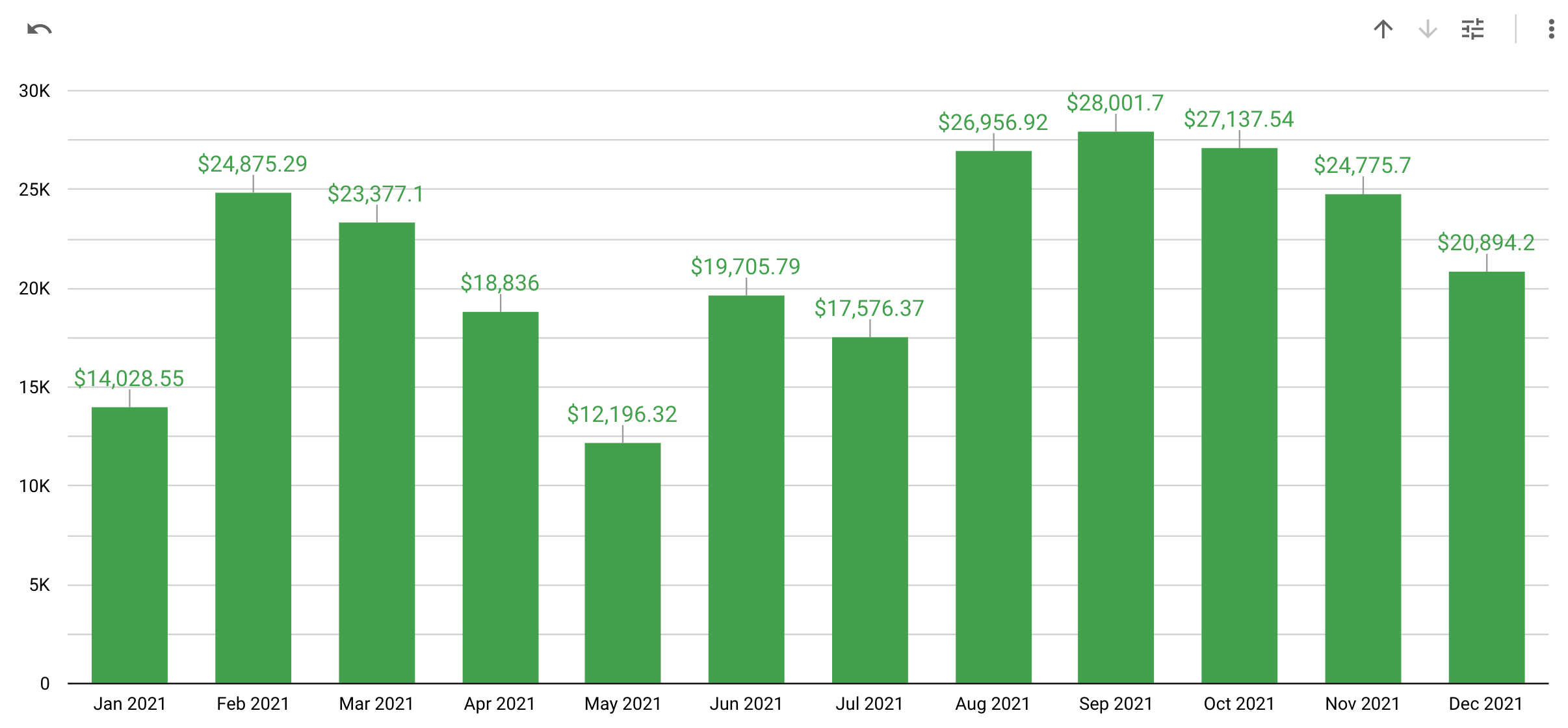 A total of 7 out of 12 months of the year were $20,000+ months. The last 5 months of 2021 were above $20,000, a trend that I hope continues in 2022!
For the past two years, November was my highest earning month, but this year, it was September!
Types
The types of income from my blogs remained steady. I still earn the majority of my blog income from affiliate marketing (52% or $135,000).
Nearly $90,000 came from display ads. I work with Mediavine and AdSense.
About $33,000 came from sponsored posts, and luckily I have a few companies which have paid me for recurring campaigns this past year.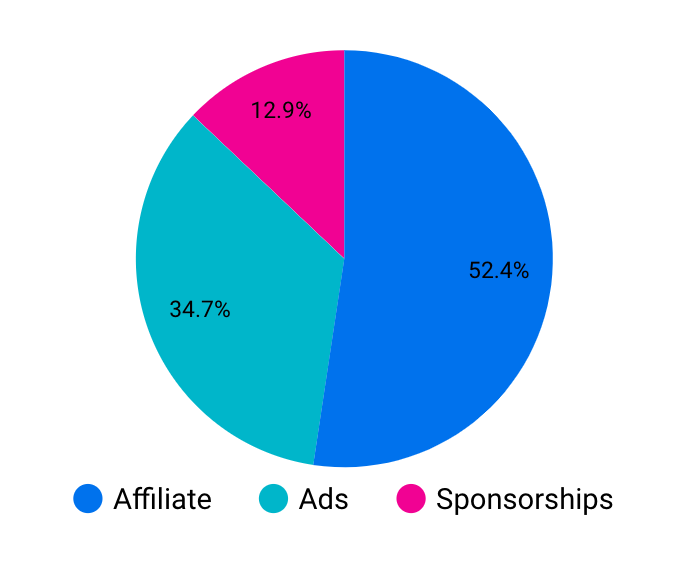 My eternal battle between affiliate and ad revenue continues!
Affiliate revenue is always much higher than ad revenue, but it's incredibly unstable. There will be fluke months where my income drops very low or soars high because of affiliate revenue. It seems like companies pay out when they feel like it, and are not bound by any sort of time constraint. Ad revenue, on the other hand, is quite predictable and paid out 1-2 months after it is earned.

I definitely look at my business from a yearly standpoint for this reason!
Companies
I'm very dependent on two companies for the majority of my revenue, despite my efforts to diversify. RewardStyle is the primary company I earn from through affiliate marketing and sponsored posts. Mediavine is my primary display ads management company, which I have on 3 sites.
I'd like to grow my ShopStyle revenue (I'm currently using it exclusively on my fashion blog) this year.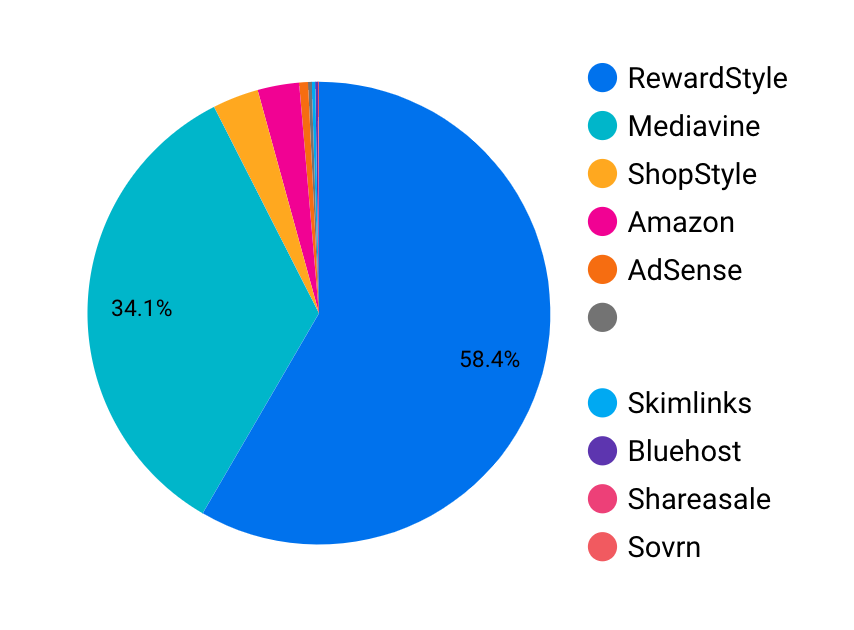 These companies seem to be reliable, even throughout the pandemic, so I'm not going to worry about a problem that doesn't exist. A lot of people work for just one company. I basically work for two!
Expenses
These are the necessary expenses that went into running this business in 2021. If you'd like to read more about each expense, please read my previous annual reports.
RunCloud Server Management & Backups: $110
Namecheap Domains: $105
Content: $3,485.53

Upwork: $2,303.08
iWriter: $601.25
Textbroker: $581.20

Tailwind Pinterest Scheduling: $90
Products & Supplies for Sponsored Posts: $1,608
LLC/Legal Services: $250
Taxes: $700. I paid a CPA to help with my personal and Corporate taxes.
MRR
MRR stands for Monthly Recurring Revenue. Since my business has vastly different revenue, expenses, and profit each month, I like to take the average at the end of each year so I know approximately how much I earn each month.
In 2021, after expenses, my average MRR was $20,388, before taxes.
Traffic
Traffic to my home decor blog significantly increased this year which I'm so thankful for, especially since I wasn't sure if 2020 would be a fluke year due to the pandemic. Alas, it was not! Sessions were up 77% year over year.
On average, my blog received 300,000 pageviews per month!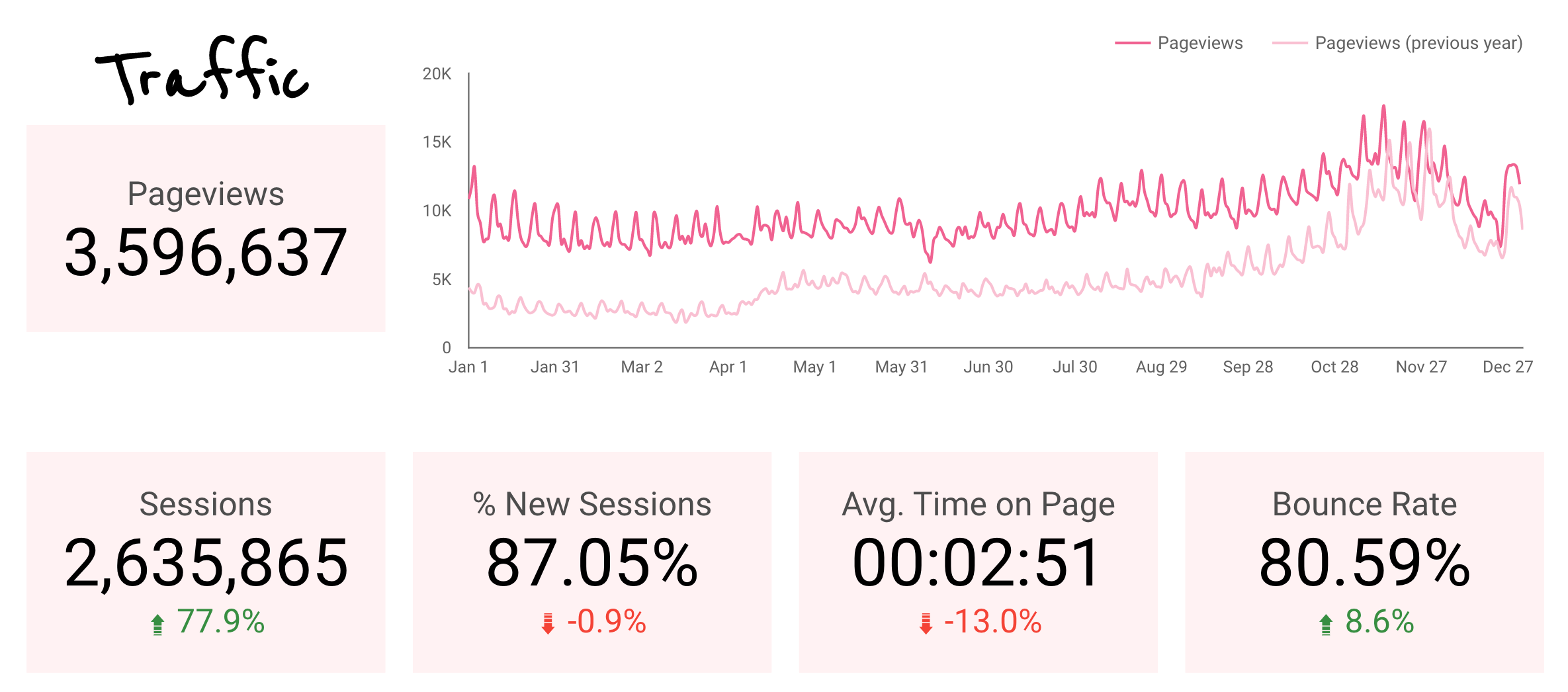 Unfortunately, the average time visitors spend on each page went down and the blog's bounce rate went up, both of which are the opposite of what I would have liked, but these aren't the most important metrics anyway.
As long as traffic is up year over year, I'm happy!
Traffic Sources
My traffic is highly dependent on Google, which I think is a good thing.
My content strategy is simple. I write about whatever will help my audience.
I've never done external link building or guest posting, so my traffic is actually pretty stable. It grows on a yearly basis as long as iI continue publishing new content. I've never been hit by a Google update, and I think the reason why is because I don't do any artificial linking.
I write articles about broad one-word topics I know I won't rank for, only for the benefit of my audience. While I don't have any proof, I believe Google appreciates this and ranks my site well when it's appropriate.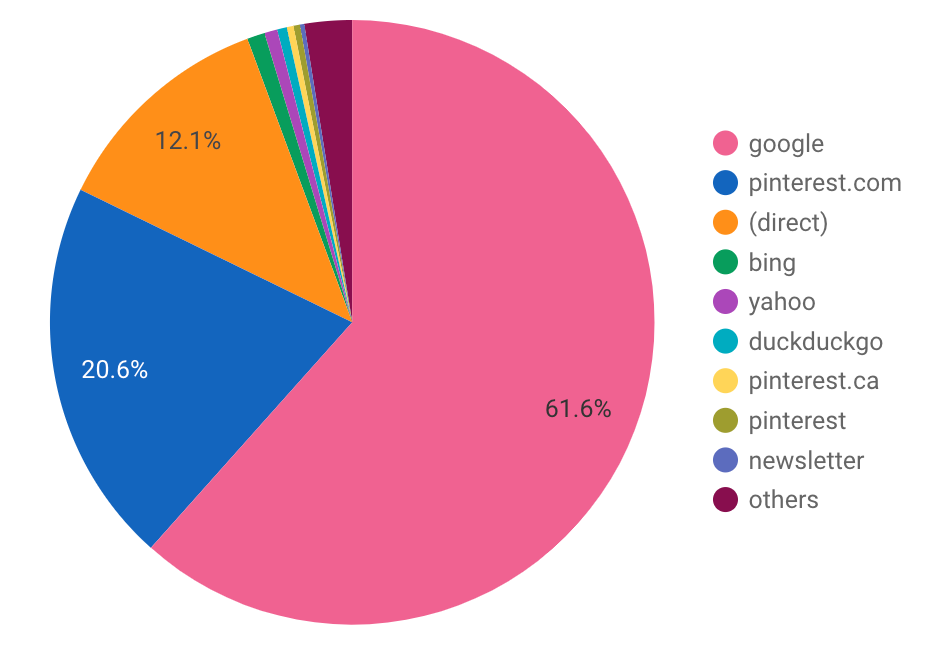 While Pinterest was a big part of my traffic strategy in the early days of my blog, it is no longer a priority for me. I still go through the motions of sharing pins on Pinterest, but I don't have any major news on that front. With Pinterest, I take what I can get and don't stress about it anymore.
Google Traffic
My Google traffic has tripled during this year compared to last year. Once again, I believe this is due to my focus on publishing high-quality content often, creating topical clusters, and linking internally between the pages.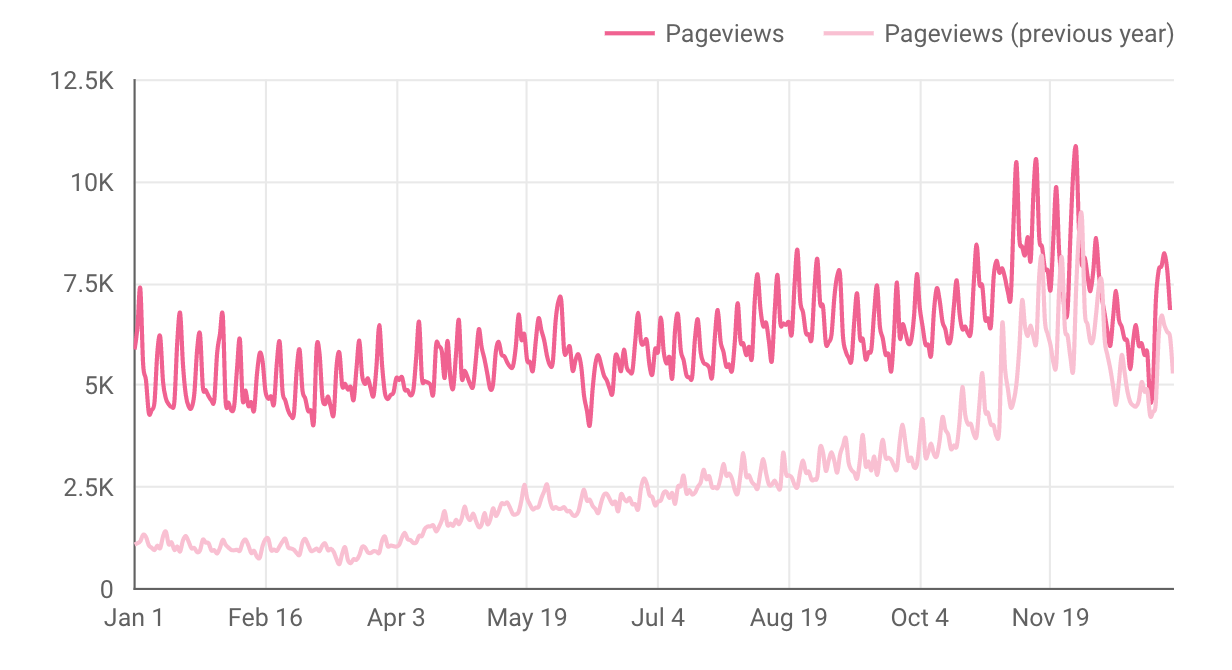 Content
I published 269 posts on my home decor blog in 2021. Woo-hoo! This is definitely the most I've published in one year and I'm proud of myself for hitting this goal. I now have a total of 907 blog posts.
While I do have 7 other blogs besides my main home decor blog, I didn't hit my publishing goals for those sites.
Goals
Last year I outlined three goals I wanted to achieve.
Expansion: I succeeded in launching several new blogs in 2021 as part of my expansion to diversify goal. While the blogs don't have all the content I wanted on them just yet, they are fully set up, and 'out in the wild' so to speak which is good enough for now.
Outsource: As mentioned earlier, I've made progress on outsourcing my content, but I still need to tweak the process a bit.
Reinvest: I reinvested a paltry sum into content writers compared to other bloggers. So while yes, this goal was achieved, I know I can do better. I'd also like to potentially purchase a keyword tool, but I'd have to dedicate the time to learn how to use it which is why I haven't done this yet.
This year, my only goal is to increase my content output. I've created the blogs I want to own to protect myself in case my home decor blog takes a hit. Each of these new blogs is broad enough to cover a lot of topics over time.
Thankfully, I don't have shiny object syndrome, and I have no desire to create any new blogs and end up with a roster of 32 like some other entrepreneurs! Although, I do agree that creating new blogs/brands is quite fun!
I still have plenty of work to do on the blogs I own. To be honest, I never want to own more than 10. I'm at 8 now which leaves room for two more in case lighting strikes and I think of a really killer idea for a blog.
The Bottom Line
I know why you're here. You want to know what the secret is. Well, I'll give it to you straight and simple.
After years of working in this business, watching countless YouTube videos, and reading hundreds of blog posts, I can confidently say that these steps are all you need to do to replicate my success:
1. Increase Blog Post Count
I have nearly 1,000 blog posts on my main website. I know that I can grow my income significantly if I publish more posts. My goal is quite lofty, but I'd like to have 5,000 blog posts on the blog by the end of the year. Obviously, this will require some serious outsourcing since I'm trying to quadruple the work I've done over the last 5 years in the span of 11 months. We'll see how this one goes. I know that it will have a hugely positive impact on my income if I can succeed.
2. Create Topic Clusters
Topic clusters (groups of posts that cover one topic in-depth) are very important for showing Google that you are an expert on a specific subject. One blog post is no longer enough. You need several now!
3. Link Internally
Internal linking is the last step to creating profitable content sites. Pillar content is linked most often, and smaller blog posts are linked between themselves using the proper anchor text as it comes naturally. I don't follow any sort of "count" to achieve this, I just do it as naturally as I can.
---
I kept looking for shortcuts around these three tasks, but there are none. Ignore everything and just focus on achieving those goals if you want to grow your blog income.
It's not exciting, it's just repetitive as hell. But that's really all there is to it!
I hope you enjoyed this year's edition of my blog income report! I really enjoy doing these annual reviews as it forces me to take a look at what went well and what can be improved throughout the year. I hope you gained value from the report, too.
Previous annual blog income reports:
As always, leave any questions in the comments below!
Happy blogging.