State of the Blog: 2017 Blog Income Report and Year in Review
2017 was the first full calendar year that I've been running a blogging business. In honor of this accomplishment, I'd like to take some time to review everything I've learned this past year, what worked, and what didn't!
Running a blog is no easy feat, and the fact that I did it while working a full-time job makes me proud to no end. While I'm fortunate enough that this money is "icing on the cake" in terms of my overall net worth, it makes me proud to know that I'm building a foundation for a potentially lucrative business in the future.
By the way, if you haven't already, you should learn how to start a profitable blog today!
I've been sharing my income reports since the beginning, but this "State of the Blog" is going to address more long-term trends in my blogs as opposed to monthly swings. I'll dive into each of my sources of income, what my (very minimal) expenses were, and show you my best sources for website traffic!
Income
In 2017, I generated over $14,000 USD of income. Here are the numbers before we dive into each source:
| Source | Income |
| --- | --- |
| AdSense | $1,037.36 |
| Mediavine | $1,923.61 |
| RewardStyle | $11,064.06 |
| Shareasale | $80.09 |
| Amazon | $330.46 |
| Total | $14,435.58 |
Sources of Income
Like any good blogger, I have multiple sources of income from blogging. The majority comes from affiliate marketing, while display ads make up the rest. Here are some charts which show the make up of my blogging income: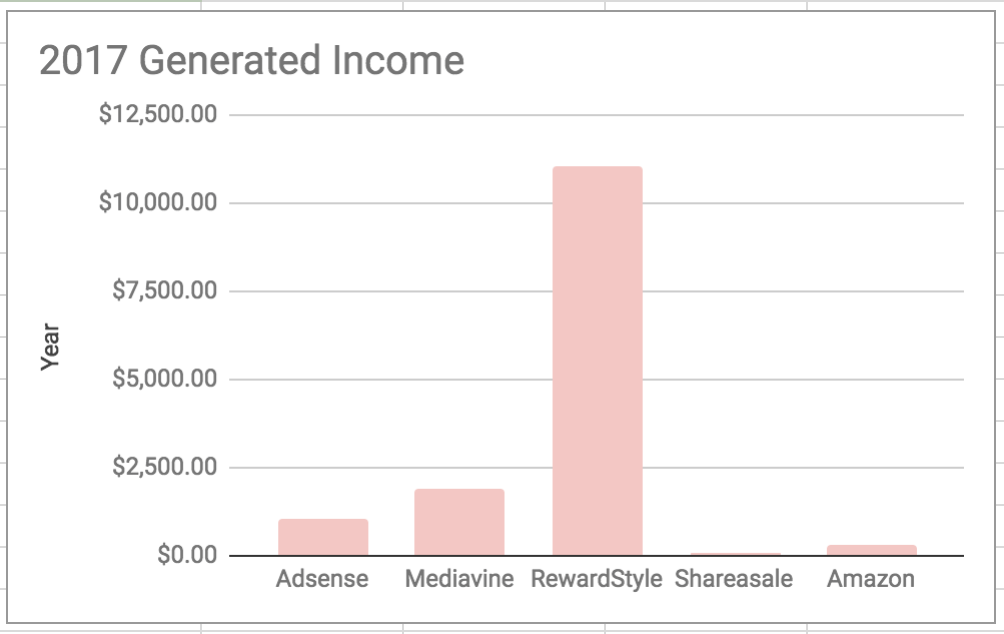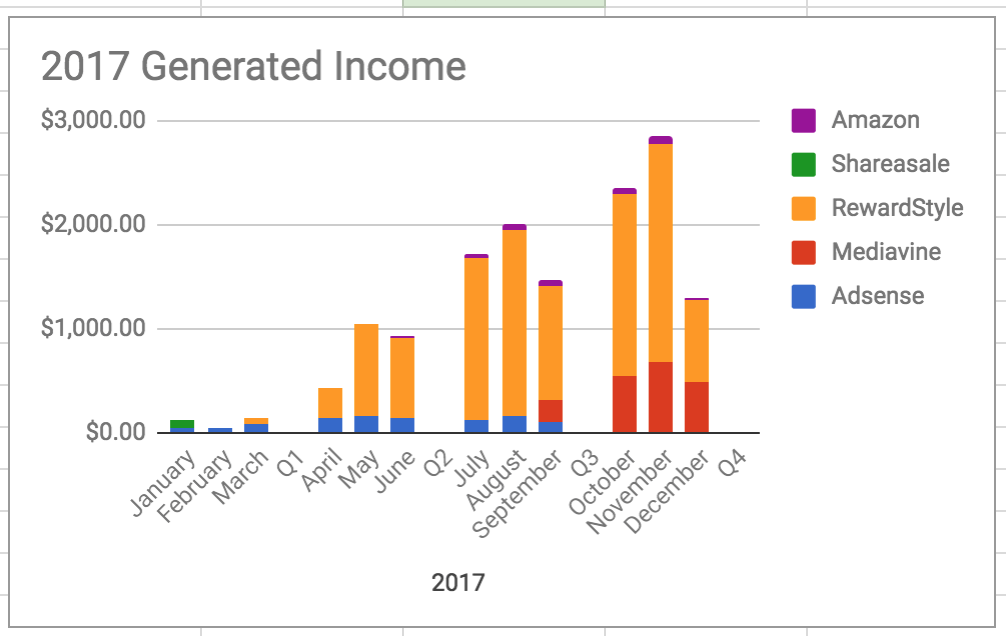 Affiliate Marketing
Affiliate marketing is the most profitable way to monetize my blogs. Here are the affiliate networks which I used to make money blogging in 2017.
RewardStyle
Of all the affiliate programs I work with, RewardStyle provides my business with the most income. I'm constantly checking RewardStyle for news, updates and of course, to see my earnings.
Here are some of the metrics I use to keep track of my RewardStyle performance:
I keep track of the number of RewardStyle clicks and conversion rates by month. This information will help me plan for future years and understand how my income might fluctuate due to seasonal changes.

This year, keeping track of my RewardStyle click-through rates (the number of RS clicks my site generates) was especially important as I switched display advertising networks. I needed to see how adding more in-content advertisements would affect my affiliate income.

I implemented Mediavine ads mid-way through September, and as you can see, my RewardStyle click-through rates dropped slightly.
Before I blame this on Mediavine ads, I would need to analyze the posts I am publishing to see if maybe I actually posted less articles with RewardStyle links in them. I don't want to over-analyze this, because I think it's fairly obvious that the more articles I publish with RewardStyle links, the higher my click-through rate will be.
If I do notice a continuing drop in click-through for RewardStyle links, I may need to adjust the frequency that ads appear in my blog content.
Amazon
After RewardStyle comes my Amazon Affiliate earnings, which as you can see, I started to put more effort into mid-way through the year.
Here is a chart showing my 2017 Amazon affiliate performance: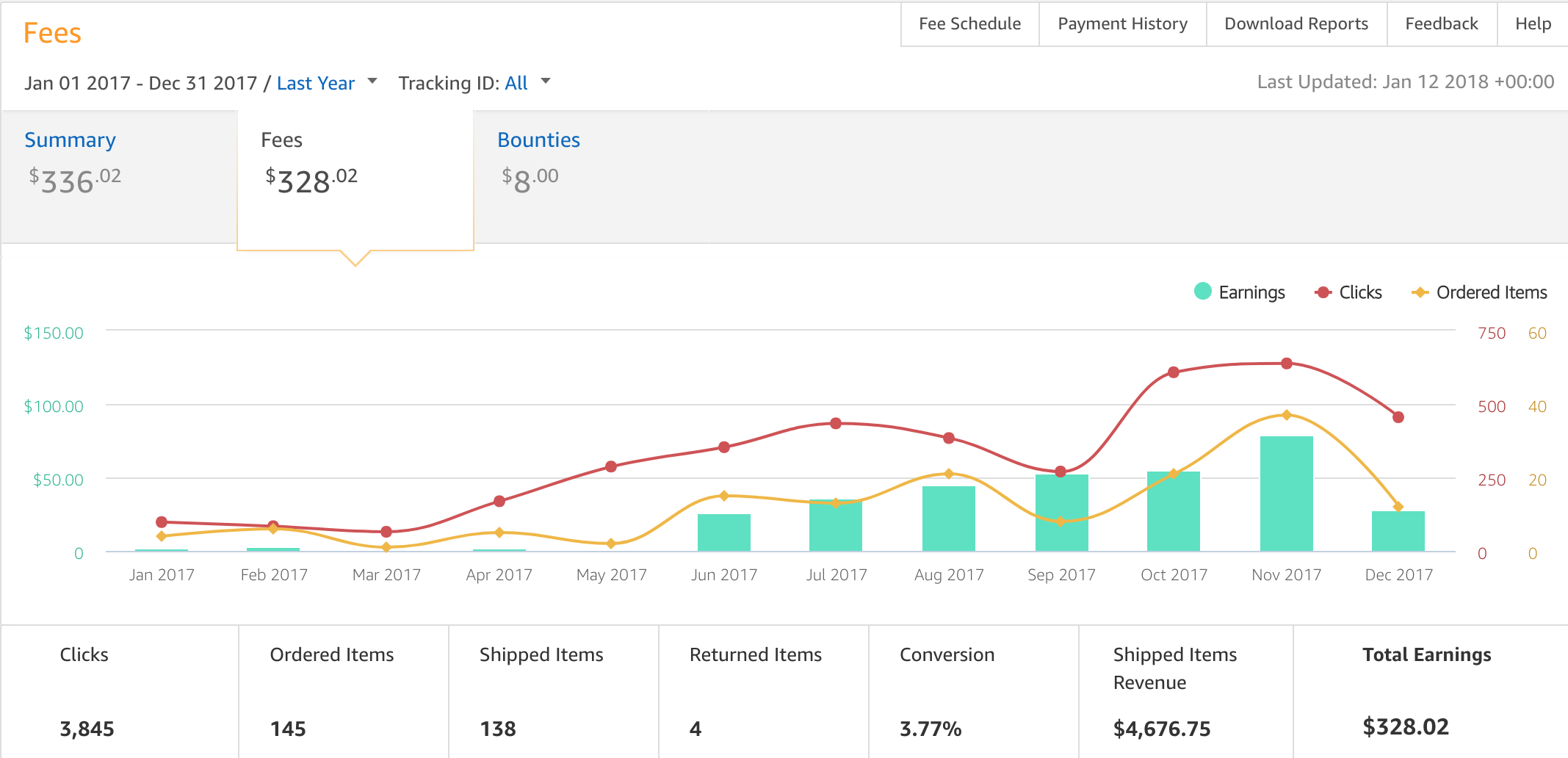 RewardStyle offers Amazon linking within their platform, but I recommend linking directly to Amazon with your own account as the commissions are much higher.
Going back to the Mediavine ad frequency concern, Amazon affiliate clicks actually increased after implementing Mediavine ads in mid-September as you can see by the red line on that chart. Pretty interesting!
Shareasale
Shareasale is an affiliate network that I used to earn money with Wayfair before I joined RewardStyle. Now, I am a member of their Namecheap and Tailwind affiliate programs!
Display Ads
Display ads provide an additional layer of income.
Mediavine
Joining Mediavine was a fantastic decision for the finances of my business. I do believe it has lowered the user experience of my site due to the frequency of ads it places between my content paragraphs, but that is a trade off for earning 5x what I earned with Google AdSense while using it the first 8 months of the year.
This chart shows the RPM I've been able to generate using Mediavine. RPM means the amount I get paid for every 1,000 pageviews. I expect my Page RPM to decline in early 2018 as Q4 is typically a very profitable quarter due to the holiday season. Come Q1 consumers are spending less, so advertising budgets go down as well.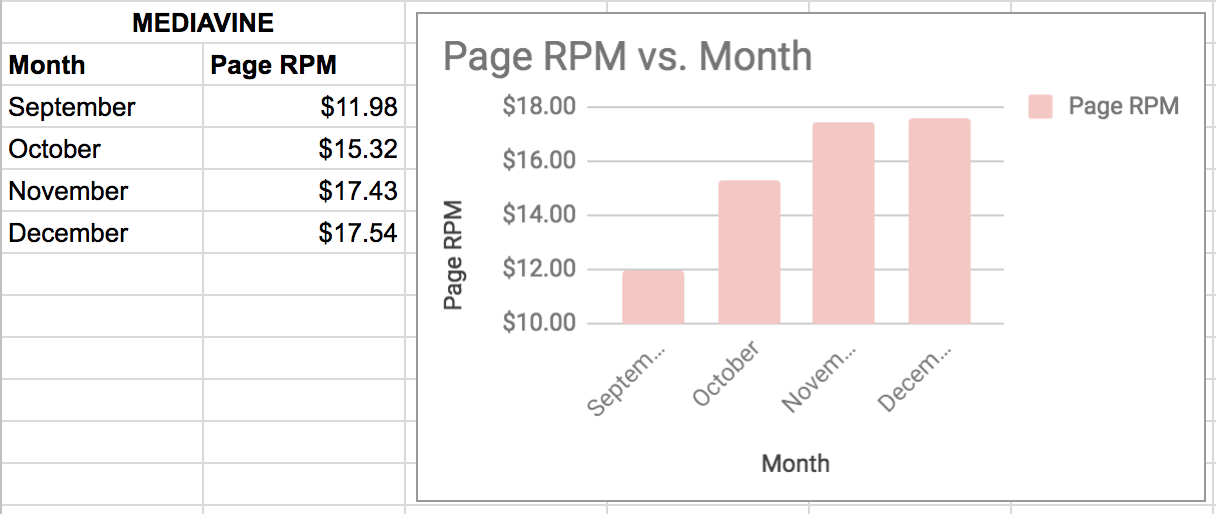 Using my past Page RPMs I thought it would be fun to calculate my potential earnings with Mediavine should my pageviews go up (which I'm hoping they do!)
Take a look at some of the potential monthly earnings I could see based on 100K, 200K, and 500K monthly pageviews:

AdSense
Google AdSense provided a solid and reliable source of income for the first 8 months of 2017. My earnings were not very high, but AdSense is super easy to set up which is why I highly recommend it for all new bloggers! I still use AdSense on my blogs which don't have enough traffic for Mediavine yet like this one and my travel blog.
Expenses
Blogging isn't free, but when you compare it to other businesses, the start-up costs are pretty much nothing in comparison!
Here are my expenses for the year:
1. My Domains – $49.46
I purchase all my domains from Namecheap as they provide coupons, making them cheaper than GoDaddy!
2. My Hosting – $117.48
If you're looking to start a blog, then I'd recommend going with Bluehost, however, if you plan to have more than one (or even just a personal website + a blog), then go with DigitalOcean.
3. Tailwind – $164.76
Learn how I used Tailwind to increase my blog traffic by 4 times!
4. My LLC – $102.35
Forming an LLC is a must once your business starts to earn a profit. Read about how I formed an LLC without a lawyer.
Traffic Overview
I'm proud I got my pageviews to over 30,000 steadily towards the middle of the year, however, the drop in December was a bummer.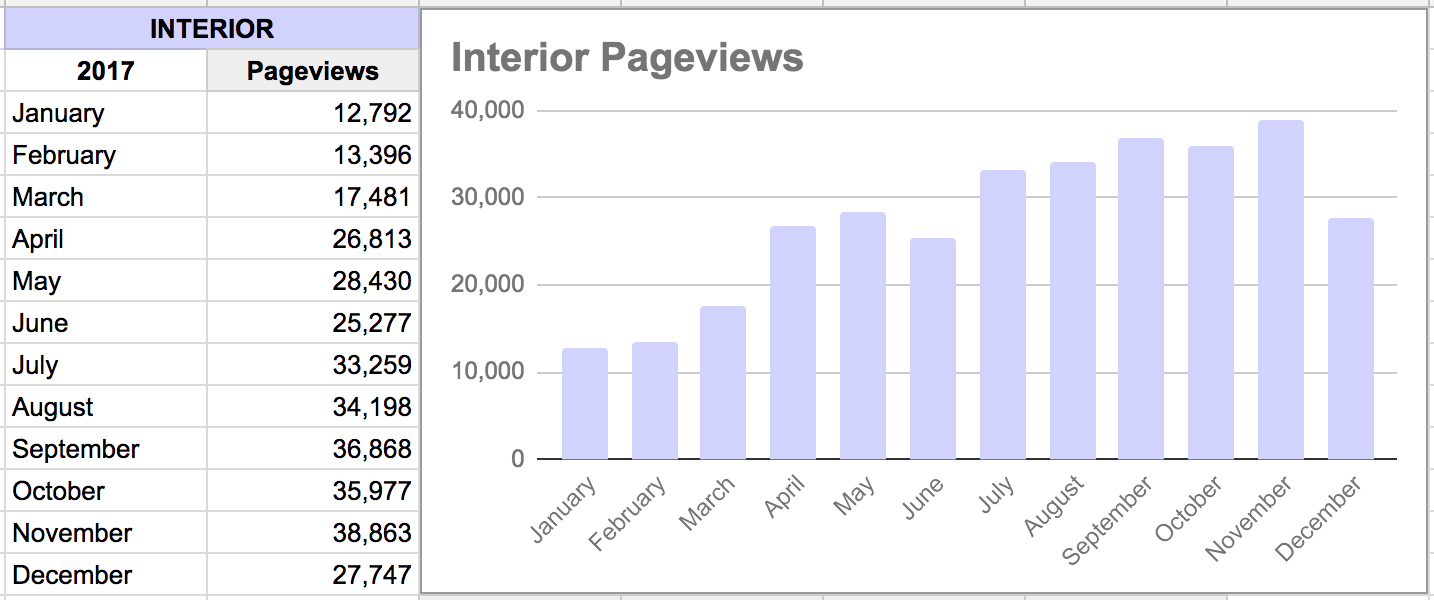 The drop in pageviews was likely due to my publishing schedule which nosedived beginning in June! I started to feel the blogger burnout after publishing every weekday without fail for 6 month straight.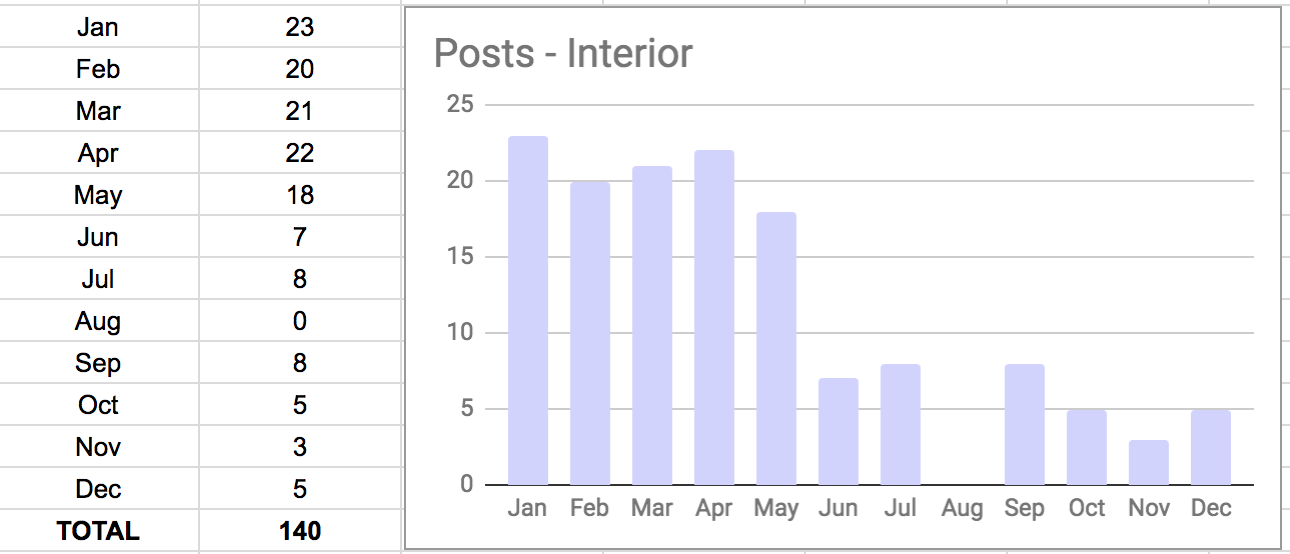 In 2018 I'm hoping to set up a more realistic publishing schedule that I can stick to!
Traffic Sources
At 73%, social media was by far the biggest source of my blog traffic. Organic search (8%) traffic is an area I'd like to improve in 2018.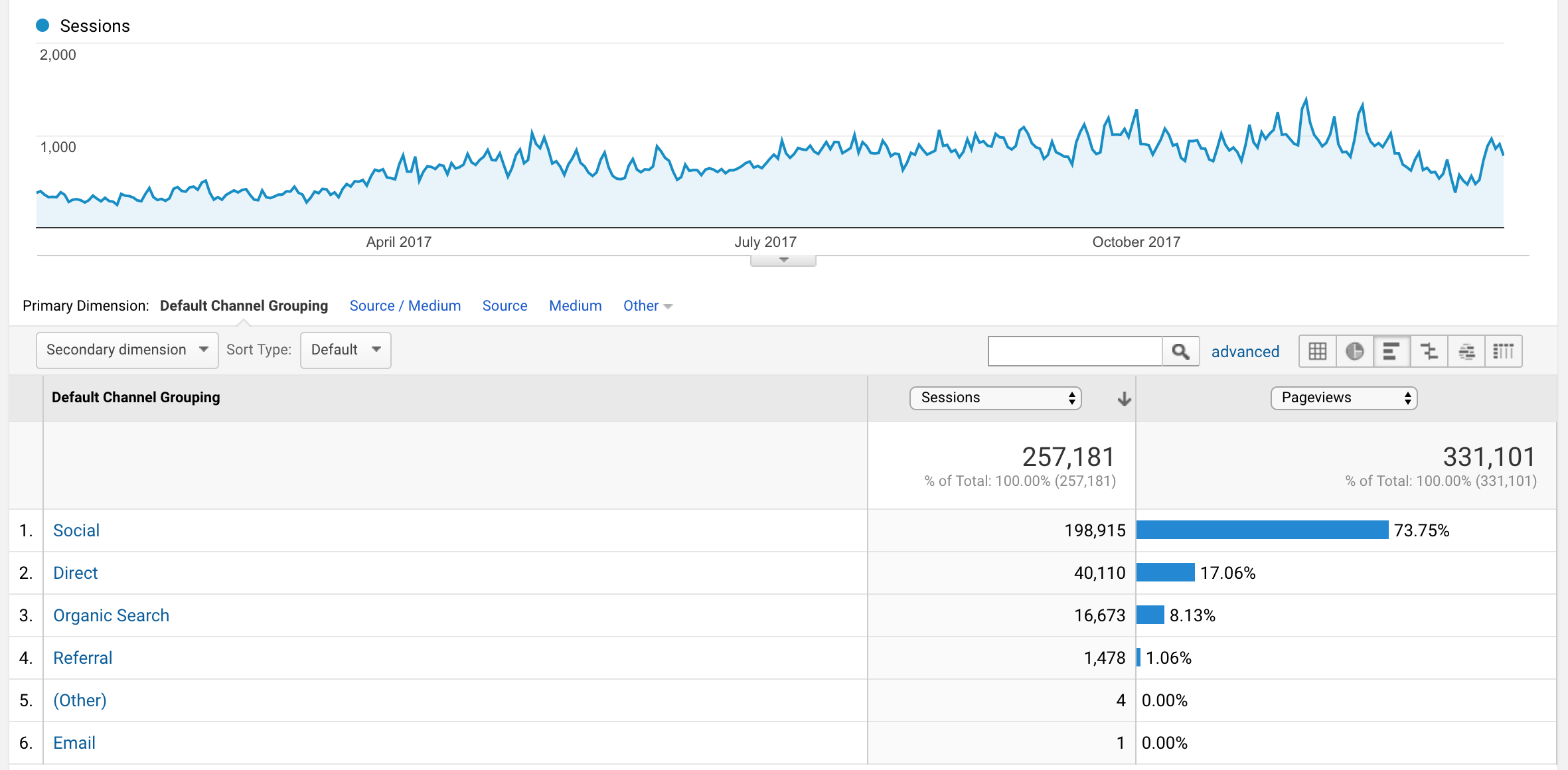 Digging a little deeper into the Social Network traffic I received, here are the top 5 networks that users came from. As you can see, Pinterest is king here which isn't surprising as that's where I've put all of my energy when it came to social media in 2017.
Tailwind is the automation tool I use to power my Pinterest marketing.

Goodbye 2017!
And that's it for the 2017 State of the Blog! If you'd like to read my previous monthly income reports, I'll link them here:
How was your business in 2017?