State of the Blog: 2018 Blog Income Report and Year in Review
Last year, I published my very first State of the Blog as a way to review everything that happened during the course of the year. I shared lessons learned, battles fought, and little wins in the world of blogging for profit.
Many businesses hold annual reviews or yearly audits and bloggers should be no exception! I'm writing this year in review to share my insights on what worked, what needs improvement, and my general thoughts about the blogging and online publishing industry.
I hope you'll find it interesting and maybe even useful!
With that said, let's jump into my 2018 State of the Blog address. If you'd like to skip ahead to a specific section, then please feel free to use the table of contents here:
My Blogs
As a reminder, I run a total of 4 blogs including this one. I started them all from scratch so they are truly my babies! In addition to the blog you're reading which I launched in 2017, I run a home decor blog (started in 2014), a travel blog (started in 2015), and a style blog (started in the fall of 2018).
I did not attempt to monetize my travel blog until early last year (and even then, it was a sporadic effort), so the majority of my blogging income comes from the home decor blog.
Many people think it's impossible to make any money with a small blog, but I am proof that this is not true! If you are interested in learning how to start your own profitable blog, please read my detailed guide on how to start a blog. In that post, I share the exact steps I took to start my very own blogs. I did not come from a digital marketing background and I had no experience running a website before I started my blogs so rest assured that non-technical people can absolutely start blogs, too.
Even though I run multiple blogs, I recommend you start with only one blog and build it up to a good income (at least $1,000 per month) before starting a new one.
Revenue
My blog revenue grew about 37% this past year. In 2017, I brought in $14,476.71, while last year I managed to reach $19,819.34 in blogging revenue! Although it would have been nice to reach $20K with this side hustle, I'm certainly not complaining about the hard-earned jump in blogging income.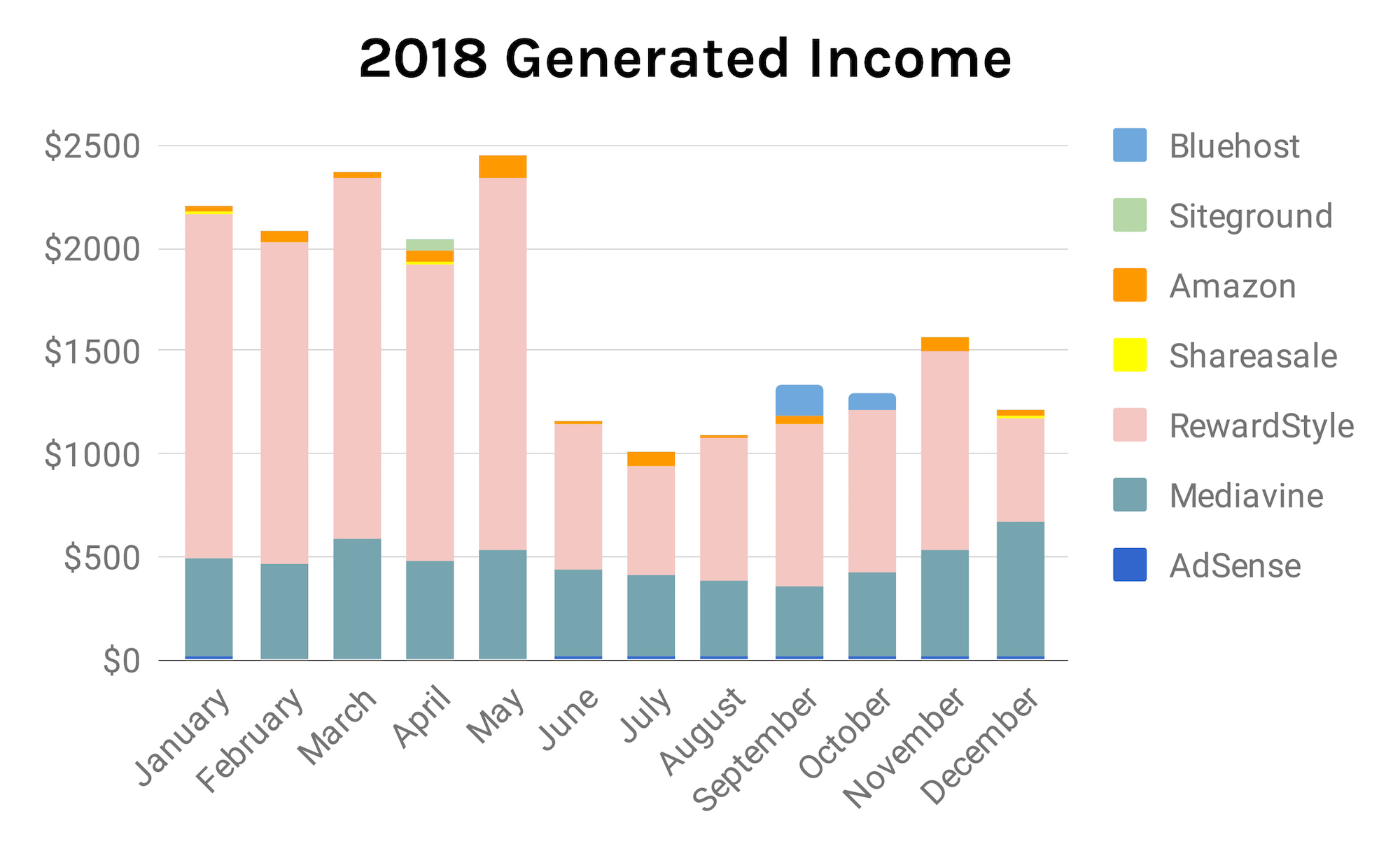 You'll notice my 2018 generated income graph is pretty high on the left and pretty low on the right. What happened?
Well… life happened!
I went through a busy and stressful period of work during the early spring and unfortunately I had to pretty much stop working on my blogs. While I picked up the work again by summer, sadly my Pinterest traffic took a serious hit because of the break. I will jump into Pinterest traffic a little later on, but for last 7 months of the year, I was stuck in a $1,000 rut. It was especially a bummer to watch after hitting a high of $2,451.02 during the month of May.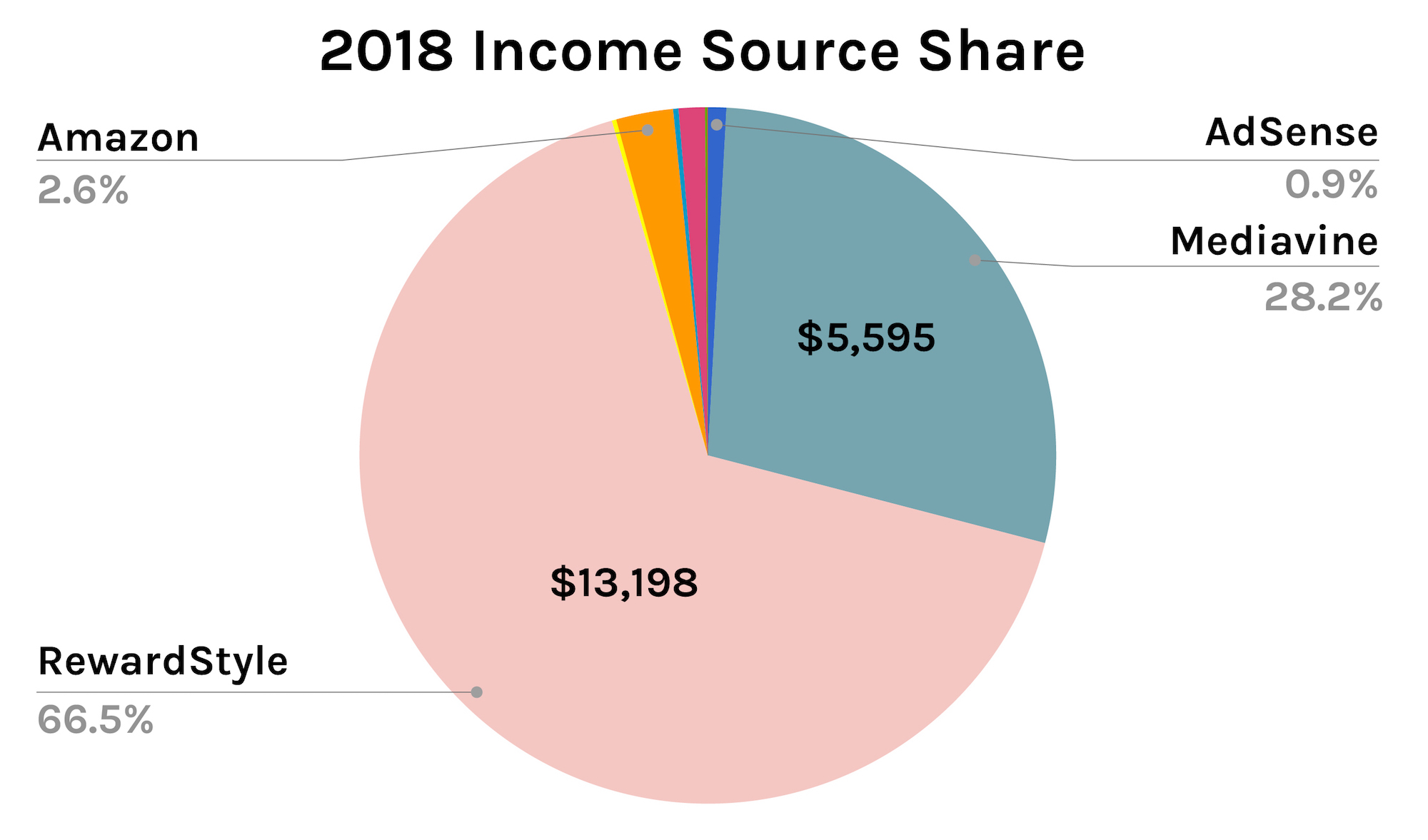 The majority of my income came from RewardStyle (66%) and Mediavine (28%). The share of my Mediavine income was up compared to last year (from 13%) as 2018 was the first full year I have worked with the advertising network.
Expenses
Blogging is a dream business because the expenses are so low! My major expenses are my domain name renewal through Namecheap, my blog hosting, and my Tailwind accounts!
Aside from those blogging-specific expenses, I have my own LLC so I deduct additional expenses like airfare, transportation, camera costs, and more expenses related to creating content and keeping my business running!
Traffic
As a blogger, you can never get enough traffic!
Traffic
Here's how my monthly traffic shaped up for the year: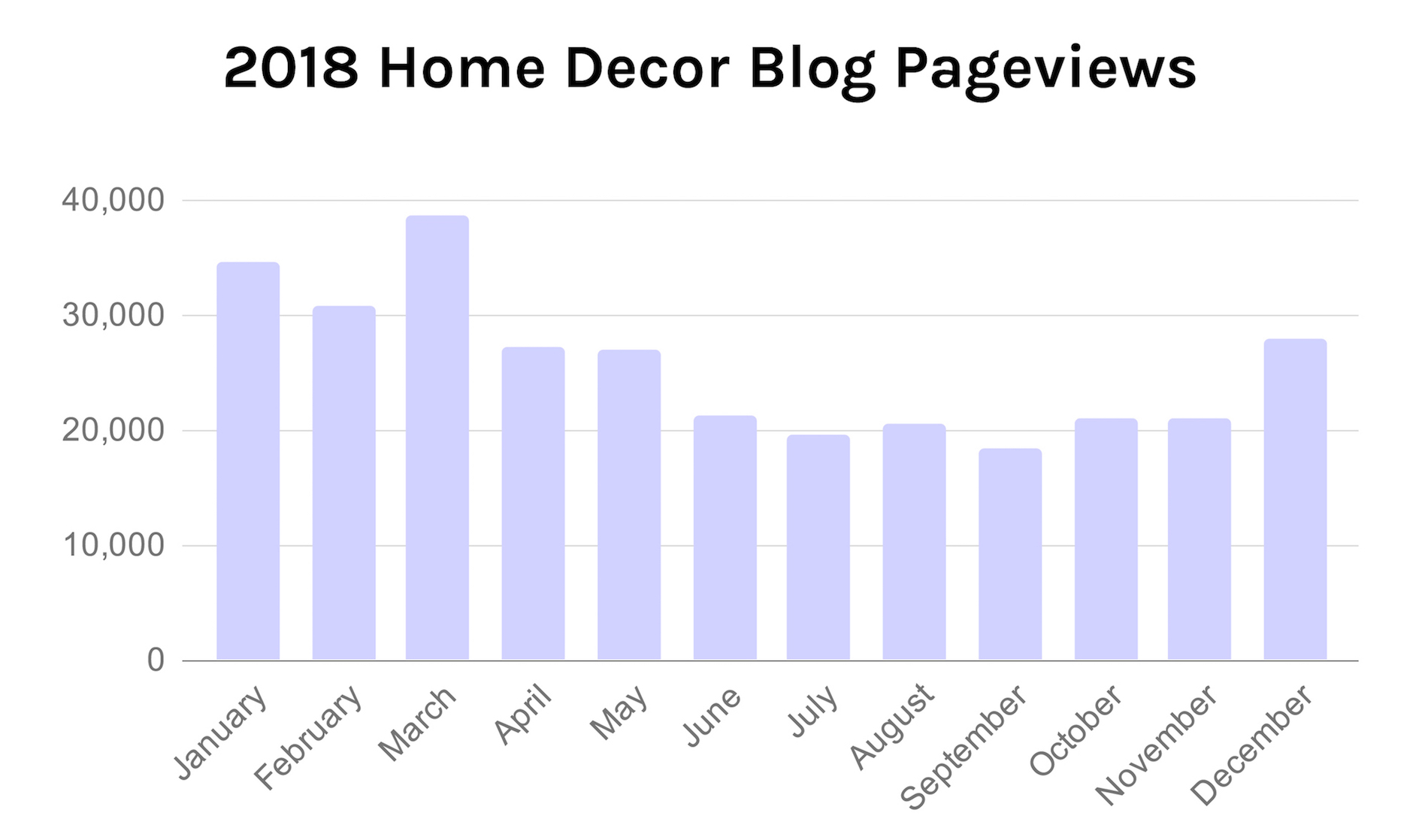 As you can see, my traffic took a nosedive after I became inactive on Pinterest this past Spring!
I've also been playing around with Google Data Studio and made this fancy chart with another way to view my blogging pageviews for 2019 as well as a few other blog metrics like Bounce Rate and Average Time on Page!
The dark pink line is 2018's pageviews, while the light pink line represents 2017's pageviews.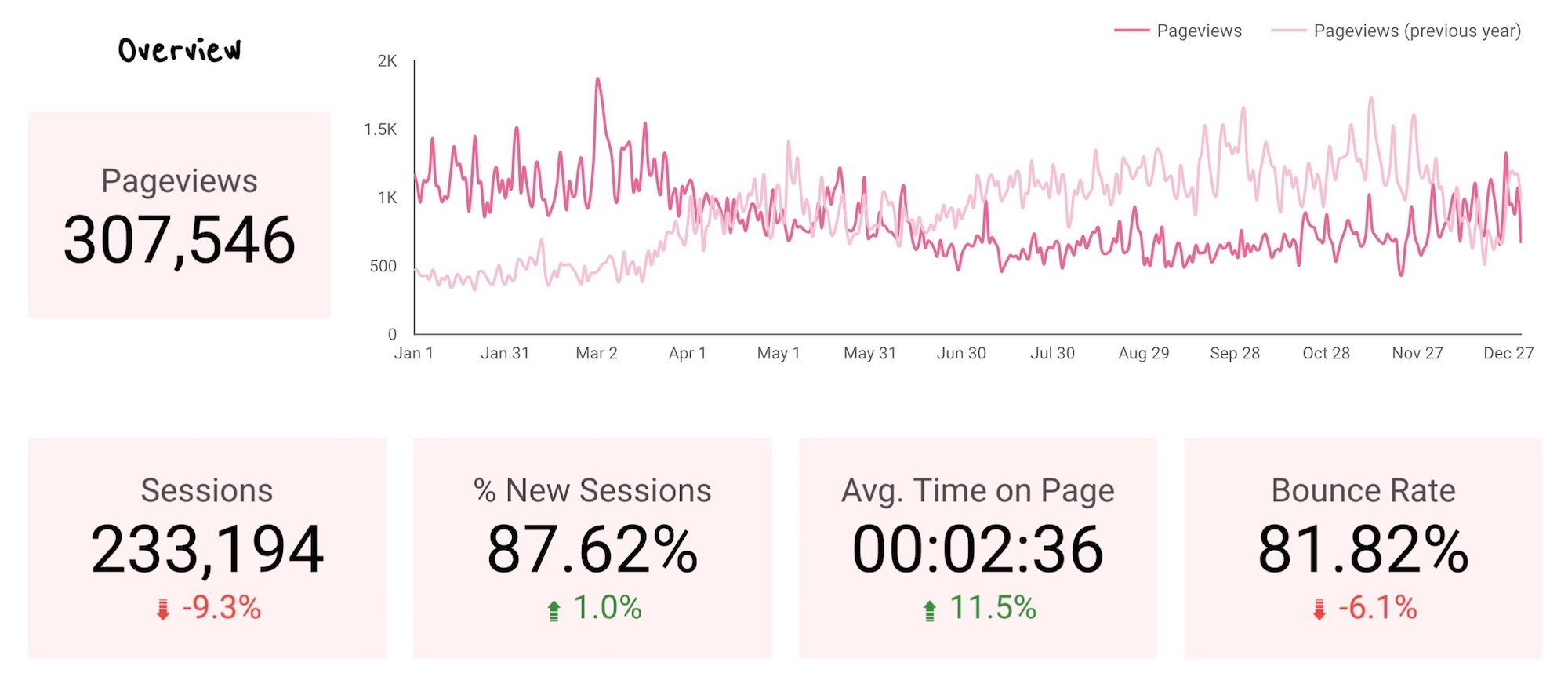 So where did all these people come from? Let's take a look at my traffic sources: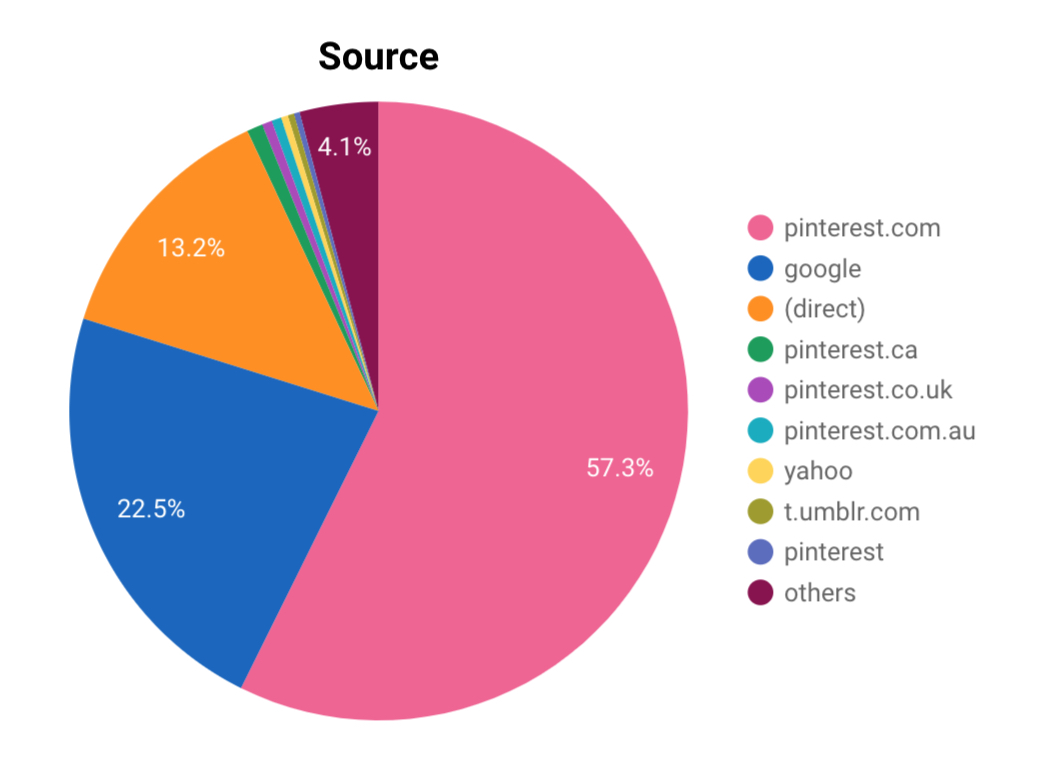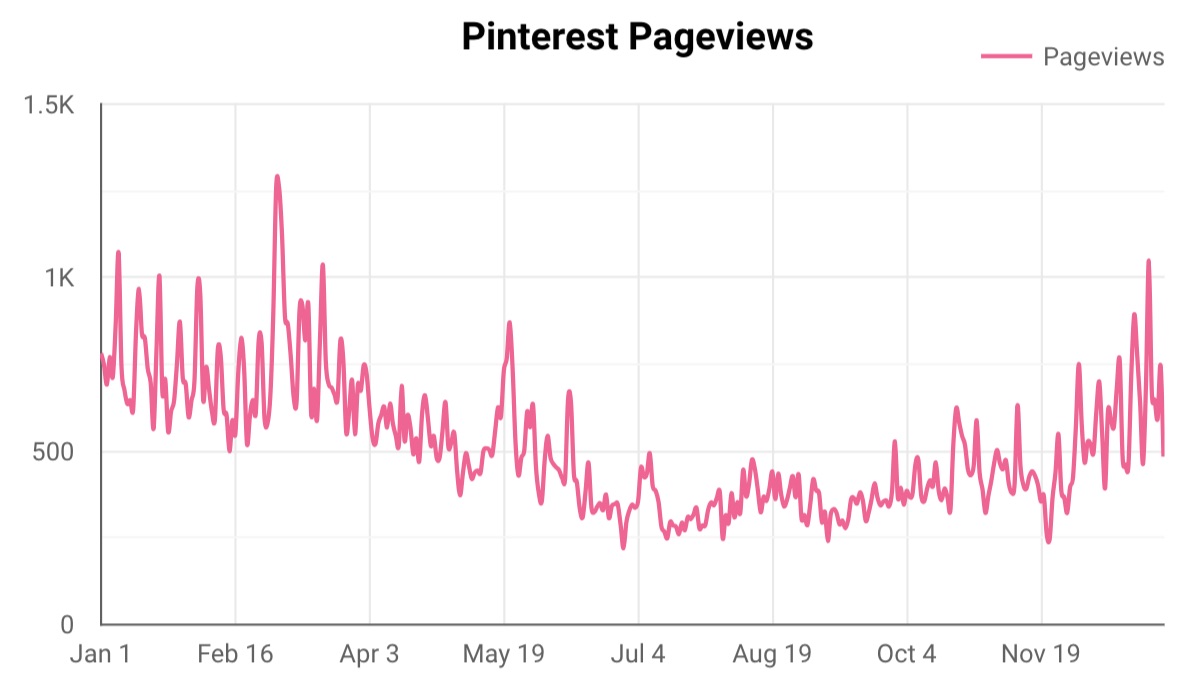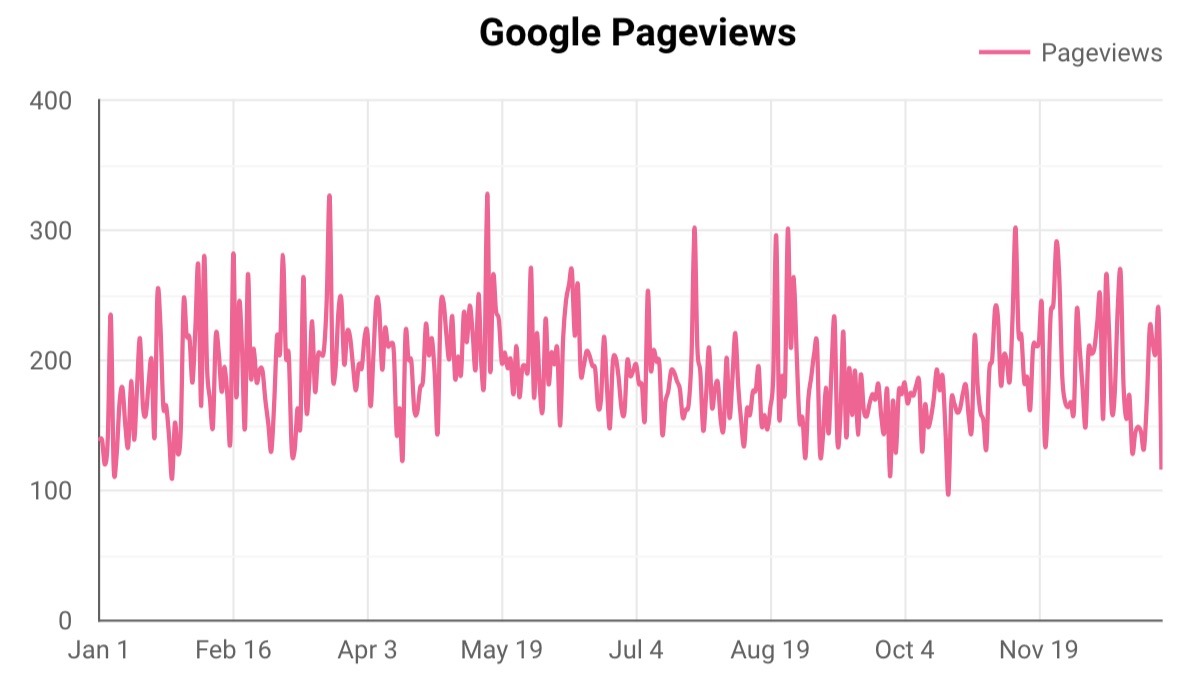 Google traffic remained steady but low, while Pinterest traffic was volatile yet rewarding!
Audience
I have to say the Age demographics for my blog was most surprising! Turns out I have a lot of readers in the 30+ age category. This is awesome for me, because older people tend to have more disposable income than people in their 20s!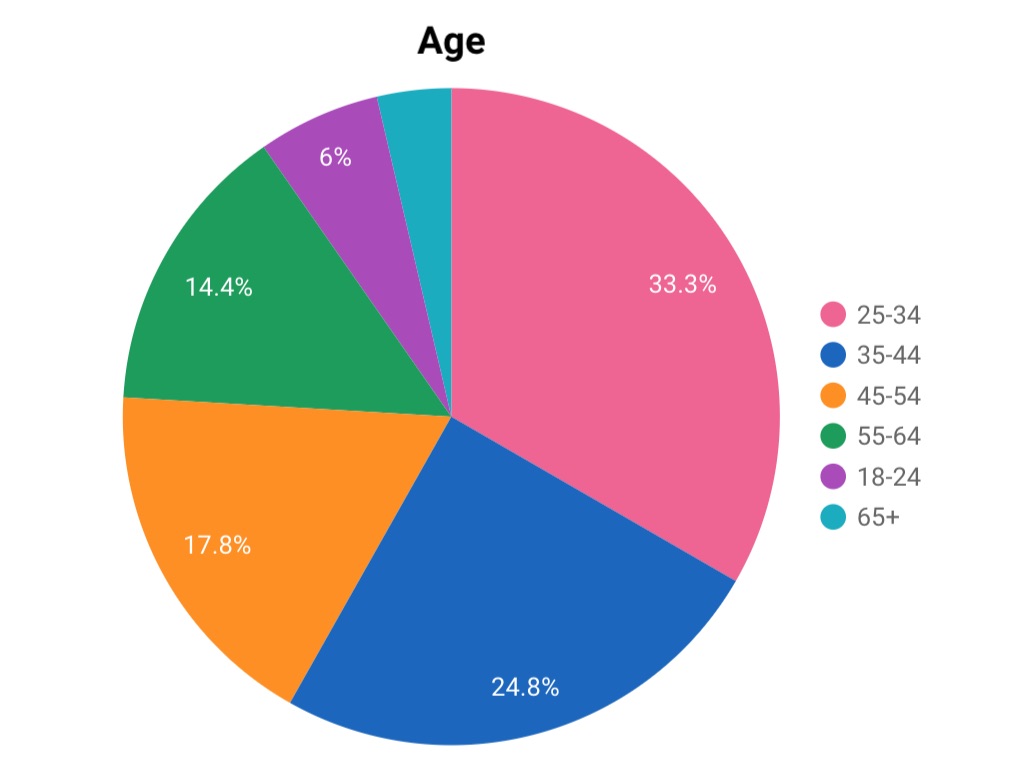 In 2018, mobile traffic still remained King! Here is a graph showing my website visitors based on the device they used to access my blog: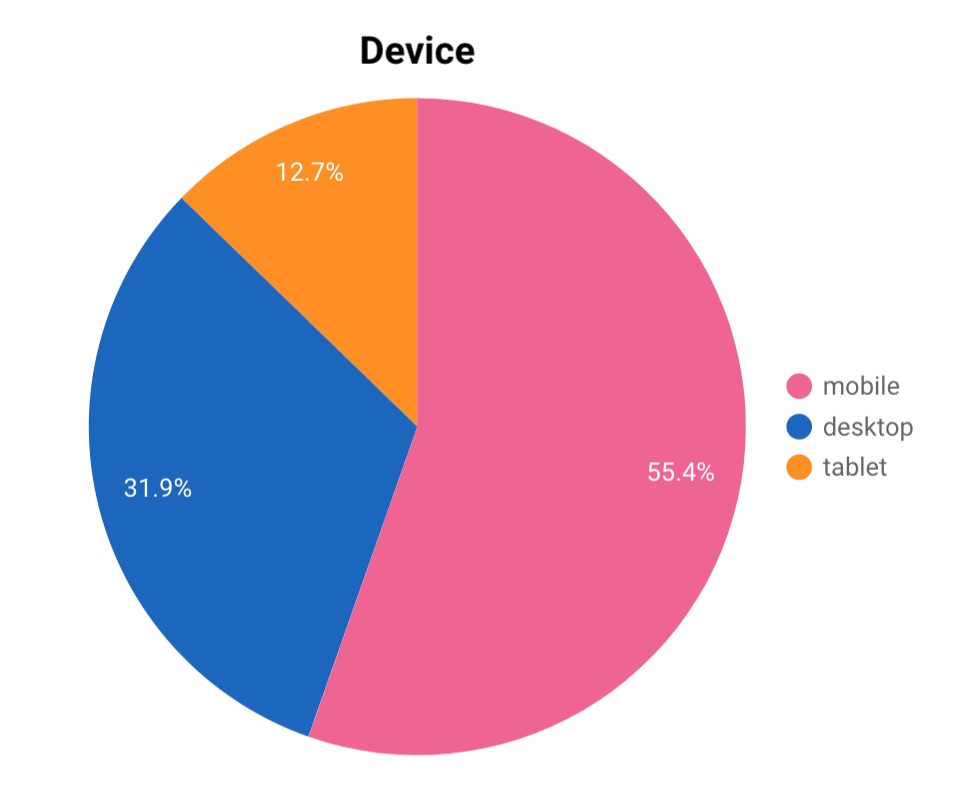 Blog Metrics
I don't keep track of my social media metrics every month, but I would like to begin keeping track of them at the end of the year so I can see how much I've progressed.
So, with that in mind, here are a few key blog metrics from 2018:
Blog Posts Published: 63
Email Subscribers: 295
Pinterest Followers: 12,000
Instagram Followers: 18,500
Long-Term Blog Monetization
I've been thinking a lot about the long-term monetization strategies for bloggers. More and more content is produced by larger and larger companies. Where does that leave the little guy?
In 2018 we saw two huge events that impacted the way bloggers generate income.
The first was GDPR and the second was Apple's Intelligent Tracking Prevention (ITP) update.
GDPR was a major privacy protection law that went into effect this past May. GDPR effectively granted all European citizens the right to know of, access and remove any personal data associated with them and held by a company.
Many advertisers use retargeting campaigns to reach users who have visited a specific product or page on their website. To do this, they need to store cookies, or small pieces of data, about users. This practice is part of the reason why advertising revenue can be so high – blogs have the technology to allow for highly targeted ads, which require access to some personal data.
A few months later, Apple's ITP program was updated in September. The ITP program was modified to prevent any third-party cookie tracking in Safari's browser for longer than 24 hours. Since most affiliate programs use a 30-day third-party cookie (such as from RewardStyle or from Shareasale) to track their sales, this type of change can effectively cripple affiliate income.
RewardStyle was kind enough to send me an email with a list of brands that had updated their affiliate programs to use first-party affiliate tracking systems, and thus avoid any penalties, but Wayfair, one of my biggest earners, was notably missing from that list. While Safari only retains about 20% of the browser market, as concern for privacy grows, it's only a matter of time before other internet browsers follow suit.
These events are separate but related. As a blogger, I've come to terms with the fact that the majority of blog income relies on some level of what is more and more often becoming considered a "privacy invasion." I believe that GDPR is just the tip of the iceberg. Sooner or later, the United States could adopt a similar policy for Americans wanting their data to remain completely private.
These events have made me question the viability of affiliate marketing and advertising as long-term income streams. I don't have any conclusions to draw at this time, but I wanted to share that it's something that's on my mind.
As much as I hate reading about things like GDPR and ITP, years like the one we've just had show how vital it is to stay on top of industry news.
Goals For 2019
As I look forward to 2019, I have a few major goals and projects on the horizon.
Link Building
I've been really good about properly structuring my posts for SEO, but I need to work harder at off-page SEO in 2019. Mainly, I'd like to grow the amount of links pointing to my site! The best way to do this is typically guest posting, and I've been putting this off for a while because part of me just can't bear to imagine producing even more content than I already do for a site I don't even own. But, that seems to be a key component in growing organic pageviews.
Email Marketing
Email marketing is another huge project I'd like to tackle in 2019. I've had an email list since the start of my blogs, but I rarely do anything manually with that list. In 2017, I set up an automatic RSS feed that emails my blog subscribers a list of my new posts, including the featured image for that post.
In 2018, I set up a welcome email that goes out to new subscribers and highlights a few key posts that I think they should check out.
Most recently, I created my first opt-in where I share a key component to growing your Pinterest traffic on this very blog!
In 2019, it's time to take things to the next level and develop a solid email marketing strategy.
Hit $10K
As I shared in my first income report, my goal with my blogs is to reach $10,000 per month in revenue. This is still the number I have in mind to give myself a comfortable online income. I hope you'll join me on this journey by subscribing to my email newsletter in the box below the post!
---
That's a wrap for my 2018 State of the Blog address!
I'll leave you with my income reports from 2018 in case you'd like to read further about each month!
December 2018 – $1,207
November 2018 – $1,564
October 2018 – $1,294
September 2018 – $1,338
August 2018 – $1,088
July 2018 – $1,003
June 2018 – $1,162
May 2018 – $2,451
April 2018 – $2,042
March 2018 – $2,368
February 2018 – $2,088
January 2018 – $2,209
Thank you for reading this far! I love hearing about your experiences with blogging, too. Please feel free to drop me a line, or leave a comment below with your thoughts on blogging in 2018!