January 2018 Income Report
January is the month of new beginnings, fresh starts and renewed motivation. I hit the ground running this month after having a super lazy December, during which my income visibly suffered!
Things recovered in January and my income and traffic were up across the board due to some good old-fashioned hard work.
I'm excited to get back into blogging after taking a break in December. My traffic growth efforts paid off, which I'll go into more depth below.
Income
My income returned to pre-December levels, and though I didn't set any major new records, it was a solid growth month which turned the declining trend around from the end of the year.
Here's how January's income has shaped up. The first two sources are income from Display Advertising, and the last three are from Affiliate Marketing.
| Source | Income |
| --- | --- |
| AdSense | $12.75 |
| Mediavine | $475.87 |
| RewardStyle | $1,680.48 |
| Shareasale | $2.00 |
| Amazon | $38.06 |
| Total | $2,209.16 |
My Mediavine income dropped a bit from normal levels, but this was to be expected as it's the first month of Q1, historically when brands spend the least amount of money on advertising.
My RewardStyle conversion rate was awesome in January, with 4,259 clicks and 51 sales giving me a rate of 1.20%. RewardStyle says that a 1% conversion is considered "good" so I'm happy to be doing better than that! My site's RS click-through rate improved a bit to 12.35% up from 10% in December.
Two of my lovely readers signed up for Shareasale this month, earning me a $2 commission. I signed up with Shareasale a year ago and began earning money when linking to Wayfair through them. I've since switched my Shareasale links to RewardStyle which is why I don't earn much money from them anymore, though they do have a ton of merchants you can link to in many different industries.
I try to link at least one item from Amazon in all my product posts, as they're an awesome retailer to generate income. So many Americans shop at Amazon, so even though my earnings can fluctuate each month, there are always sales!
Expenses
No expenses in January (why I love blogging) since I already paid for my domain and hosting upfront. I have a yearly Tailwind subscription, too which helps drive loads of traffic to my site. Click here to read the details about how I use Tailwind.
Traffic
I've said before that listicles are a key driver of traffic growth, and as much as I dislike the click-bait nature of them, you really can't have a successful blog quickly without them.
My interior blog received 34,477 pageviews, up 25% from December. The most impressive jump was my travel blog which received 8,342 hits, up from just 1,900 in December. This jump was due to a listicle I wrote about places to visit in Europe, which was picked up by the Bloglovin' Travel section, resulting in one day where I had 1,888 visits!
I wish I had started writing listicles sooner instead of being so stuck up about them! You gotta do what you gotta do.
The majority of my traffic still comes from Social sources, but lately my Organic Search referrals have grown (now up to 12%):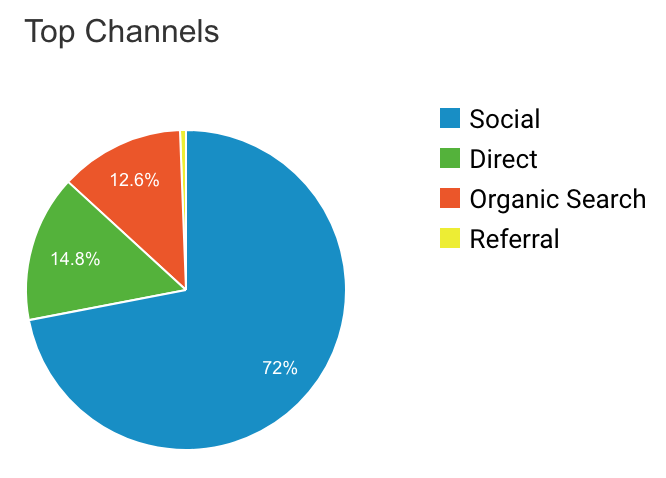 Pinterest makes up 98% of my Social referral traffic. I'll be writing a guide to Pinterest very shortly explaining exactly how I use it to drive traffic.
Plans for Next Month
In the past, I've said that I wanted to invest in a keyword research tool, but since I received so many different suggestions on which tools to purchase and which tools not to purchase, plus articles advising against these tools entirely, I decided to hold off and do SEO research on my own.
I go about this pretty simply: if you do a Google Search for a keyword you'd like to target, and see a lot of that keyword mentioned in the titles that appear, scroll down to the "Related Searches" section.
Click through to those keywords and see how many websites are trying to rank for that specific keyword. If there aren't too many, then I choose that keyword.
Those are really basic tips. In general, keyword research isn't something I am super focused on, as listicles tend me to bring me more traffic than Google, so that's where I'm going to focus.
How was your January?