October 2018 Income Report
October marks the start of Q4 which is typically the most profitable month for bloggers! Because of the holiday season, advertisers are spending more and consumers are purchasing more, as well. October wasn't a fantastic month for me, but I did see some improvement compared to September!
This past month was spent working on publishing new content. I published 3 times on Blog Ambitious, 5 times on the home decor blog, and 8 times on my travel blog. 16 posts isn't terrible, but I'd really like to publish at least 20 posts each month (about one per week day based on a 4-week month).
I wrote a lengthy and long overdue post about how I drive Pinterest traffic to all my blogs. I highly recommend reading that post if you're struggling with Pinterest traffic. There are some tips in there that other bloggers charge money for (not kidding).
In October I launched a new blog actually which I'm excited to see where it goes. It is a fashion-focused blog (a hugely profitable niche), BUT I found a niche that is relatively untapped so I'm hoping to score big there. I wouldn't recommend starting a fashion blog unless you have a specific niche within fashion that you know is popular and you can publish about ONLY that topic. I'll have more news for you guys on this endeavor in the coming months!
I feel slightly crazy to have launched a new blog, when I already have several (including some which aren't even profitable), BUT I am extremely passionate about this topic so I decided to go ahead anyway. Normally I would advise you to never start a new project until the first one (or three) you have are in good shape!
Let's jump into my blog income for October 2018!
Income
| Source | Income |
| --- | --- |
| AdSense | $20.28 |
| Mediavine | $406.51 |
| RewardStyle | $779.14 |
| Shareasale | $1.51 |
| Amazon | $7.36 |
| Bluehost | $80.00 |
| Skimlinks | $0 |
| Viglink | $0.34 |
| Total | $1,294.80 |
As you can see, Mediavine income jumped up from September. Woohoo! RewardStyle income fell just slightly. Last November was hugely profitable, probably due to the holiday season, so I'm hoping this month will see an increase as well.
Expenses
No major expenses in October – that's why I love blogging! If you're curious about blogging expenses, then check out my How to Start a Blog guide! Aside from those expenses, I have one marketing expense for my Pinterest account: Tailwind, which is paid upfront for the year.
Traffic
Traffic was slightly up on the home decor blog. I'm still not seeing the high traffic I saw in spring, but I have a lot of listicle holiday-focused posts coming up this month and next which I'm hoping will give me that extra boost I need!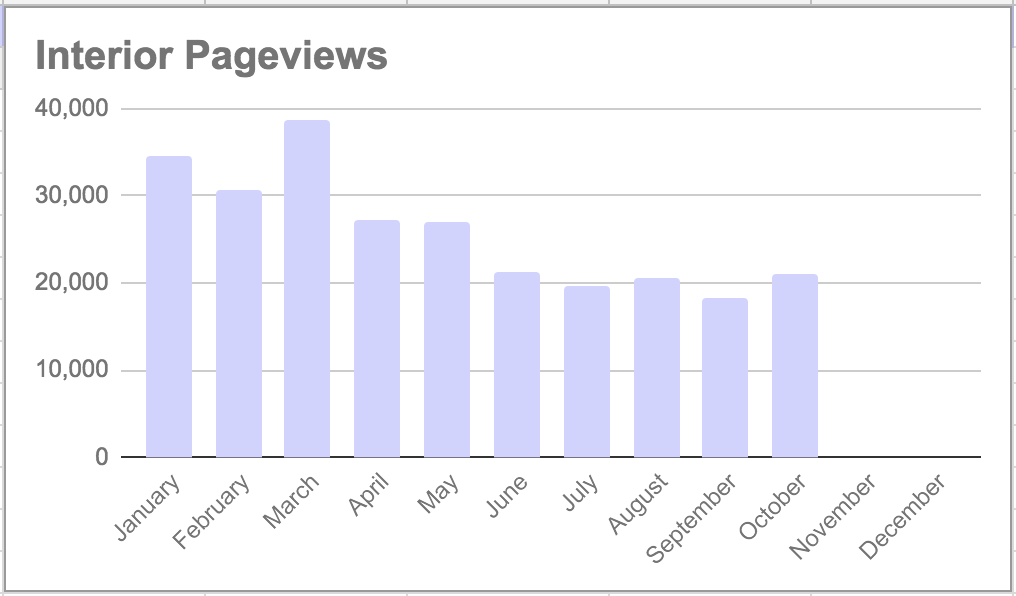 Plans for Next Month
This month I'm focusing on the blog posts that I know have the potential to go "viral."
It's really interesting to use Pinterest because out of nowhere posts can become extremely popular. For some reason, in the last week or so, my post on how to form an LLC that I wrote over one year ago (last September 2017) has gone mini-viral on Pinterest. I can see why: It's a post on how to do something for free that most people think you need to pay for. It goes to show that blogging is really a long-term investment and you never know when or how long it will take to "pay off."
I'm also fascinated by the relationship between Pinterest and Google. I know for a fact that two pins that have done well on Pinterest did well on Google after the fact. If anyone has some light to shed on this, I'd love to hear it. Essentially, my most popular pin of all time from the home decor blog, has resulted in the linked post appearing on the first page of Google for that keyword. I won't go into details, but essentially it's a relatively high-volume home decor keyword, and I just can't ignore the fact that it did so well on Pinterest and that could be tied to why the post is ranking well on Google.
On the travel blog, I have an image that did mildly well (not my most popular, but still successful), and now that same image from my blog is ranking for the town name keyword on Google. Maybe these things have no correlation. I'm not sure, but again, if you know anything about this, please do share with me either privately or in the comments below!
Just some things I am wondering about.
Happy blogging! Hope your October was profitable as well. 🙂