You may recall that November of last year was my most profitable month to date. With Black Friday, shoppers are spending like crazy and advertisers are paying like crazy, too. Both RPMs and affiliate sales go up in November and my income usually reflects that madness.
While I had a good November, I'm still not where I was in the spring in terms of affiliate income.
The good news is that I was able to publish a solid 9 blog posts on my interior design blog. I've started focusing on posts I know have the potential to bring long-term traffic, and even though many were centered around "fall" or "Thanksgiving" decor, I have a feeling they will bring in traffic each year around this time!
Let's jump into my blog income for November:
Income
| Source | Income |
| --- | --- |
| AdSense | $22.14 |
| Mediavine | $511.16 |
| RewardStyle | $966.41 |
| Shareasale | $2.28 |
| Amazon | $62.69 |
| Bluehost | $0 |
| Skimlinks | $0.58 |
| Viglink | $2.49 |
Expenses
After a long and exhaustive search, I finally upgraded my hosting in November. I don't want to share the company as I've been less than pleased with their customer service, but this was long overdue. With several blogs under my hosting plan, the traffic just became too much for my current web host to handle. (They have awesome support by the way!)
So Hosting was a new expense that came this month, but it was well worth it. My sites load much faster than they used to! I plan to write a new post on how I chose my web hosting for a high traffic website in the coming months… Stay tuned!
Luckily, other than that, my blogging expenses were prepaid in advance! Those included a domain from Namecheap, and my Pinterest scheduler, Tailwind!
Traffic
My traffic rose by a whopping 26 pageviews this month! (Ha! sarcasm)
It is true – I hit a total of 21,050 pageviews on my interior design blog. Hey, progress is progress, right?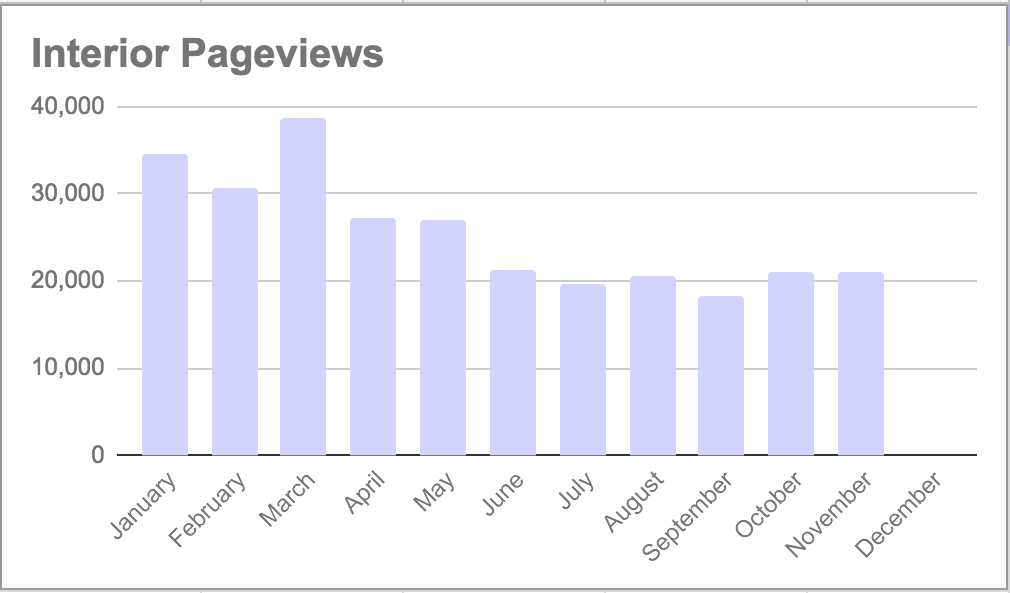 Plans for Next Month
We're already halfway through the month and I've accomplished a lot! I focused on Christmas home decor posts this month which are mostly done. I need to wrap up some travel blog posts I have in the works as well. Once those are done, come January I'll be focusing on purely evergreen content across all my blogs.
Thanks for coming along on the ride with me! How was your November income?