Hey there! It's been a while since I've posted an income report.
Things at work have been hectic and I'm starting to really dread waking up in the morning to start my day job. I've definitely been slacking when it comes to my blog which is why I stopped sharing income reports.
However, I'm posting this one because I'm going to be back at the blog thing from now on!
You may have noticed that I've changed the name of the site to Blog Ambitious. The previous name just didn't fit with the goal of this blog: to help female bloggers succeed at making money online.
I really like the new name and hope you do too!
Let's jump into the income. If you're new here, this income is mainly from my interior design blog. I also run this blog and a travel blog, neither of which bring in any income aside from a few Google AdSense ads.
Income
| Source | Income |
| --- | --- |
| AdSense | $17.63 |
| Mediavine | $414.44 |
| RewardStyle | $706.69 |
| Shareasale | $4.59 |
| Amazon | $18.64 |
| Total | $1,161.99 |
The first thing you may notice is that my RewardStyle income dropped drastically compared to my last report. While I do think part of this is due to my lack of new posts, there was also a reporting incident in early June, where I went an entire week with no sales made, and thus, no commissions.
While RewardStyle claims to have fixed this issue and synced all sales to the reports we see as users, I still can't help but wonder if the real issue was that they did not track sales properly for that week.
There is no way for me to prove my theory unfortunately, so I have to take RewardStyle's word for it.
While I love the RewardStyle platform, bugs in their system like this one are starting to appear more frequently, and not just for me. I'm part of a RewardStyle influencers Facebook group, and every week someone posts about sales missing from their reports, or some other issue.
After what happened in June, I'm strongly considering moving to another platform entirely. I'll need to do some analyzing of commission rates on other platforms like Skimlinks and Viglink first before making any moves, of course.
Such are the trials and tribulations of finding ways to make money blogging!
Expenses
No major expenses during the month of June. I purchased my domain name from Namecheap and my hosting from Bluehost as I have several websites.
Traffic
Traffic was down to 21,261 pageviews last month, my lowest in quite a while. This is what happens when you don't pin. Pinterest punishes you!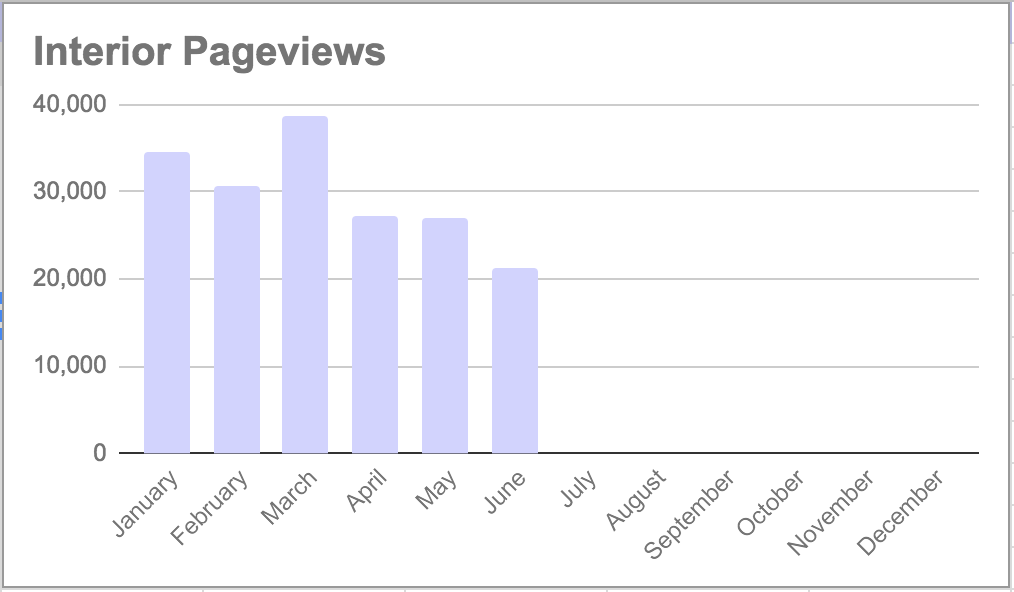 Even though I'm lacking my normal Pinterest referrals due to my inactivity on the platform, it's worth noting that Google, on the other hand, doesn't seem to care !
Organic Search referrals have remained steady when compared to last month.

This definitely shows the importance of diversifying your traffic streams. I have not optimized for SEO too much, though I do occasionally write keyword-focused posts.
Plans for Next Month
I have an exciting announcement that I will be sharing with you all next month. For now, I'm focusing on optimizing the content I have currently and creating an editorial schedule for the months ahead.
How was your June blog income?