2020 Blog Income and Year in Review
2020 couldn't have been a better year for my blog. I know you won't hear a lot of people celebrating this year thanks to a worldwide pandemic, but I have to admit that 2020 was truly the "break out" year for my blog!
The timing was so surprising to me because my blog income started to take off right around the exact same time as coronavirus did. As everyone was going into lockdown (and sadly losing their jobs) in March, my own income was exploding like never before.
I guess I'll never truly know if my income grew because of coronavirus lockdowns, or in spite of it, but either way I was so ecstatic about the growth. This was the first calendar year of running my blog that I felt I could live comfortably with my income.
I even surpassed the amount of money I was making when I quit my job back in August of 2018. I'm not talking about just any job, either – I had a really good corporate job at a tech start-up, so my salary was quite high.
Let's dive into the lessons I learned this year, key takeaways, areas for improvement and this year's blog stats!
My Blogs
As a quick reminder for those of you who are new around here, I run 5 blogs.
My main blog which earns the bulk of my income is in the home decor niche. I run the blog anonymously so it's not a "personal" blog like the ones you may know of already. I also have a travel blog, two fashion blogs, and one blog about blogging (this one!). You can read about how I started my blog for money as well as my previous income reports on this blog.
The numbers in this report may feel high and out of reach for you.
Please, don't ever look at an income report and say to yourself: Wow, I can't do that.
I started at zero just like everybody else. When I ran into a problem, I Googled around until I found a way to solve it. I never had the mindset of Oh, that couldn't be me. I always had faith in myself, and you should, too!
If there's any part of you that doubts your potential for success, quit reading this post right now and go find a motivational book. I'm serious! None of the information in this post will help you succeed unless you don't truly believe with all your heart that you can and that you will.
Ok, let's chat about 2020.
Diversification
If there's one lesson to be learned this year, it's that diversification is key if you want to rely on blog income full time.
Travel bloggers got screwed in 2020. Royally screwed.
That's why I never wanted to pin myself into one box. You never know what will happen with that niche if you only rely on one income stream or one blog.
It's ok to focus on one thing at a time, but after one year, you should have multiple income streams or multiple blogs to rely on in case one of those sources goes sour.
I had a travel blog that, at its height, was getting around 30,000 pageviews a month in the summer of 2019. It was never my main focus, but I got the blog accepted into Mediavine, and that earned me a nice chunk of pocket change.
You can guess what happened to that blog in 2020.
Luckily, I had other blogs to back me up.
Does a Bullet-Proof Business Exist?
The pandemic has undoubtedly made us all question our income sources, whether you work hourly, take a salary or have your own business. If entire industries like air travel and hotels can be wiped out due to a pandemic that no one saw coming, what other businesses could be wiped out just as quickly?
I told myself that the home decor niche could never be brought down the way that the travel industry was. People will always need furniture because shelter is one of the core human needs. But is that really true?
3D printing was a thing a few years ago. What if one day a company launches and people can 3D print all the furniture they need from their home?
It sounds crazy but the truth is, none of us know what the future holds. Technology is developing at rates we cannot predict. Anything can happen at any time, and we have to just roll with the punches.
That being said, for the time being, it's smart to think about what people will always need – love, shelter, food, and basic clothing – and base your business around one of those topics.
That's as close to a "bullet-proof" business as you can get for now.
Organization
I got a lot done this year. While it wasn't easy, it would have been impossible without proper organization of all the tasks I needed to accomplish to remain productive.
How did I do this? With Asana of course.
Asana is my absolute favorite task management tool. It has both calendar and list views so I can organize and see all of my tasks in the way I prefer. I use Asana as my content calendar and editorial planning tool. As I schedule posts, I check them off directly from the calendar. It lets me get a visual sense of how far out I have content scheduled!
I really can't recommend Asana enough. I use the free version, which is perfect for a solo business owner like myself.
2020 Blog Revenue
And now, the moment you've been waiting for. My revenue for 2020 hit an astounding $123,693 before expenses. I tripled my blog revenue from 2019, which you may remember was just under $40,000.
I wish I could tell you exactly what I did to do this, but the truth is, I just kept plugging away. "Keep on keepin' on" is a phrase that comes to mind when I think about my work for this past year.
Here is the breakdown of my blog revenue by month:

March was a fluke month, so don't read into that. The above income is reported using the cash method, meaning those are the amounts that actually hit my bank account during the reported month. I received payments in March that should have been distributed more evenly in January and February, which is why that month was so high.
As you can see, my monthly revenue doubled in August, which is when I started getting paid out the income I had earned back in March due to the start of the pandemic.
November was my highest earning month just like it was last year.
Types
Here are the different types of revenue my blog earns. The majority of my income (67%) comes from affiliate marketing commissions. Second, I make money from on-page display advertisements, which make up 23% of my blog income. Lastly, I earn from sponsored posts which make up almost 10% of my blog income.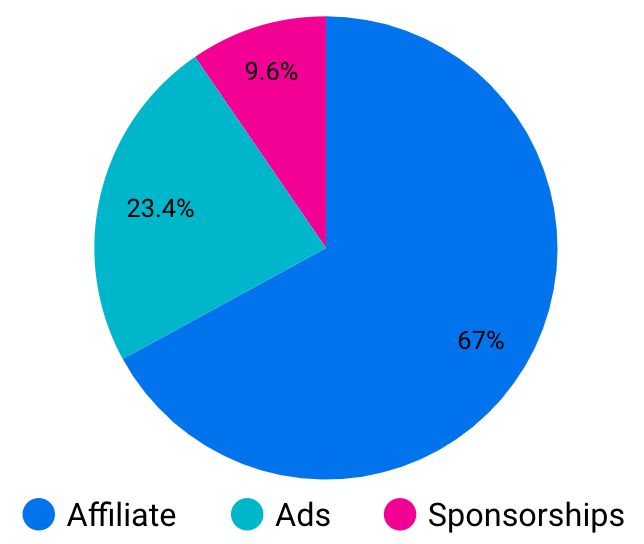 Companies
Here is an overview of the companies that contributed to my blog revenue this year. I often read blog income reports with 50 or more different revenue sources. While it's great to diversify your income sources, I can't imagine the logistics behind managing so many different programs. I'm happy to work with a smaller number of revenue sources and build them up as much as I can. Perhaps in the future, the number of companies I work with will grow!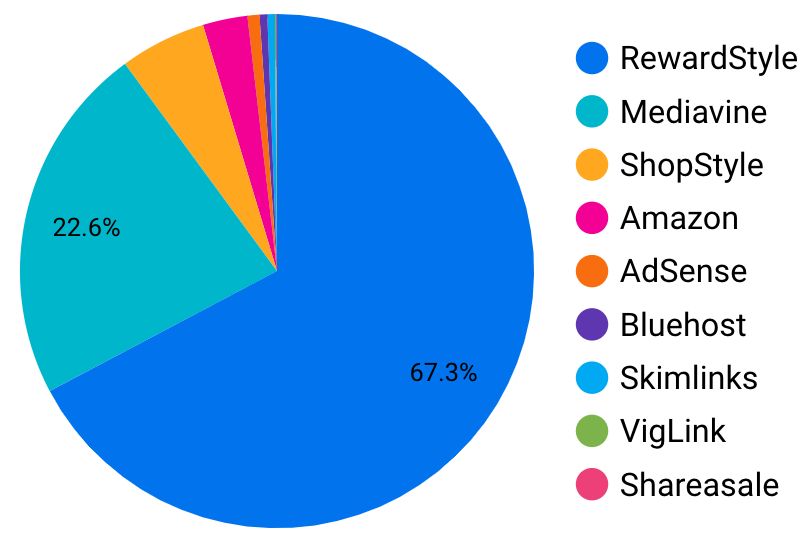 It's kind of interesting how this pie chart is incredibly similar to the one above! RewardStyle pays out the majority of my affiliate marketing income and my sponsored post income, which is why they are my biggest source of revenue.
Mediavine is an amazing ad management company that handles all of my on-page display ads. I have three blogs with them currently in the home decor, travel, and fashion niches.
Expenses
My necessary blogging expenses came out to less than $1,800 this year. As I always say, this is why I love blogging! I like making money – I don't like spending it. So finding a business that allows me to generate profit without dishing out too much money was a dream come true!
Here's a breakdown of my blogging expenses:
DigitalOcean Server – $240 ($20 per month)
I use a dedicated web server to host my high-traffic blogs. I wrote about my search for high-traffic web hosting recently and so far I'm very happy with my choice! I use a program called RunCloud to manage the server, but that will go on next year's expenses since I got a few days of a free trial right before the new year. Read my DigitalOcean review for more info.
Web Hosting – $98
I host my smaller blogs that are still in development on a basic web hosting package. Bluehost is the host I recommend if you are just getting started with blogging as you don't need a server as powerful as DigitalOcean's just yet.
Namecheap Domain Renewals – $91
Your domain name must be renewed each year. Luckily, this is a nominal expense unless you have a fancy domain ending!
Tailwind – $75
This is my Pinterest marketing tool which helps me schedule my pins in advance. Pinterest marketing is an important part of my overall blog traffic strategy.
Products for Sponsored Posts – $845
I needed to purchase some home decor related products in order to complete the sponsored posts for my blogs. Luckily, the supplies needed for these posts are deductible as they are necessary to do the work!
LLC Renewal – $50
I created an LLC to run my business through. I highly recommend doing this if you have not already!
Meals and Coffee Shops – $492
Lastly, I like to get out of the house and work from coffee shops or restaurants from time to time. Since I'm getting work done, I expense these small costs.
---
After expenses, I earned about $10,000 per month on average from blogging (before taxes) which is quite astonishing! My revenue was up 223% from last year, which I'm ecstatic about. Let's hope I can keep up this trend next year.
Traffic
Traffic soared right around the time of coronavirus as you can see here. Everyone wanted a new sofa to lounge on, a better desk to work from, and more. We also finally got around to fixing that old you-name-it in the house!
My yearly traffic is visible by looking at the dark pink line which records traffic by day. The light pink line below is 2019's traffic on the same day of that year.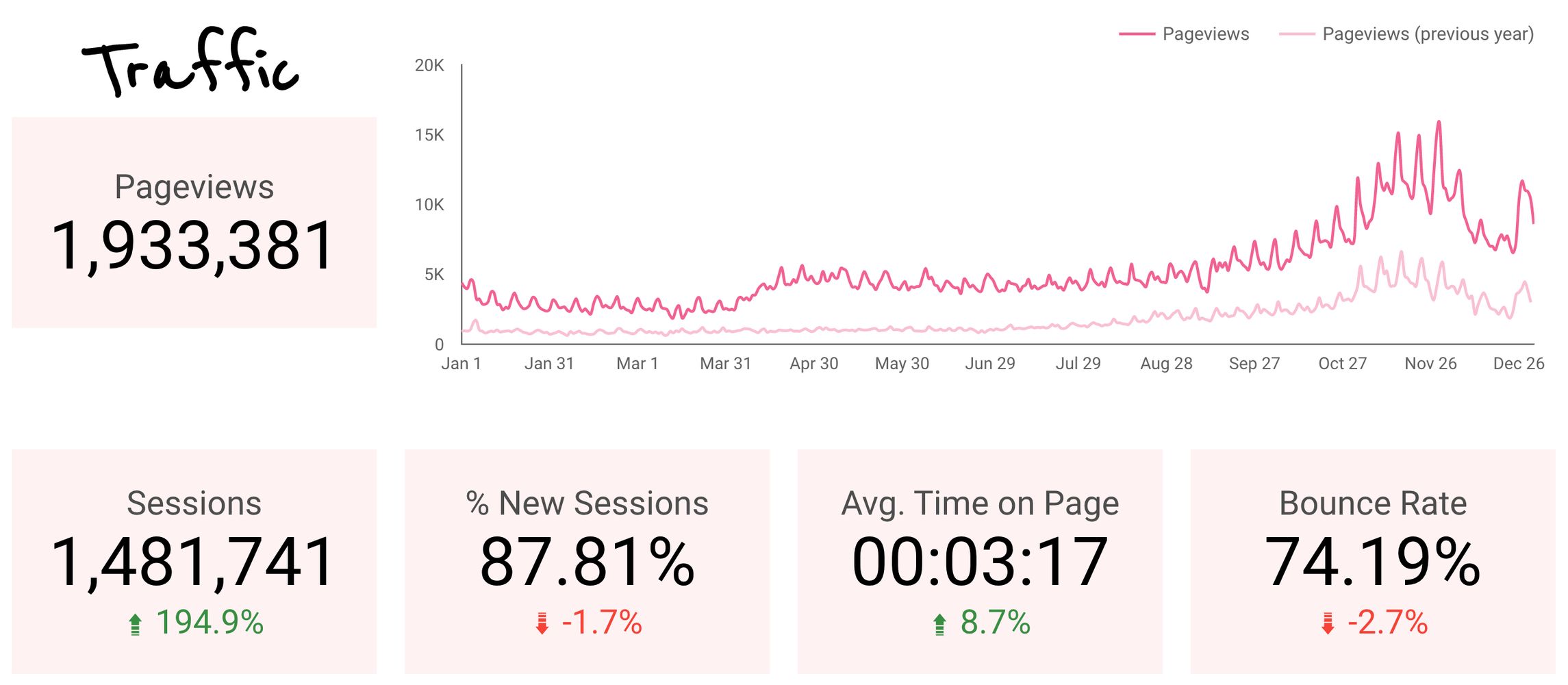 As you can see, my blog nearly hit 2,000,000 pageviews for the year. Traffic was heavier towards the end of the year as it always is when my holiday posts start kicking in.
On average, my blog received 161,115 pageviews per month during 2020!
The average time on each page was just over 3 minutes, an 8% increase compared to 2019.
My bounce rate dropped by 2.7% to 74%, which means that 26% of visitors to my blog visited a second page on my website. I still have some work to do on getting people to stick around, but inter-linking related blog posts via contextual text links is one thing that helps immensely.
Traffic Sources
Here is a pie chart showing my blog traffic sources for 2020.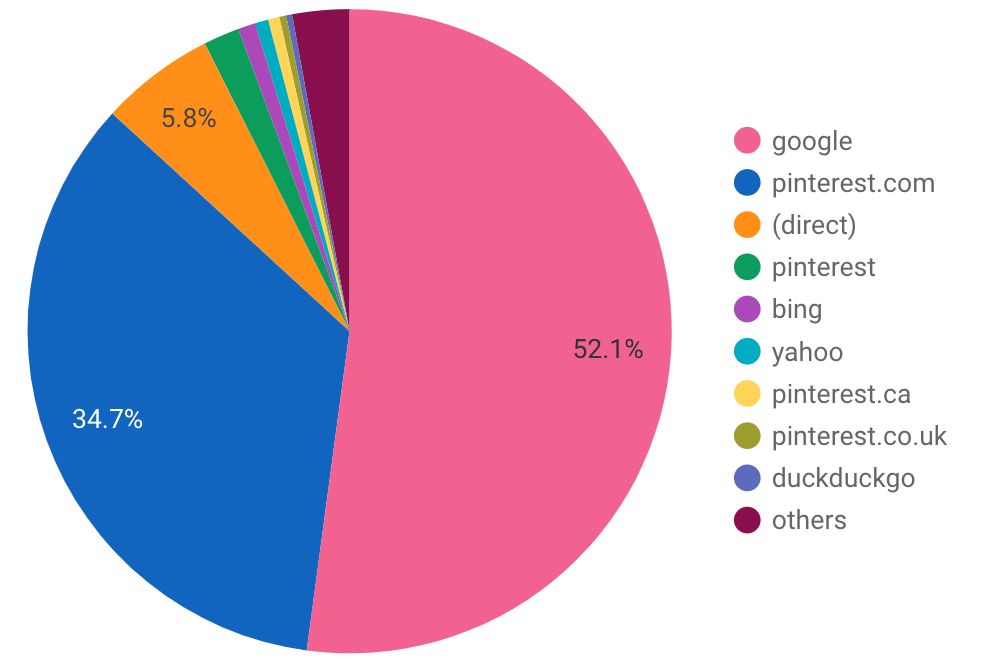 Google accounted for 52% of my blog's traffic. I focus a lot on specific keywords, but I don't use a keyword research tool. Rather, I have a list of keywords are relevant to my website and I write about those in no particular order. I'm not saying that's the right way to go about it, but I don't base my content off of potential traffic numbers right now.
Pinterest made up 34% of my traffic, which I think is a healthy number. While Pinterest is important, it's quite unstable and the platform is constantly evolving, so I don't dedicate nearly as much time to it as I used to.
Google Traffic
Something interesting happened with my Google traffic this year. As you can see, right around March, my search engine traffic started growing steadily. It was even slightly declining from January through early March, before taking a sharp turn.
This is clearly related to the pandemic, but I'm unsure why my site in particular gained all these views. I'm hoping it's due to the fact that I've been trying to pump out search engine friendly content for a long time now and Google is finally recognizing my efforts to create quality site for my readers – beyond just focusing on keywords with high traffic potential.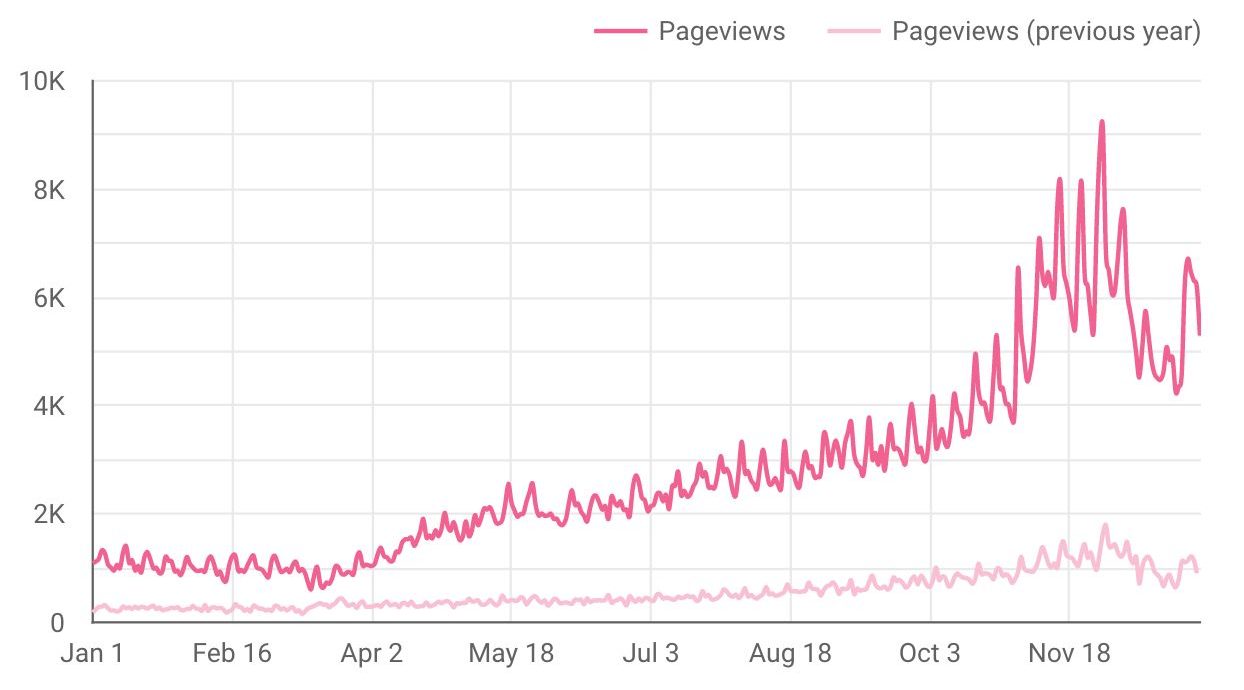 Whatever the reason, I'll be sure to continue producing high quality content optimized for search.
Content
I created 174 blog posts in 2020, which is actually down from 194 created in 2019! My goal is to produce at least 365 blog posts in 2021, which hopefully I can achieve with the help of some freelance writers!
At the end of the year, I had a total of 640 blog posts published on my blog. The first 100 or so were not keyword-optimized, but the latter ones were.
Basically, it took quite a lot of content to get where I am. That being said, I don't have many posts that are more than 1,000 words long as is recommended by most bloggers. My specialty is creating engaging, short blog posts, which allows me to publish more often.
Goals for 2021
I have three main goals I'd like to focus on in 2021.
Goal #1: Expansion
In 2021, I'll be focusing on expanding my business with new, diverse blogs.
Some of you may recall in previous income reports how I have a fashion blog. Well, as my home decor blog was taking off this year, I basically poured 100% of my time and energy into that business since it was working so well.
While I don't regret that decision, I'd like to make sure that if any one of my blogs fail (like the travel one did this year due to the pandemic), I have others to rely on.
So I decided that even if I have to put my bread-winner blog on hold for a bit, in the long run, this will give me a more financially secure and stable business outlook.
Goal #2: Outsourcing
Part of my plan to reduce the time I spend on my home decor blog is through outsourcing.
This last month, I've been thinking very hard about outsourcing the writing that appears on my blogs. Since I'm starting to bring in a good income, this is the most logical next step to increase my output, while saving me precious time.
If you are ever unsure of when to outsource, the general rule of thumb is that you shouldn't be doing work that you can pay others to do for $10 per hour.
Finding good writers is tough. I don't have any advice here yet as I'm still in the process of figuring it out, but I'm going to start as low as I possibly can.
I'd like to get 500 words for around $5 but that price is proving impossibly low – even for low-skilled foreign writers.
I'm pretty sure at the prices I'm willing to pay I'll have to do some editing anyway but that doesn't bother me so much. As long as I'm saving time, and pumping out content faster than before, it's worth it to me.
I'm still unsure of my strategy on this but I'll keep you posted this year with what I manage to do.
Goal #3: Reinvesting
My expenses were quite low for the year 2020.
I watch Shark Tank a lot and many of the entrepreneurs investing in businesses on the show say how important it is to reinvest your income back into the business once it gets going.
Now that I've surpassed my livable income level, I need to focus on reinvesting profits into my business to help it grow even faster during 2021.
The question is – how?
Many bloggers get stuck on where exactly to reinvest in their blog and I'm unfortunately one of them. There are a few options that I've come up with that I'll need to consider this year.
Hiring Professional Writers
Improving Site Speed
Purchasing a Keyword Research Tool
Taking a Facebook Marketing Course
---
I hope you guys enjoyed my 2020 state of the blog! It's always a joy to share my success with you all, and show you that anything is possible when it comes to blogging if you're willing to work.
If there's anything else you'd like to know, don't hesitate to leave me a comment below!