DigitalOcean Review for (Non-Techy) WordPress Bloggers
If you run a business as a WordPress blogger, you'll definitely want to read this comprehensive DigitalOcean review.
As your blog grows, you'll need to start looking for hosting solutions that can serve high-traffic blogs. Once my home decor blog became big enough that I was receiving over 50,000 sessions per month, I started looking into high traffic web hosting solutions for WordPress blogs.
In my research, I came across DigitalOcean and decided to use the platform to host my 8 blogs. Here is my non-techy DigitalOcean review, where you can see my thoughts on this cloud server provider and decide if it's right for your blogging business.
I have been using DigitalOcean for over 2 years now.
What is DigitalOcean?
DigitalOcean is a highly regarded cloud server infrastructure provider based in NYC. They offer data centers to customers around the world. While DigitalOcean primarily serves startups and small-time developers, they are a robust solution for bloggers to host their WordPress blogs. DigitalOcean offers virtual private servers (VPS), called "droplets" in customizable sizes and capabilities.
DigitalOcean was founded by Ben Uretsky in 2011. Its seed funding round was led by IA Ventures in 2013. It has upwards of $318 million in revenue. Since March 24, 2021, DigitalOcean has been a publicly traded company on the New York Stock Exchange. DigitalOcean has more than 500 employees.
DigitalOcean vs. Standard Shared Hosting
In my guide on how to start a blog, I recommend signing up with the shared web hosting provider Bluehost when you first get started. The main difference between standard shared web hosting and DigitalOcean is that DigitalOcean does not have an easy backend server management system such as cPanel. The only way to control the server is through Terminal, which most hobby bloggers (including myself) are not familiar with.
This means that you need to find a way to manage your server another way. Thankfully, there are easy-to-use server management platforms out there for cheap.
As long as you use a server management platform, you can reliably host your blogs on DigitalOcean with ease.
Sign Up
Sign up for DigitalOcean and get started with a $5/month server to test out the platform.
If you're not an experienced system administrator, I recommend using RunCloud to manage your server with a user-friendly interface. RunCloud is the most affordable server management solution I found when researching platforms to manage a DigitalOcean server. Note that installing RunCloud on your DO server will take up ~6GB of disk space.
DigitalOcean Review for WordPress Blog Hosting
Can DigitalOcean handle your WordPress blog traffic? You bet! DigitalOcean has made my site super fast and saved me a ton of money in the process. I'll share the costs further down, but here are a few key aspects to know about DigitalOcean for bloggers.
Speed
Using DigitalOcean as your web host means that your blog will load super fast. The DigitalOcean servers are among the most powerful in the world and many startup companies rely on them. This means that you will have a blazing-fast blog to keep your blog posts high in the search engine results and your audience happy. Try reaching the speed of DigitalOcean while on a shared hosting platform – it just won't happen!
Server Locations
You can choose the location of your server. Pick a city closest to where the majority of your blog visitors come from.
DigitalOcean has American data centers available in New York, NY, and San Francisco, CA. European data centers include Amsterdam, the Netherlands, London, UK, and Frankfurt, Germany. There is a Canadian data center in Toronto. In Asia, data centers are available in Singapore and Bangalore, India.
Since my blog has an American audience, I went with the NYC servers.
Uptime SLA
DigitalOcean adheres to a 99.99% SLA (service level agreement) uptime guarantee for all Droplets. I have found DigitalOcean to be extremely reliable and so far my site has not been down at all. This is a welcome change from the downtime I experienced each time a blog post went viral on one of my content sites!
Size
You'll need to choose the size of your server when signing up for DigitalOcean. I recommend starting with the smallest server and scaling up as needed. If you run multiple blogs or have an image-heavy site, you might want to start with a larger server.
Backups
DigitalOcean offers the ability to back up your server if you wish and even restore a backup from the backend. I use RunCloud to back up my server because it's cheaper.
Performance Monitoring
DigitalOcean allows users to monitor the performance of their Droplet with handy graphs showing how the server's resources are handling your blog traffic and storage.
CPU Monitoring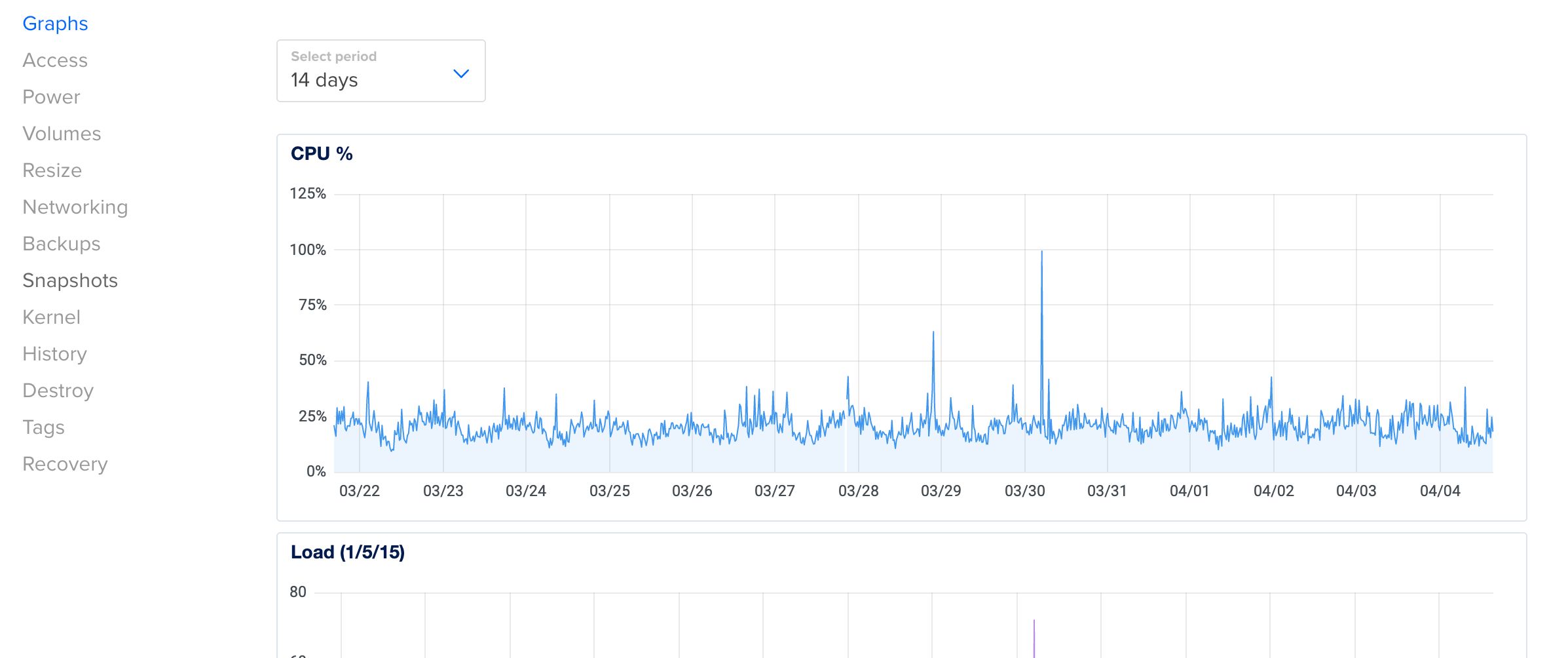 Disk Usage and Bandwidth Monitoring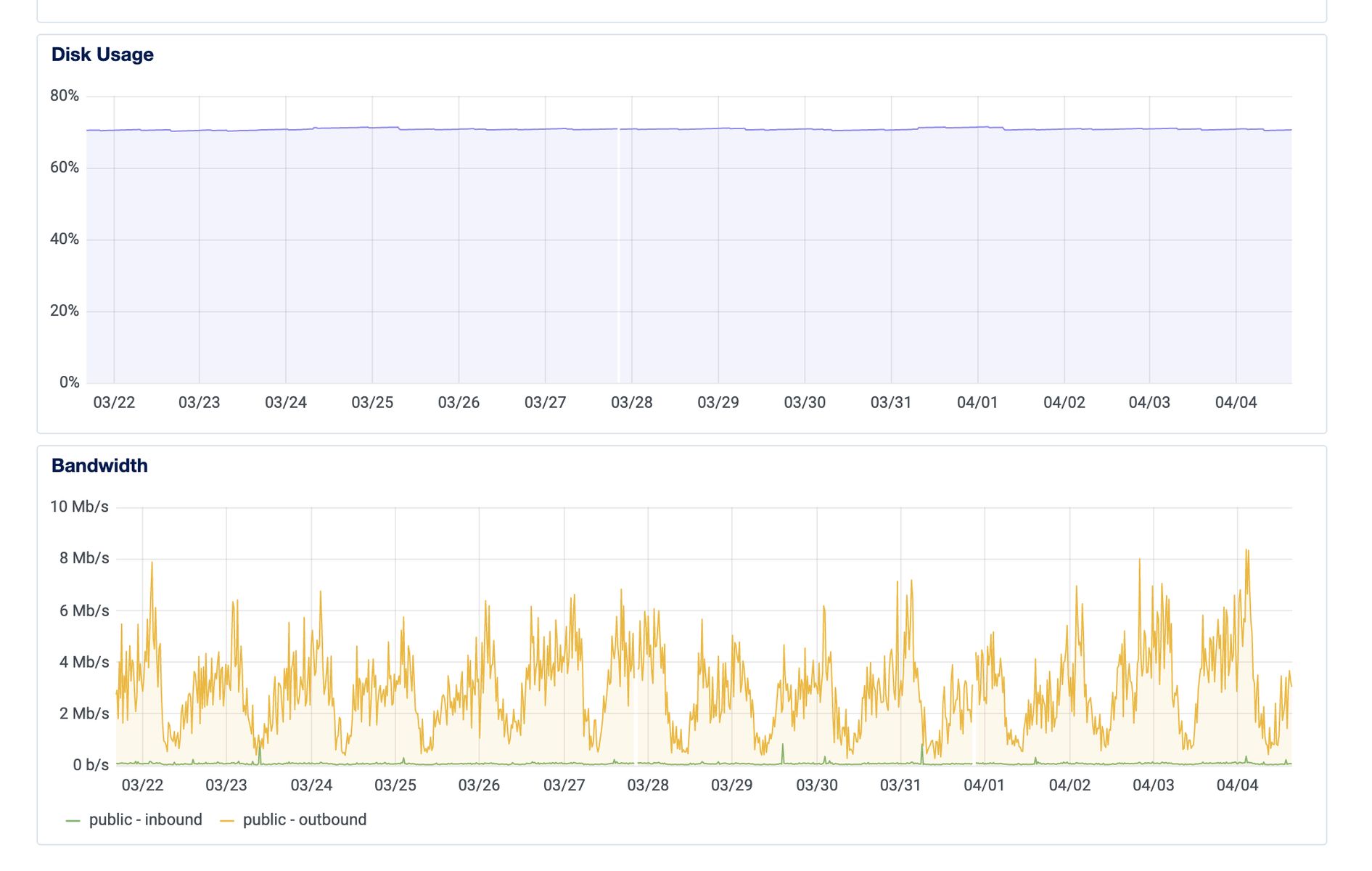 Resource Alerts
I set up Resource Alerts in my DigitalOcean backend to notify me if my server is low on resources. If my CPU is running high (above 75%) for more than 5 minutes, I get an email notification.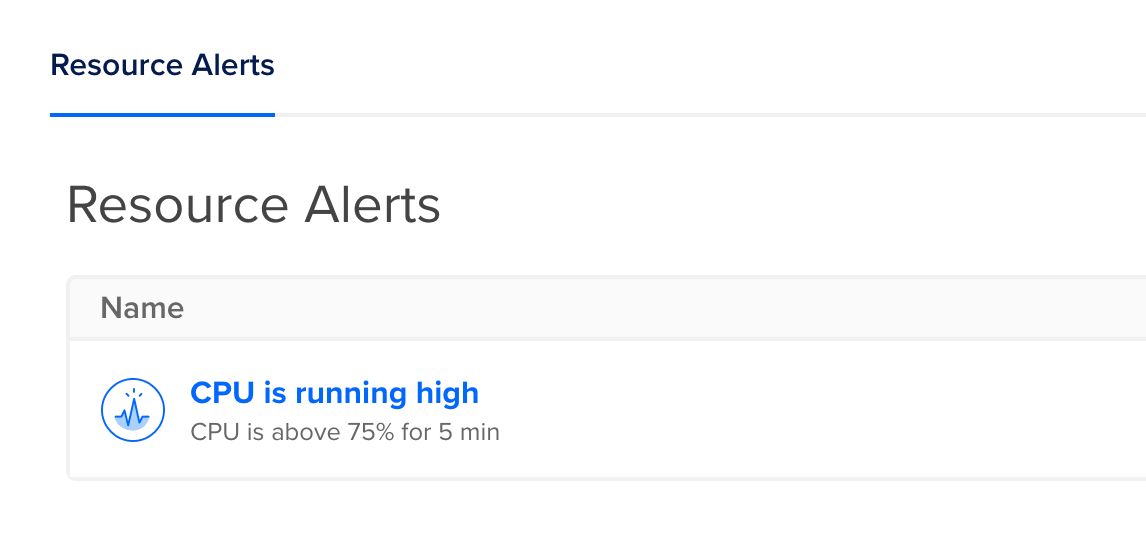 Support
Like any good DigitalOcean review, I'll share my thoughts on DigitalOcean support.
I do not recommend DigitalOcean for brand new bloggers because they will not provide support if your WordPress website is down. The only way that DigitalOcean will look at your account is if the server itself is down.
Many entry-level blog hosts like Bluehost will look into why your website isn't loading as a favor to their customers, but not DigitalOcean.
This is where a lot of confusion comes in.
Technically, Bluehost isn't required to fix your broken WordPress website. They do so as a matter of keeping you around as a client. The consequence is that many bloggers mistakenly think that WordPress support is the job of a web host. It's not!
A true web host's job is to make sure that their servers are updated and running – that's it, and that's what DigitalOcean does.
So don't be offended when DigitalOcean tells you to beat it because you misconfigured a plugin on your website. It's not in their scope!
Of course, once you're experienced enough of a blogger, you won't need DigitalOcean support for a broken WordPress website anyway.
For what it's worth, I've never had to contact DigitalOcean during my years with them.
DigitalOcean Pricing
In my research for a high-traffic WordPress blog host, I came across a lot of different companies. However most of these "premium" web hosting companies charge an arm and a leg. It was common to see hosting companies like BigScoots, which had rave reviews, charging upwards of $100 a month! For what exactly? I'm not sure.
The thing about hosting is that when it works, it works! You don't need a complicated setup to run a profitable blogging business.
A basic Droplet costs just $5 at DigitalOcean, or $.00744 per hour. You get 1GB of memory, 1vCPU power, a 25GB SSD Disk, and 1000GB of transferring.
DigitalOcean offers CPU-optimized, memory-optimized, and storage-optimized Droplets, but the basic one works just fine for bloggers.
Here is a comparison of the different Droplet pricing available. The more file storage (posts, images) you need, the greater SSD you should have. Transfer is how much blog traffic you can receive.
| Price | Memory | vCPUs | SSD Storage | Transfer |
| --- | --- | --- | --- | --- |
| $5/month | 1GB | 1 | 25GB | 1000GB |
| $10 | 2GB | 1 | 50GB | 2TB |
| $15 | 2GB | 2 | 60GB | 3TB |
| $20 | 4GB | 2 | 80GB | 4TB |
| $40 | 8GB | 4 | 160GB | 5TB |
| $80 | 16GB | 8 | 320GB | 6TB |
All of my blogs together receive less than 500,000 pageviews per month and the $20 Droplet handles the traffic and storage just fine.
Scaling Up Your Server as Blog Traffic Grows
One of the most amazing things about DigitalOcean hosting for bloggers is that you can easily scale up your server as your blog traffic grows! Gone are the days when your website crashes because a post went viral and you now have more traffic.
You can scale and reduce a server as needed. Resizing a Droplet changes the resources the server has available. There are two options for resizing a server:
CPU and RAM only: This change allows for more traffic without resizing your disk storage space. It is reversible. Size up and down as you need. This is great for seasonal blogs that need more traffic during certain months of the year.
Disk, CPU, and RAM: This change will also allow you to receive more traffic, however it's permanent because it increases the size of your disk storage space.
It's definitely a relief to know that I can stay with the same host for the long-term future. I used to dread having to change hosts because my old host couldn't handle the traffic. With DigitalOcean, I know I can just resize my server as my blogging business grows.
My only complaint is that on a Basic plan, you must turn off your Droplet to resize it.
True Cost for Bloggers
As I mentioned above, if you're not a system administrator, you'll need to pay for a server management platform as well as the DigitalOcean Droplet. Here is a breakdown of the cost to host my blogs on the DigitalOcean platform.
I pay DigitalOcean $20 per month for an 80GB server, or $240/year. I also pay RunCloud $80/year for the Basic package which includes 1 server, unlimited web applications (basically individual websites), and one-click SSL and automatic renewal. I have an add-on for Website Backups which costs $30/year.
After doing the math, this comes out to a true cost of $29.16 per month to host 8 blogs on DigitalOcean with RunCloud!
I made over $300,000 blogging last year, so a hosting expense of $350 per year is nominal in comparison to earnings!
Migrate a Blog to DigitalOcean
I shared how to migrate a WordPress blog to DigitalOcean previously. My first blog migration went smoothly.
However, after the second migration, the preview URL looked great, but once I added my domain to "Domain Management" the site didn't render properly. My menu was spread out instead of neatly in the dropdowns, information was disorganized, and some images weren't appearing.
I tried to wait until the DNS change propagated. But even then, I still had the same issue. I then tried adding www as one of the A records in my DNS. That solved most of the issue, but I still had images that weren't appearing.
I then realized that my site was pulling images via http and not https so I had to update the "General Settings" part of WordPress to include https, even though I am 100% sure that I had already done this before migrating. I then used the Better Search and Replace plugin to search for "http" in my database and replace it with "https."
If you're starting a new blog, then read my guide to doing a fresh install of WordPress on DigitalOcean using RunCloud.
That concludes my DigitalOcean review! Overall, I definitely recommend DigitalOcean as a great hosting solution for bloggers who want an affordable way to host their blogs with high traffic.
Let me know if you have any questions in the comments below!