2022 Blog Income Report and Year in Review ($334k)
Even though I didn't double my revenue as in previous years, 2022 was still a good year income-wise.
Be sure to read about the blogs I run so you understand where the income reported here comes from. If you're brand new to making money blogging, then read about how bloggers make money first so this income report will make more sense to you.
I'll share my insights about the blogging industry first before diving into my income.
My Pinterest Strategy Changed
Pinterest still works, but not as well as it used to. What I've found is that my older pins from years ago continue to generate pageviews, but newer pins have a much harder time getting traction.
I've left a lot of my low-follower count group boards. The board must have a minimum of my follower count for me to remain on it.
I also started to pin manually. Pinterest offers its own schedule which now allows users to schedule up to 100 pins up to 2 weeks in advance. To be honest, I don't think the timing of pins is incredibly important to pins as it functions more as a search engine, so I don't worry too much about pinning on a daily basis. I just get my post images onto Pinterest as quickly as possible after publishing.
Deleted or Updated Old Blog Posts
I have a somewhat old travel blog that had a lot of unfocused articles that I wrote back in 2015 and early 2016 before I got serious about blogging. I've started the process of going back and either deleting or updating these old posts since they don't get much traffic and don't provide value to my readers as they are.
Changed Blog URLs
I did something that's pretty heavily advised against in the blogging industry – I changed the URL of two of my blogs! Mediavine even has a whole article about why you should not change the URL of your blog no matter how badly you want to, but – I did it anyway!
I changed 2 of my blog URLs because the names just didn't suit the direction of the content and the vision I had in the long run. I see my blogs as media brands and make business decisions about them accordingly.
I chose domain names that were more brandable and shorter. I switched one of the domains from .co to .com too since that's what most people consider trustworthy. Both of the new domains were "premium" domain names so I paid several thousand dollars for each of them. Totally worth it to me though as I'm really happy with them. I think it'll be a good long-term investment.
One of the site's traffic only dropped for around 1 month before picking back up again. The second one has not recovered but I've yet to figure out why. TBD.
AI Content
Sometime around spring 2022, I started hearing everyone talking about a new AI content writing tool called Jasper. I had to try it out myself. To be honest, I was really impressed with it the first time I used it but I quickly realized it wasn't going to suit my publishing needs. Jasper writes incredibly vague and generic content unless you give it extremely specific instructions, and even then, the content it produces about that topic is often false. I asked it for the history of a specific company including the founders and it gave me back false information, stated as fact. So needless to say, I didn't keep using it. But it did make quite the buzz in the blog publishing world.
ChatGPT
More recently, everyone is abuzz about a new artificial intelligence tool called ChatGPT by OpenAI. This tool seems to be much more promising so far, as it can compose sentences and include facts that are mostly true. So far, I've only had the OpenAI Playground write just one inaccuracy. Otherwise, it's been mostly reliable for creating content.
That being said, it's not as fleshed out as Jasper. There is no built-in document editor for crafting blog posts and formatting them with headers. So each piece of content OpenAI spits out must be copied over into WordPress or a Google document.
Blog Revenue
Let's dive in to my blog revenue for this past year. I earned a total of $334,344 blogging about home decor, travel, fashion, and more in 2022.
I hit a new monthly record in December with $40,000 in revenue. This was due to a few payments coming in from sponsored posts I did in the fall. July's income is quite low due to a slow down in payments coming from my main affiliate network partner, RewardStyle/LTK.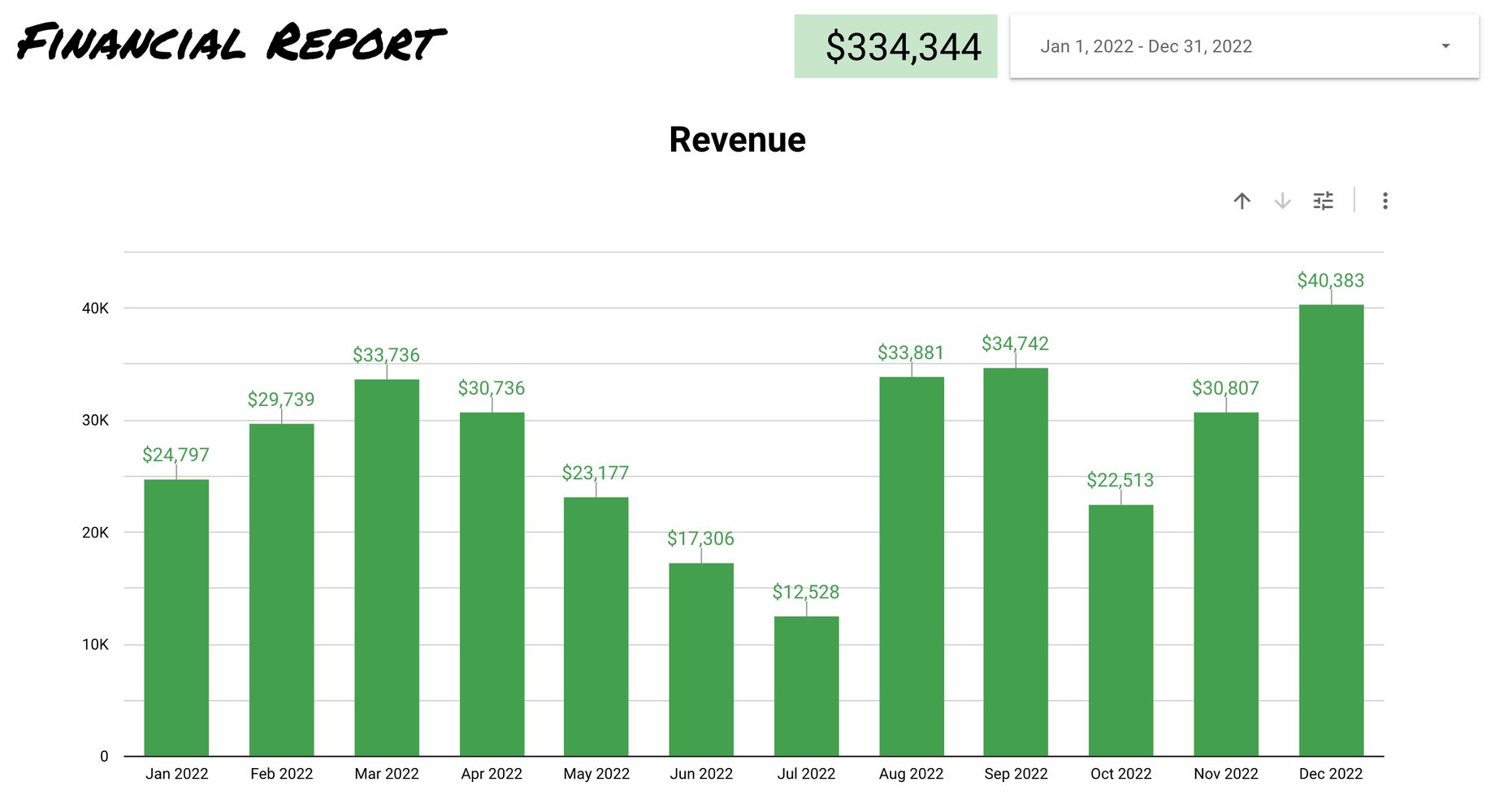 Types
The types of income I earn remained consistent this year. The majority of my income comes from affiliate marketing, followed by a large chunk from display ads, and lastly, sponsored posts. My business checking account pays a small amount of interest on the balance each month, too.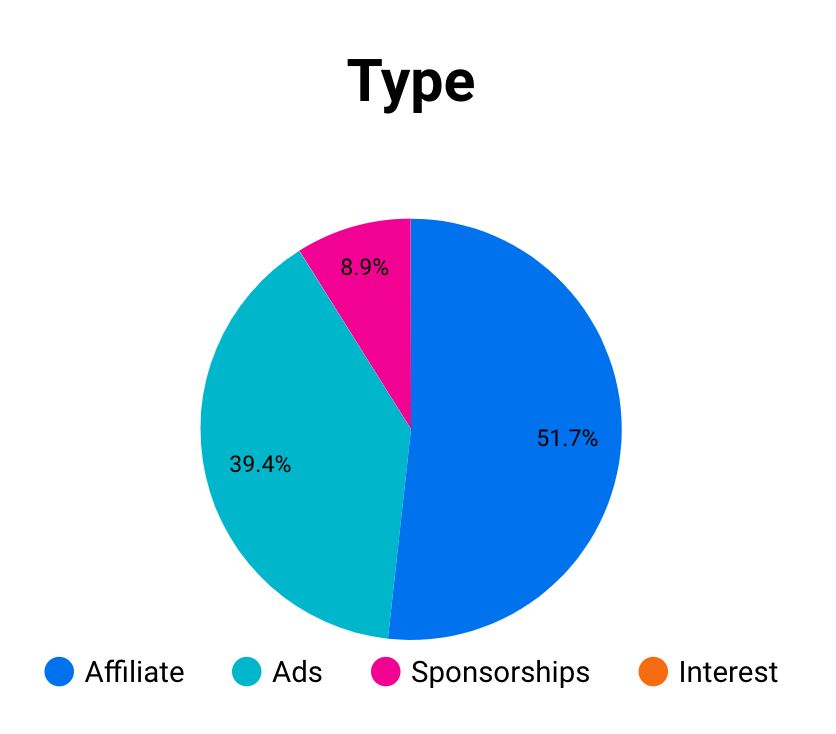 Companies
The companies I use to generate blog money are numerous, but RewardStyle/LTK and Mediavine are my two top partners. You can read about how to apply to rewardstyle/LTK here.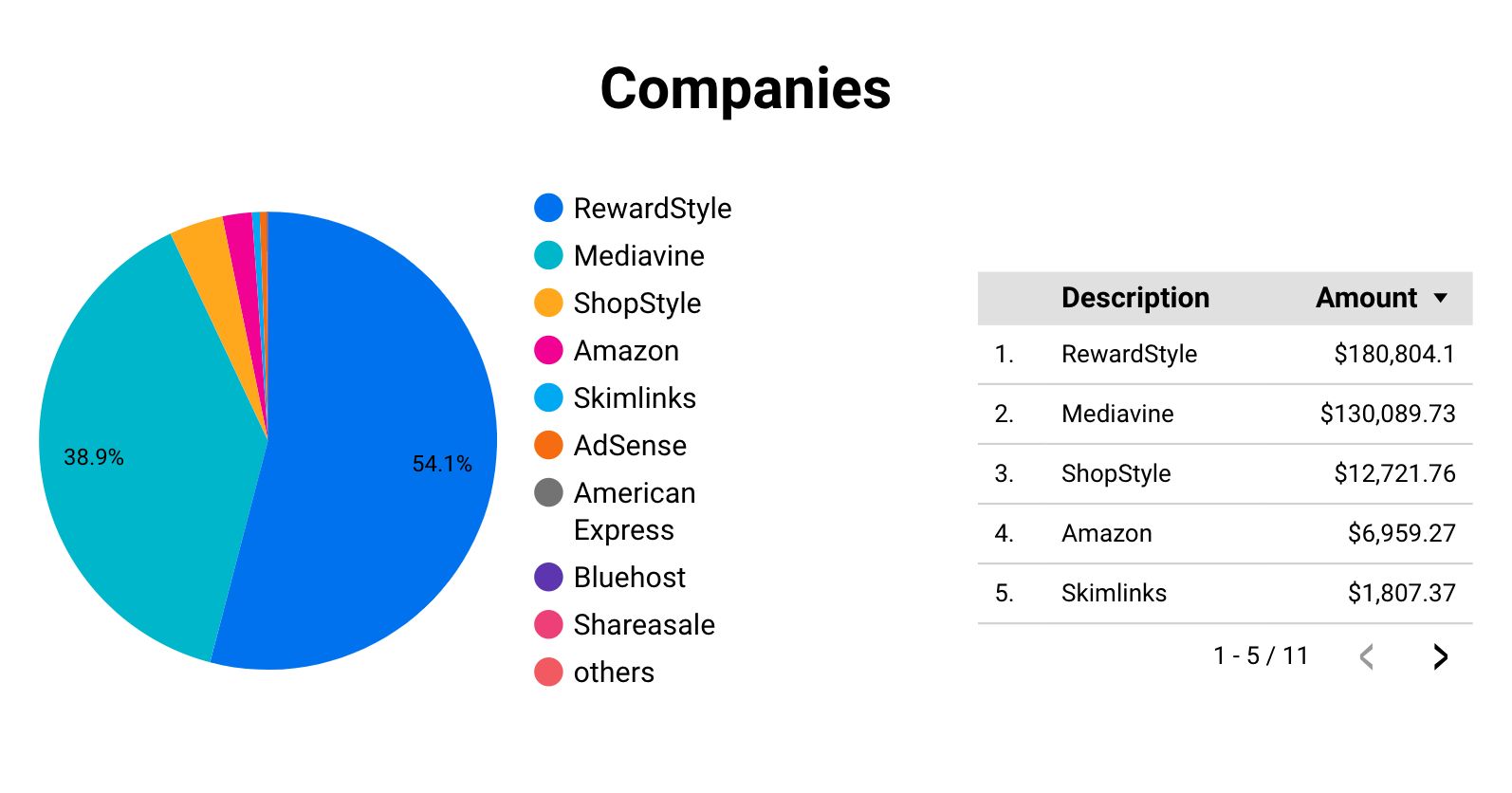 Expenses
Aside from making some large investments in premium domain names, my expenses remained quite low this year.
Namecheap and Cloudflare Domain Renewals: $260.82
DigitalOcean Hosting: $391.61
RunCloud Server Management: $200.72
Tailwind Pinterest Scheduler: $165
Gusto Payroll: $540
Premium Domain Name Purchases: $34,981
Monthly Recurring Revenue
My average monthly recurring revenue reached $26,324 this year, before expenses.
Blog Traffic
Here is an overview of the traffic on different blogs I run. The majority of the income reported here comes from my home decorating blog.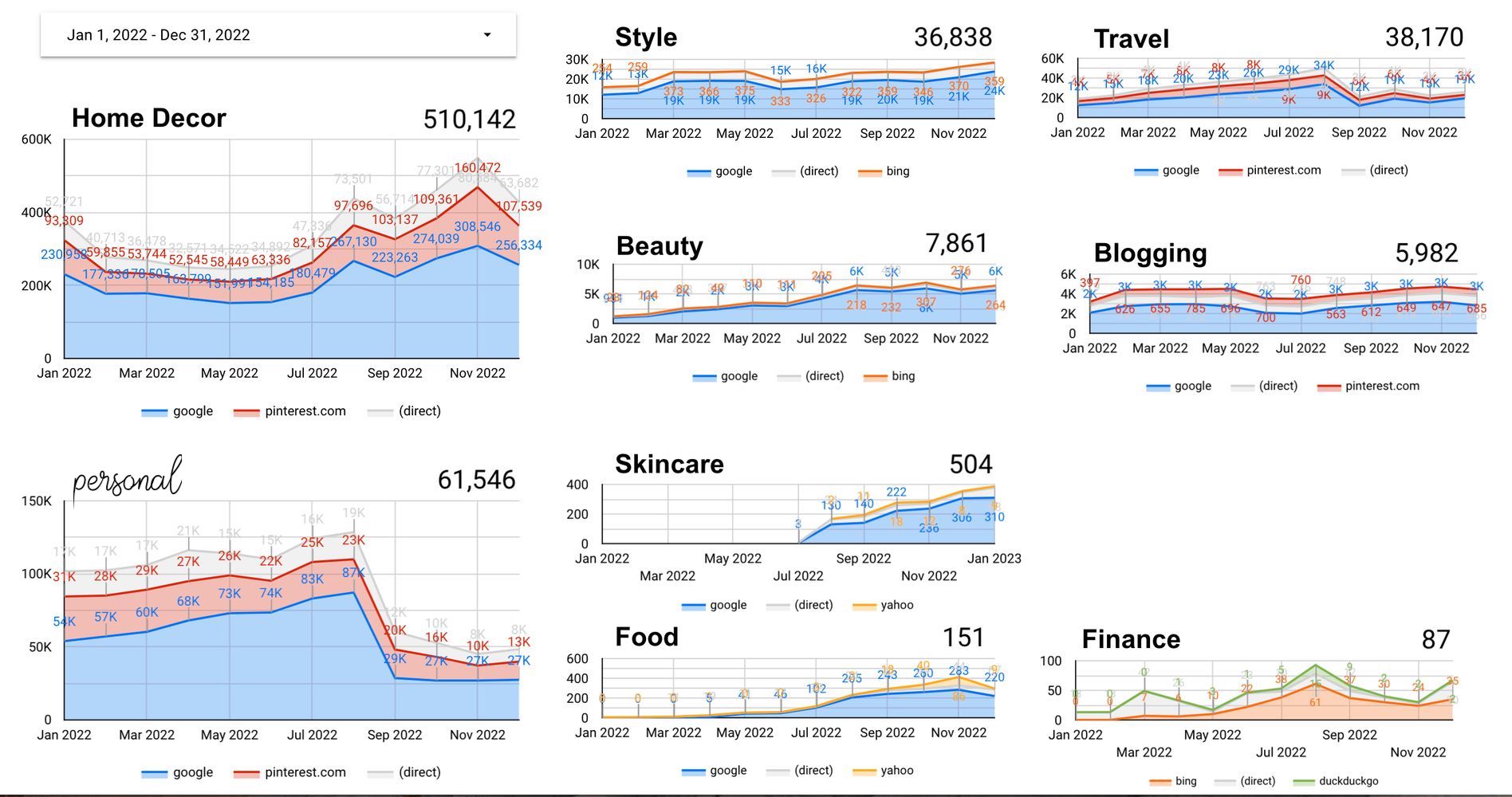 The personal blog has a sharp drop in traffic due to the URL change. I'm still figuring out how to address this, but it's not monetized much so my income did not suffer.
The skincare and food blog are newer sites that I have only published around 20 articles on each.
The finance blog was a failed experiment which I haven't decided what I will do with. As you can see, Google isn't sending it the least amount of traffic!
The blogging blog is the blog you're reading now 🙂
Here's a closer look at my home decor blog traffic: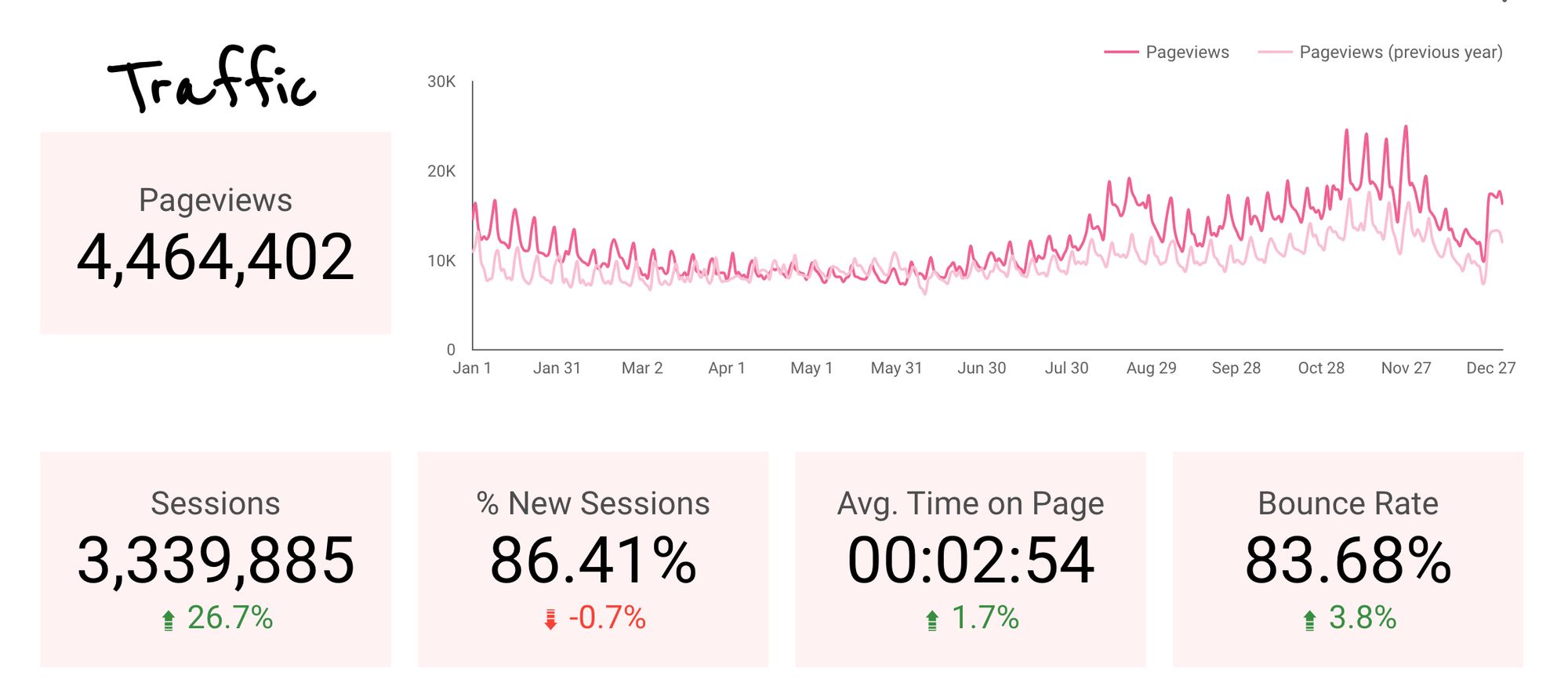 As you can see, sessions are up 26% year over year.
Traffic Sources
Here are the traffic sources for the two blogs which earn my business the most advertising revenue. Sessions are up for both year over year.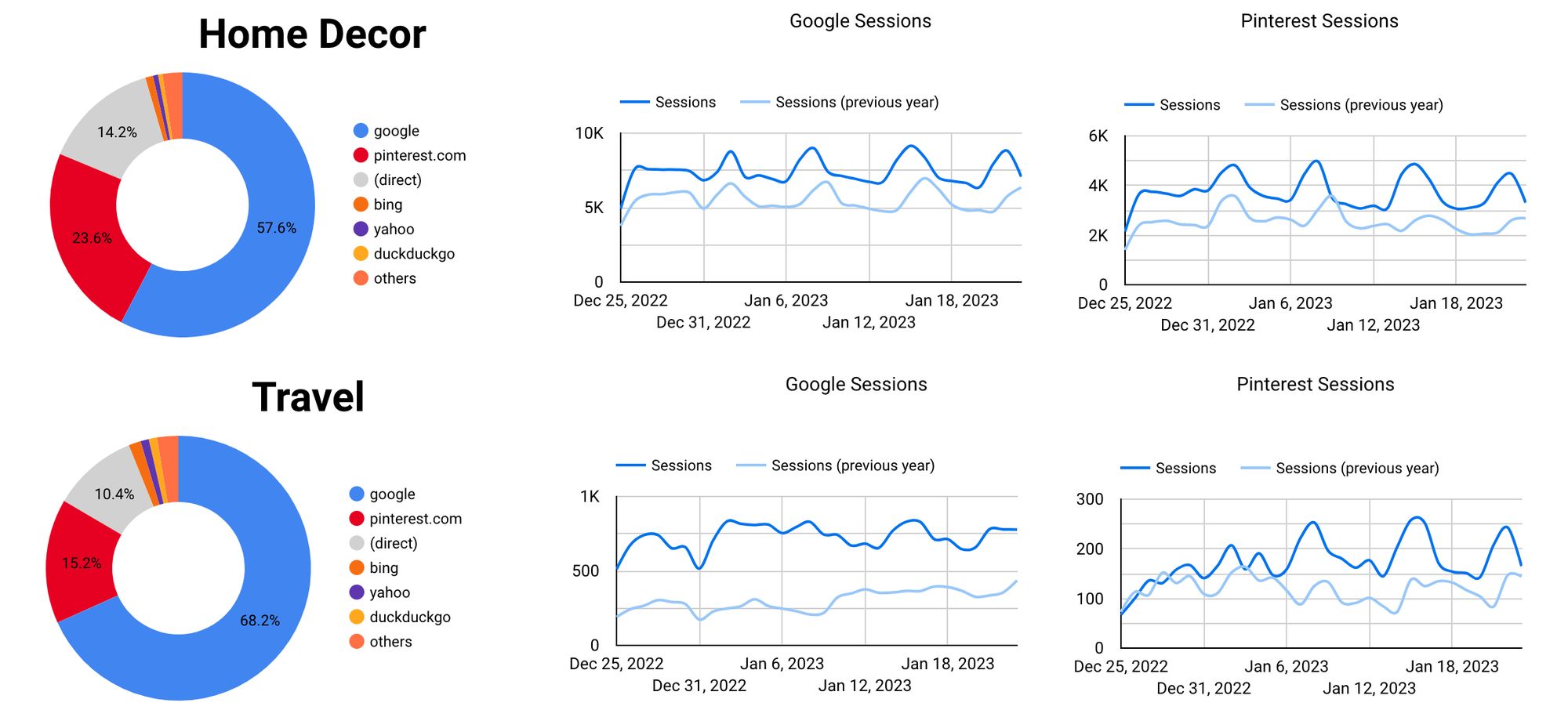 Posts Published
I published 210 posts on my home decor blog, not great. This is because I focused more time and energy into my other blogs in order to diversify myself away from my main site.
I thought about this a lot and did a bit of research into whether it's better to go all-in on one site, or diversify with multiple sites.
The consensus was that if you're a solopreneur, working on one site full-time results in higher overall earnings.
I chose to work on multiple blogs because I personally wanted to reduce my risk in case my main site gets hit with a Google update.
Goals
You may recall my lofty goal last year to publish thousands of posts. I did not meet that goal, but ironically, I got an email from Spencer Haws at Niche Pursuits this morning about publishing 1,000 posts in 12 months, so at least someone did!
---
Check out my previous income reports here:
You can also read about my first months blogging income when I first began.