Pinterest Communities: Everything You Need to Know About This Brand New Feature
UPDATE: As of 2019, Pinterest Communities has been shut down. Existing Communities were turned into Group Boards! Please read our guide to growing your Pinterest traffic if you'd like to optimize your Pinterest marketing.
Did you hear? Pinterest quietly rolled out a brand new section of their popular idea-sharing platform: Communities. I was shocked to find almost no information about Pinterest Communities online, so I thought I'd share the secret with you, my dear blog readers!
What are Pinterest Communities?
Pinterest Communities are similar to Facebook Groups and provide a forum for multiple users to collaborate around a topic or interest. You can post links, pins, photos, and text, the same way you can on Facebook which makes it great for researching and sharing information.
While Pinterest has functioned more as a search engine in the past, the collaborative aspect of Pinterest Communities seems to push the platform further into the realm of social media, encouraging interaction with other users and discussion.
How to Join Pinterest Communities
Currently, Communities are invite-only. Users can't even see this section of the platform without being invited to a Community, first.
If you haven't been invited yet, then please feel free to join my blog community Blog Ambitious to get access to this new section of Pinterest.
You can also join these niche topic Communities:
How to Use Pinterest Communities
Once you join your first Community, your interface should change immediately. You'll notice your top header now has a "Communities" button, your profile now features your "Communities" section (as do other profiles you visit), and above pins you enlarge, you have the option to share them into a Community.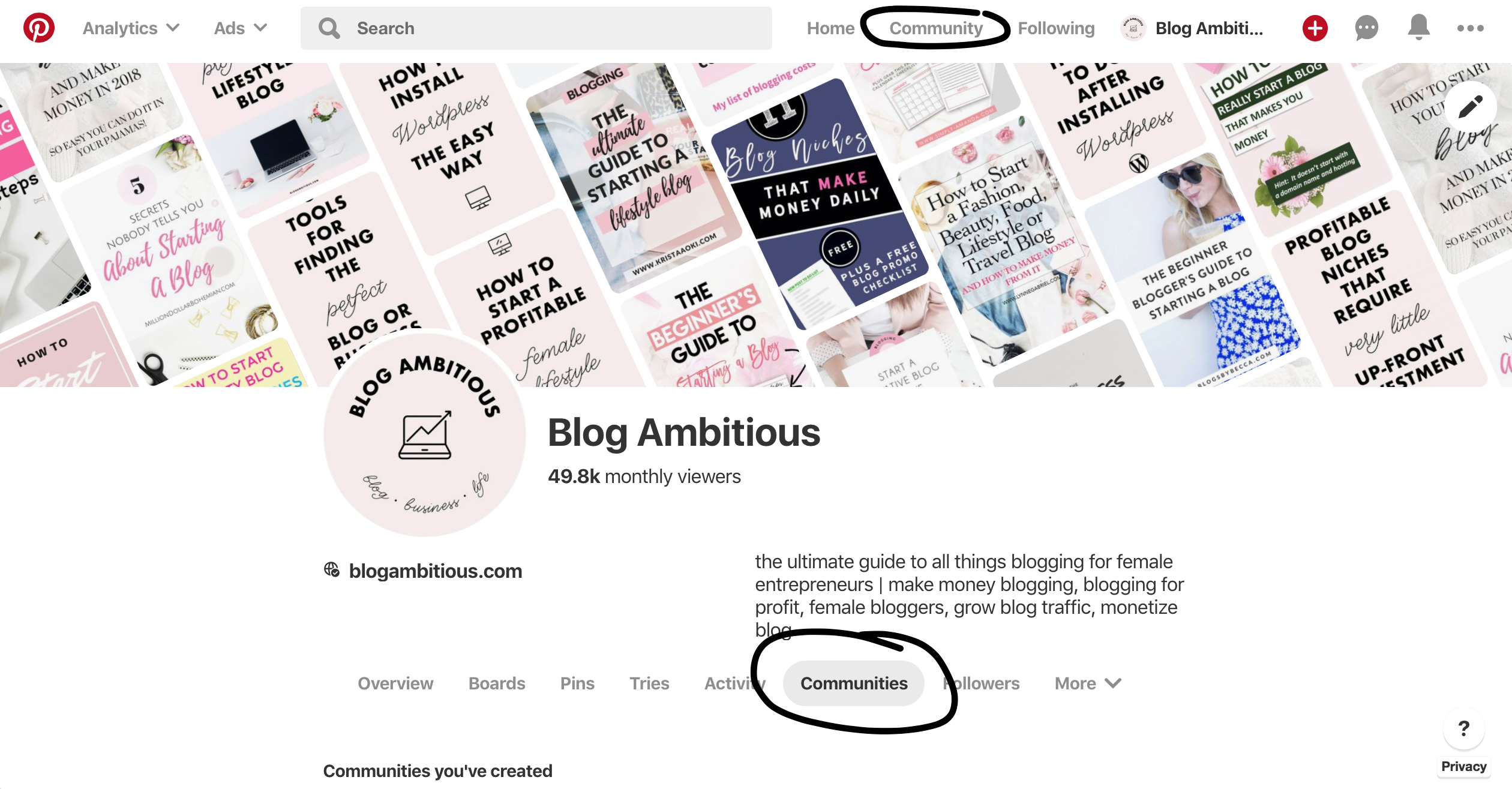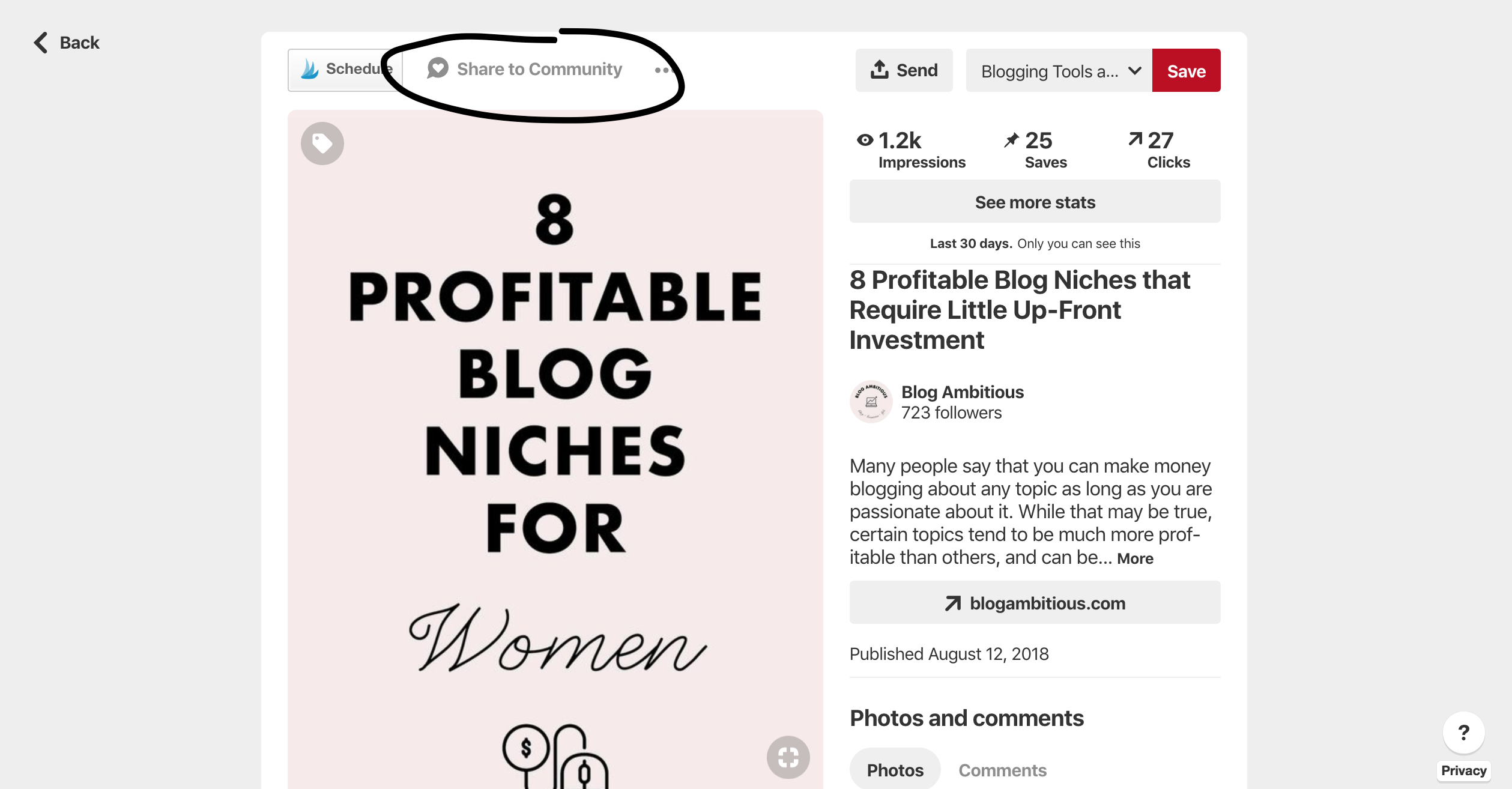 Within a Community, you have the option to share text, add a pin to your post, or add a photo to your post. As far as interacting with other posts, you can like or comment them.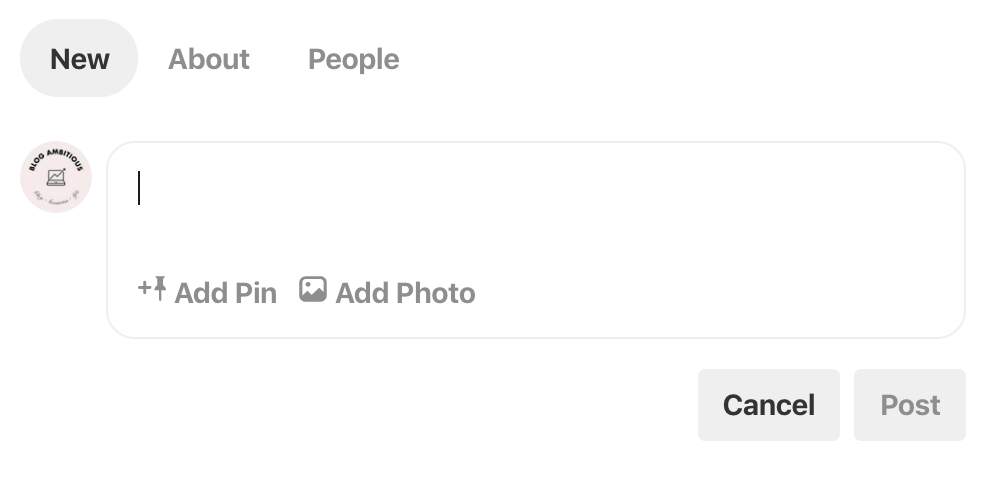 If you're the Admin of a Community, you can pin a post to the top of the Community page! Simply click the small three dots below your post, and then click "Sticky post."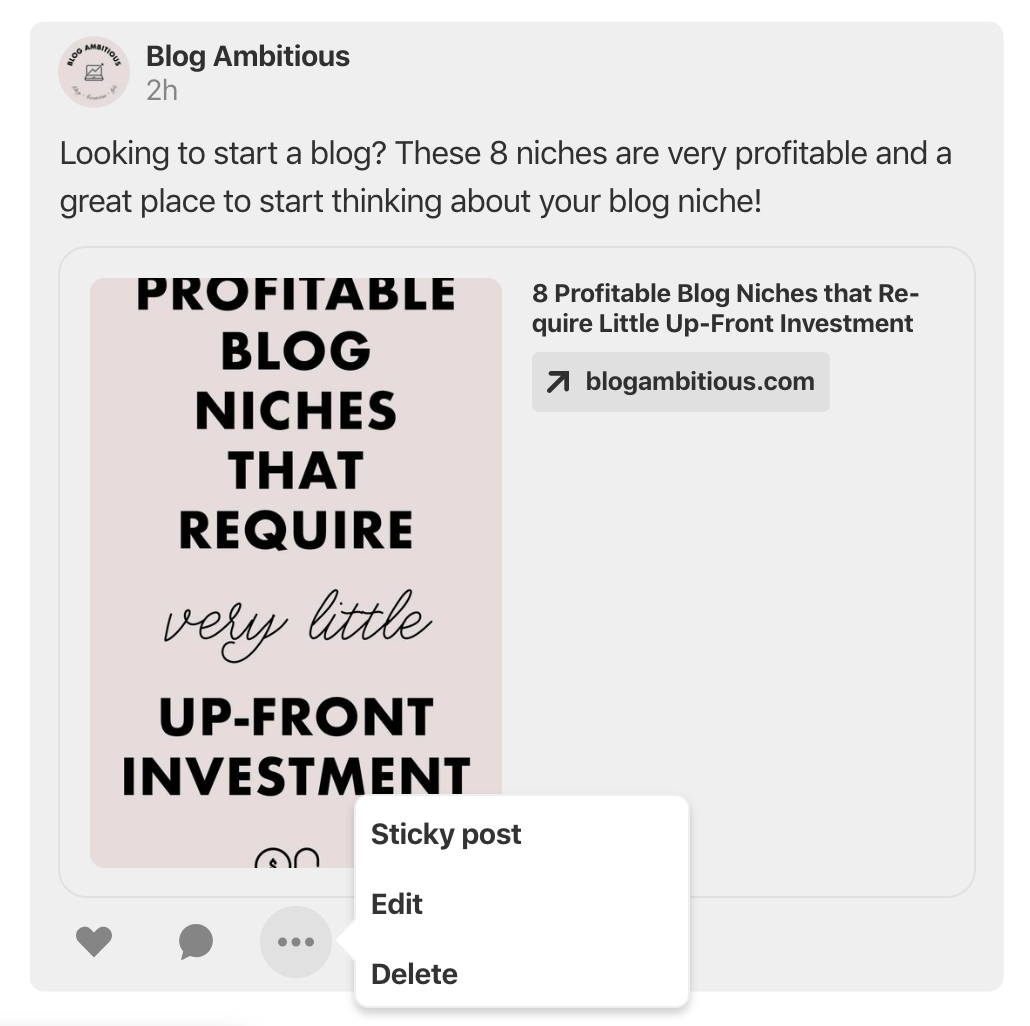 Can Anyone Make a Pinterest Community?
Yes! Anyone can make a Community however once a topic name is claimed, it cannot be created by someone else. This is a fantastic opportunity to own the discussion around a niche topic!
To create a Community, visit the Communities page, then click "Create Community" at the top right. You'll need to choose a unique name, add a photo and write a short description.
Pinterest allows you to make multiple Communities so I'd recommend creating a Community around the different topics within your blog niche.
Should you create a Community for your blog name?
I would absolutely recommend claiming your blog name Community as a way to connect with your readers!
How should you use Communities as a Small Business?
Currently, I'm treating Communities as a way to discuss a specific topic or aspect of my blog niche. I'm sharing more than just my own content and trying to create a valuable resource surrounding that topic!
I think it's important to engage with existing content within your Communities as well. Like other posts, leave comments, and ask questions! Pinterest clearly wants to push the social aspects of the platform, so try to interact as much as possible. It could have a positive effect on your Pinterest pins and account in the future.
It's unclear how general Pinterest users will use Communities in the future but I can definitely see them being an important resource for small businesses and bloggers.
I hope this post was helpful. Do you manage a Pinterest Community? Please let us know in the comments below!