What a month September has been! I hit my highest ever income during the lifetime of my blogs. It's taken me a long time to get here, but I've finally hit my goal of earning 6 figures with my blogs. Even though I won't actually make $100,000 blogging this year, I've hit the monthly goal of $8,333 per month that will bring me to reach that figure. It's been a long journey filled with blood, sweat, and tears, but it was worth the ride! Thank you to everyone who has been following me since I posted my first blog income report back in July 2017. It took me three years of hard work to reach this level of income, so don't think for a minute that any of this happened overnight!
A lot of things fell into place during the month of September. People make lots of new purchases at the start of the school year, so that definitely helped my blog income. From fashion to home decor, affiliate income was up across the board. Advertisers are also spending more during the last quarter of the year which helped my Mediavine income boat loads. I also had one viral Christmas pin this month (who knew?) from a post I published last year. Lastly, I received a last minute Labor Day collaboration offer from Wayfair through RewardStyle which pushed my income up even further!
Here is my September blog income broken down:
Income
Advertising
Income
AdSense
$117.42
Mediavine Home
$1,154.29
Mediavine Travel
$280.08
Affiliate Marketing
Income
RewardStyle
$3,872.60
ShopStyle
$1,012.20
Amazon
$165.98
Skimlinks
$31.49
Shareasale
$0
Viglink
$6.97
Bluehost
$80
Sponsorships
Income
Sponsored Blog Posts
$2,650
Total
$9,371.03
I'm pretty happy with the distribution of my blogging income. Even though I only have a few major income sources, I'm glad I don't rely on just 1 or 2 which many bloggers do! I'd like to grow my other income sources even more in the future just to make sure that I don't put all my eggs in one basket.
Sponsored posts are clearly what pushed me up above my goal this month, and while you can't really control what collaborations are offered to you, you can control your affiliate income. Both of my sponsorships this September came through RewardStyle and I'm 99% positive I received them because of how well I can generate affiliate income from these retailers. They were probably impressed with my sales statistics and decided to offer me the collaboration. Keep this in mind if you approach brands yourself -they're going to want to see a solid sales track record!
A Note on My Income
I'd also like to disclose that this report covers blog income generated from blogging during the month of September. I was not paid out $9,000 this month. It takes anywhere from 2-4 months for me to receive payment from the various sources I have listed here. In reality, my income paid out will be around 20% less that what I've reported, due to the return policy of some retailers. Some returns have already been accounted for in this report, but not all of them! This applies to RewardStyle and ShopStyle income. Mediavine income is solid and confirmed, and will be paid out to me in 2 months time.
After blogging for three years, I'm really starting to love advertising income for how reliable it is! With affiliate income, you never know if that $300 commission will disappear if the customer decides to return whatever they purchased! It's frustrating. In the future, I'd like to build up my advertising income just because I know it's guaranteed to arrive in my bank!
Expenses
My blogging expenses to date are:
Hosting ($200): I started off with Bluehost, and eventually moved to InMotion once my traffic grew enough to warrant the additional expense
Tailwind ($100): Tailwind is my Pinterest scheduling tool that I use with my image-heavy blogs. Tailwind has helped me successfully grow my Pinterest traffic by 4X.
LLC ($50): I formed my LLC without a lawyer to protect my business and personal assets
Product ($400) – This expense went towards purchasing Walmart home decor products for our ongoing sponsorship.
Product ($250) – This expense went towards purchasing Wayfair products for the Labor Day Sale collaboration.
Traffic
Traffic was up over 20% this month compared to last month. I attribute this to keeping my Tailwind schedule full throughout the entire month and pinning around 50 pins a day to my boards and all my relevant group boards.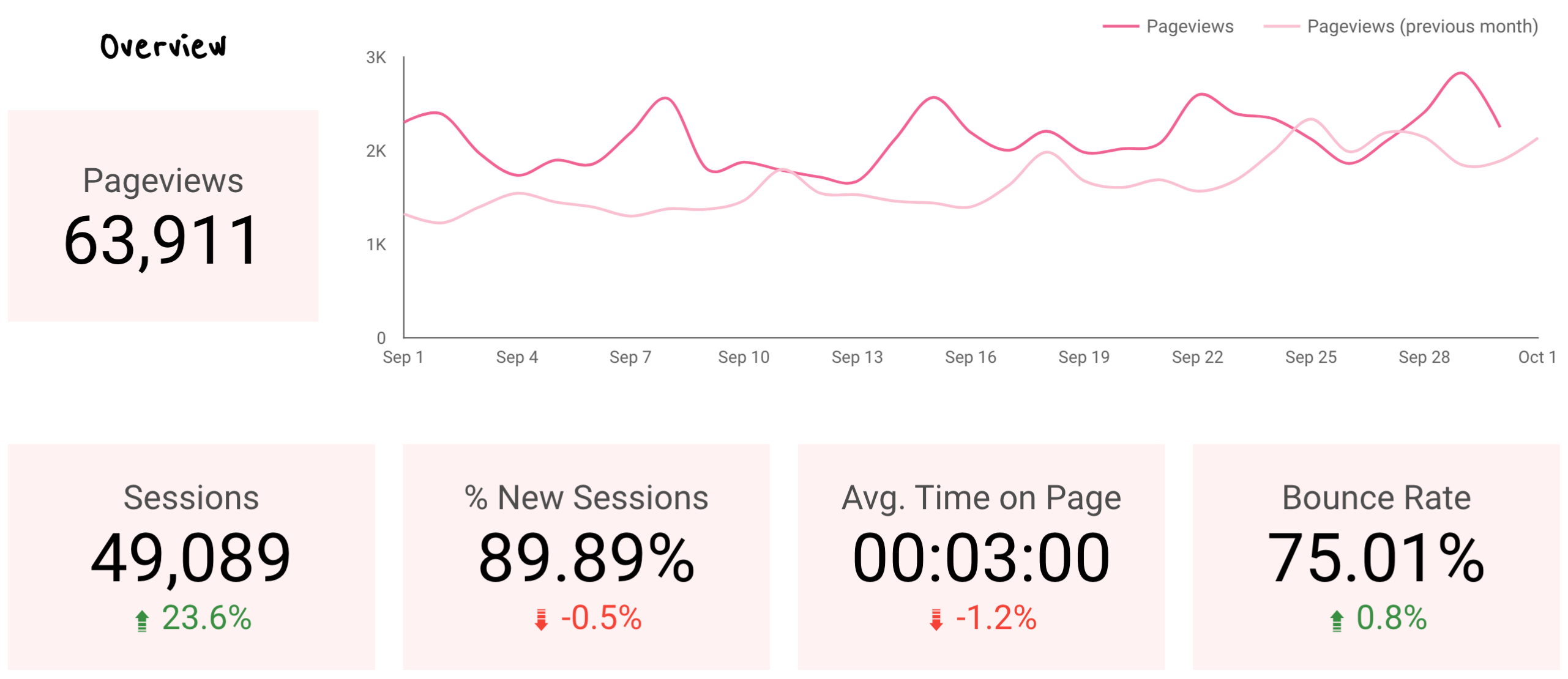 I publish content at least 20+ times per month on each blog I run (when I can). My home decor blog is my bread and butter so that one gets a new post every weekday. Even if it's a short paragraph, I still make the effort to post. This is something that may go against what you've read from other bloggers who say that it's better to post one long 1,500+ word article than a series of short ones, but my method works for me so I will stick to it. I publish around five 300-word articles each week and my traffic has grown considerably in the last 6 months since I started doing this.
Plans for the Month
I have a ton of seasonal content to produce for the next 3 months. I'm going to bust out as much of it as I can before January, when I'm fairly certain that my blog income will dip.
Sadly, this will be my last income report for a little while now that I've reached my monthly goal. I do want to keep you guys updated on when I actually hit $100,000 of blogging income in one single year, so I'll be moving to a yearly income report format from here forward. With any luck, in 2021, I'll be sharing a 6-figure blog income report for 2020!
If I have any parting advice to give, I would say: Don't underestimate the importance of consistency. My blog grows when I post consistently and share on social media (read: Pinterest) consistently, too. Your posts don't have to be perfect, they just need to be published!
Don't hesitate to write me with any questions you may have, and hopefully see you early next year for my 2019 blog income report!