August 2019 Income Report
August turned out to be another high profit month for my blogs! I scored a last-minute sponsored post right before Labor Day weekend which I was super happy about. I'll report on that income during next month's income report! But all in all, August was definitely a month during which a lot of my readers went shopping, earning me some solid affiliate commissions.
I will say that I was so happy to receive sponsored post offers in July, but now I'm seeing that they are quite a lot of work and certainly not "passive" in nature! I do think that it's worth it to do them, but I definitely don't want to do them all the time, or have multiple to do. A big reason why I started blogging was to be financially independent. When you do sponsored blog posts, you're kind of still working for someone else. But all in all, I'm very grateful to have this extra income.
New here? Don't miss my very first income report where I share the backstory behind these income reports. If you don't have a blog yourself, then be sure to read my how-to guide to starting a blog today!
Income
| Advertising | Income |
| --- | --- |
| AdSense | $126.83 |
| Mediavine Home | $840.97 |
| Mediavine Travel | $253.03 |
| Affiliate Marketing | Income |
| RewardStyle | $2,787.56 |
| ShopStyle | $882.13 |
| Amazon | $151.50 |
| Skimlinks | $34.88 |
| Shareasale | $0.50 |
| Viglink | $6.57 |
| Bluehost | $0 |
| Sponsorships | Income |
| Sponsored Blog Posts | $1,400 |
| Total | $6,483.97 |
Expenses
My blogging expenses to date are:
Traffic
Traffic on my home decor blog an unexpected boost at the end of August when one of my Christmas decor articles went viral! It was a post from last year, and I guess people are already thinking about decorating their homes for the holidays! All the better for me.
Astonishingly, my blog reached more than 50,000 pageviews during August, an increase of over 38% compared to July!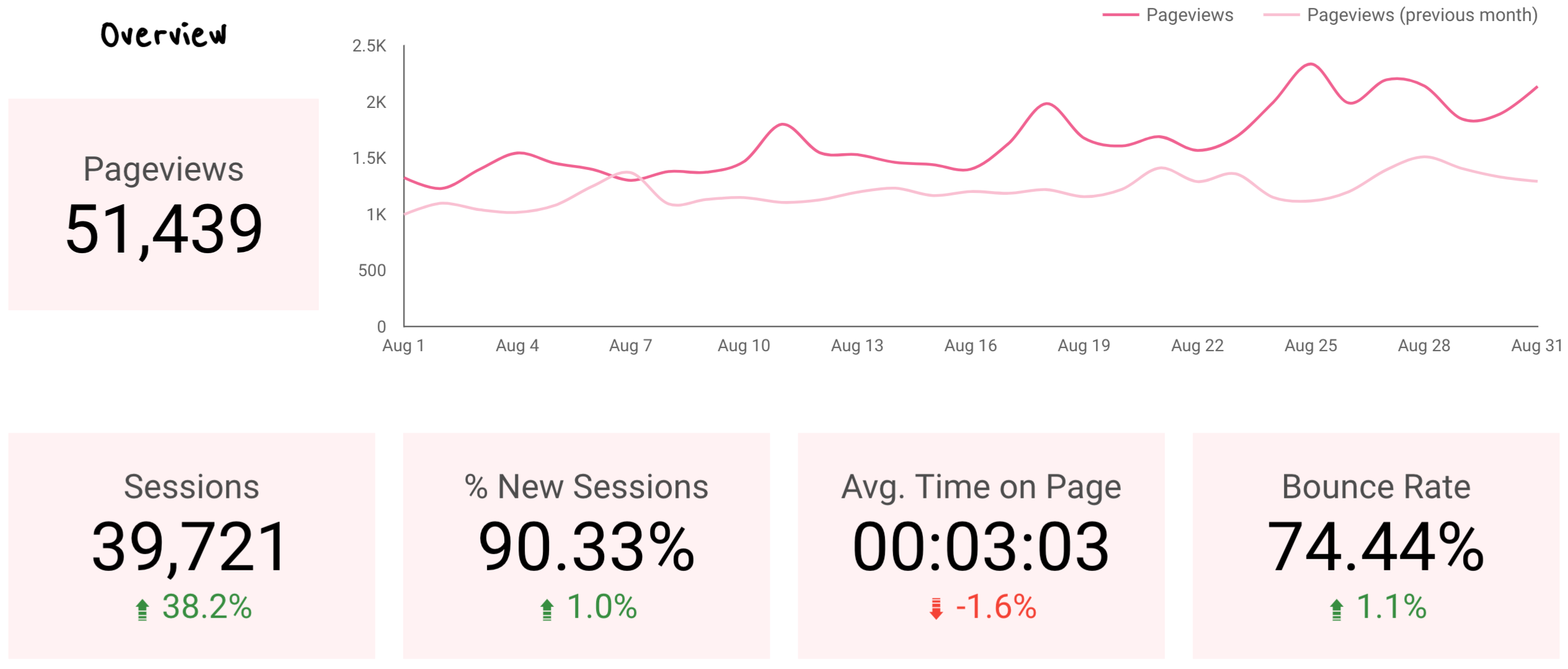 Plans for the Month
September is marks the beginning of non-stop seasonal content that I produce for the rest of the year. In September, I'll publish fall-themed home decor articles, in October the Halloween ones go out, in November the Thanksgiving ones are published, and finally, in December, the Christmas articles get shared. Obviously I try to publish articles about a month in advance, so that's my plan for this month: to prepare my seasonal articles for the rest of the year now!
How was your August blog income?