This post has been updated in August 2018 and January 2019 to reflect recent ShopStyle business model changes as well as the declining stability of RewardStyle analytics and performance.
Two of the most popular affiliate programs for fashion and home decor bloggers are LTK (RewardStyle) and Collective Voice (ShopStyle). Each network has its pros and cons, and they're both fighting to gain greater market share of female-audience affiliate marketing. It's common for content creators to have trouble deciding which network to use to make the most profit. It may require some testing on your end to figure out the best solution. In any case, I'm here to share my experience of using both RewardStyle vs ShopStyle!
If you don't have a blog already, then please read my guide to starting a profitable blog!
I will share with you my personal experience with each platform in this post. I certainly struggled with deciding whether to use Collective Voice vs LTK on my blog and social media accounts. I run a home decorating blog and have tested both affiliate networks for some time.
Updates
August 2018 Update: The major difference between the networks used to be that RewardStyle paid bloggers based on the sales they generate while ShopStyle paid users on the amount of clicks referred to retailers.
However, ShopStyle is no longer a PPC (Pay per click) network. ShopStyle has moved to the same model as RewardStyle: CPA (Cost per acquisition) which means both networks will pay you based on the number of sales you generated, not the number of clicks.
2022 Update: RewardStyle recently rebranded as "LTK" so you may see references to both names on my site. Know that they are the same company!
2023 Update: ShopStyle recently rebranded as "Collective Voice" so you may see references to both names on my site. They are also the same company!
Collective Voice (ShopStyle) vs LTK (RewardStyle)
Here is a bit more history about each company:
ShopStyle Collective Voice
Collective Voice, formerly ShopStyle, is an affiliate network backed by the ShopStyle brand, which is essentially a massive shopping search engine. Formerly owned by PopSugar, ShopStyle was recently acquired by Ebates.
RewardStyle LTK
LTK, formerly RewardStyle, is an independent affiliate network based in Texas. It was created by a fashion blogger herself so it was developed straight from the source, so to speak. Several years ago, LTK secured $15 million in Series A funding.
User Experience
ShopStyle's website itself is very well-built and user friendly. I can tell a lot of money and many people were involved in creating it because of how sturdy and reliable it is. I know I sound like I'm talking about a house or a building, but trust me, when affiliate programs go down, it's no fun, so reliability is a must!
The search function on ShopStyle Collective is unparalleled. Take a look at a search for "shower curtains" on ShopStyle vs. RewardStyle: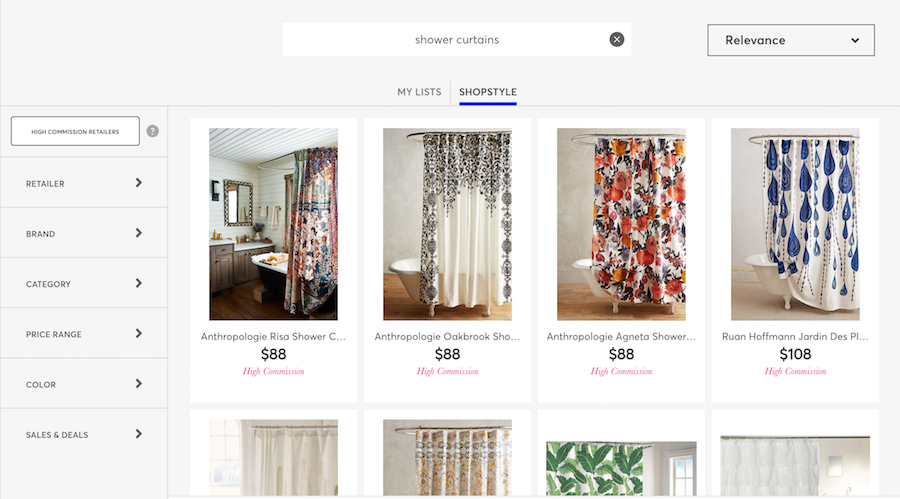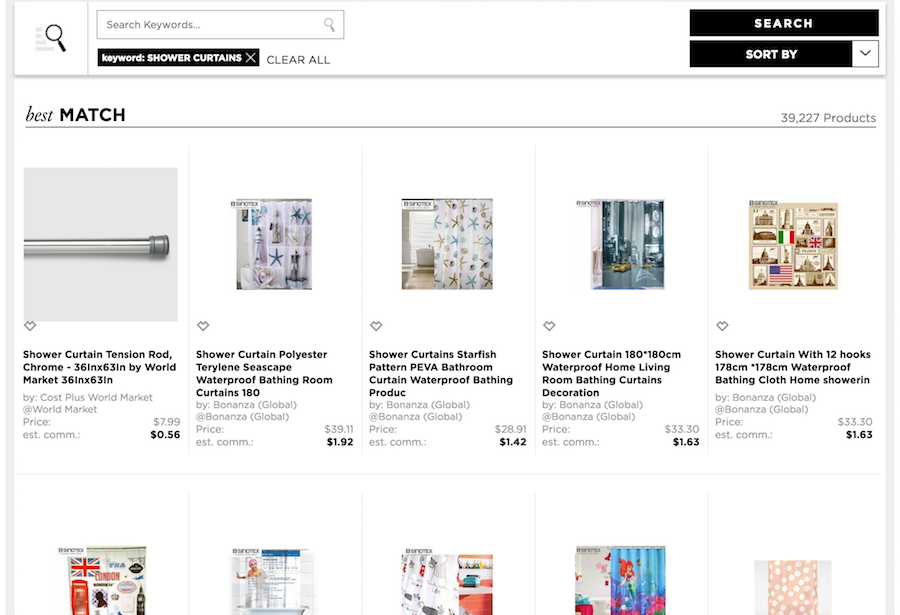 It seems ShopStyle has figured out an algorithm to show the most beautiful products as opposed to simply showing a list of all relevant products that a publisher can link for a commission. This is awesome when you need to find a particular item to include in a blog post really quickly.
Platform Stability
I'd be lying if I said that RewardStyle is a platform without bugs. I think that because RewardStyle is an independent start-up, this is understandable but it can still be frustrating when problems arise. Once I had linked 20 products to a post using their Boutique widget and a few weeks later, I received a comment saying that there were no products to be found. Sure enough, the widget just disappeared completely from the post. I would have never known if the reader didn't tell me. I've noticed this happening with other posts by checking on my own since then so now I simply stay away from using this feature.
Over time, I've noticed that ShopStyle widgets load much faster than RewardStyle. Widgets are essentially used to display multiple products in 4-5 columns. They are called Widgets in ShopStyle, and called "Shop the Post" apps in RewardStyle. After using both, I prefer using ShopStyle widgets because I can load multiple widgets and products on the same page almost instantaneously. When using RewardStyle widgets, it takes several seconds for them to load at times, which means users can't click on the products.
Support
As a start-up, it's so important to maintain strong relationships with users. RewardStyle understands this to a T. As a RewardStyle affiliate, you are introduced to a personal account manager who you can reach out to any time for any questions. Recently I reached out to my rep with 3 questions, and she got back to me within two hours (on a Monday!). The RewardStyle team also holds a yearly conference for its top tier publishers where they invite industry experts to speak, and – from what I've heard – fly in and host their affiliates for free. ShopStyle has a much less personal relationship with its publishers.
Analytics
As far as analytics go, I'd say the two systems have different strengths. I would say ShopStyle gives more useful insights in terms of what type of link readers click (ie. product widget, lookbook, or text link) and which retailers earn the most for me, both of which are absent on RewardStyle. On the flip side, RewardStyle tells you when a reader made a purchase, down to the hour (ie. 08:00-08:59pm), which could be helpful when deciding when to pin affiliate images or publish posts.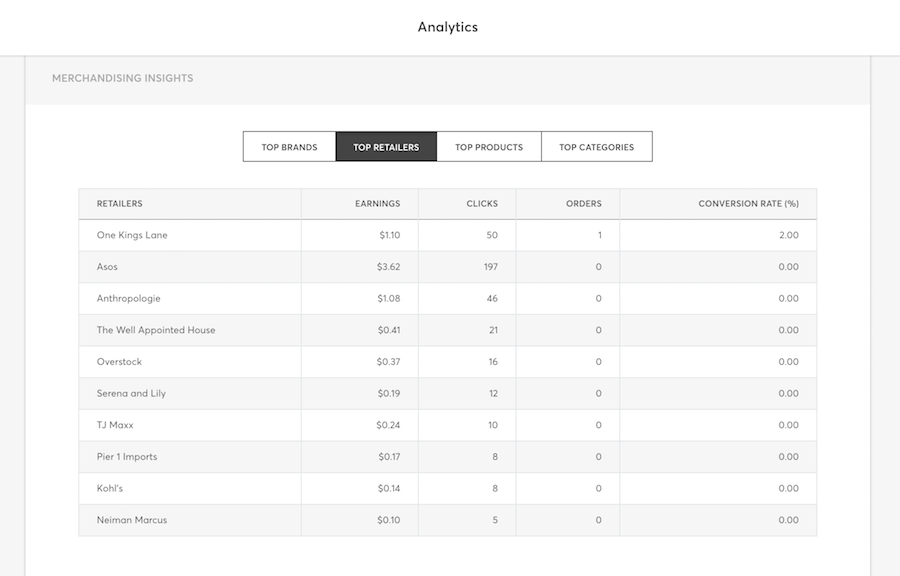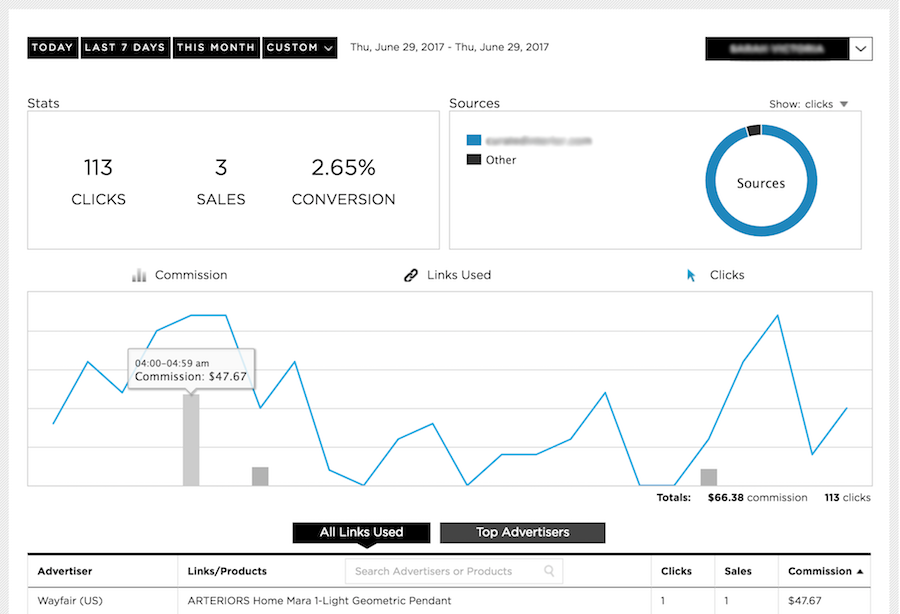 August 2018 Update: After over a year on the platform, I can say that RewardStyle's Analytics have gotten considerably worse. The delay in reporting lasts several days now, which makes their default Analytics page that shows a bar graph of commissions from the last 7 days completely useless. The mobile app is often out of date as well. I am extremely disappointed and surprised that the RewardStyle product reporting has actually gotten worse over time.
Profit & Payments
At the end of the day, the only thing that matters is what goes into your bank account, amiright?
My 2018 Opinion When ShopStyle Payments Were Based on Clicks: Here's where RewardStyle jumps leaps and bounds ahead of ShopStyle. I used ShopStyle before I was accepted to RewardStyle and noticed quite a large jump in income pretty quickly. Take this Riviera Chair from Serena & Lily, I shared on my blog for example. I received a total of 26 cents for two orders made on Serena & Lily during the month of March! Whereas, once I switched to RewardStyle, I made a whopping $212 during the month of May after switching over all my links. Granted this was for 4 sales, as opposed to 2, but you can still see that the difference is way off! Now it wouldn't be entirely fair to judge the profit based on only the clicks to this one product, because the whole idea of ShopStyle is that all the clicks you generate together should add up to a chunk of income, which is true, but this amount still isn't nearly as high as RewardStyle's commission. I think ShopStyle totaled up to maybe $20 for the month.
January 2019 Update: As I mentioned, the process by which you earn money as a ShopStyle affiliate changed. Now that ShopStyle uses the same business model as RewardStyle, we can efficiently compare their commission rates and decide which platform to use.
When it comes to ShopStyle vs. RewardStyle commission rates, I wanted to look at a few advertisers and see how each company stacks up. Here is an idea of what you can expect to earn from sales generated for these top-performing merchants, and which affiliate network I would generate links through when linking to these merchants:
| Merchant | RewardStyle | ShopStyle | Link Through |
| --- | --- | --- | --- |
| Nordstrom | 7.0 – 10% | Up to 10.6% | ShopStyle |
| Bloomingdale's | 8.4 – 12% | Up to 12% | Either |
| Wayfair | 7 – 10% | Up to 7% | RewardStyle |
| West Elm | 7.0 – 10% | Up to 10% | Either |
| Net-a-Porter | 7 – 10% | Up to 14% | ShopStyle |
| Nike | 7 – 10% | Up to 17% | ShopStyle |
| WalMart | 10.5 – 15% | Up to 10.2% | RewardStyle |
| Serena & Lily | 14.7 – 21% | Up to 15% | RewardStyle |
The RewardStyle vs. ShopStyle commission rates aren't so different. Unfortunately, it doesn't look like one clear winner emerges from these affiliate commission rates. You'll have to look at each individual merchant's agreed upon commission rate when deciding which affiliate network to link through.
Here are the advertiser rates for each network if you are a member of both:
No matter how successful your blog is, you still have to wait a very long time to be paid by RewardStyle and ShopStyle. The reason for this is that merchants need to wait for the return period to pass before they will pay affiliates for sales. Needless to say, if your consumer returns a product, you won't get the commission. RewardStyle payments will take at least 2 months to come through or possibly more if you're a newbie, so be patient!
Sponsored Post Opportunities
The biggest plus for RewardStyle/LTK is that they have huge sponsored post opportunities. I have received several four-figure contracts for sponsored posts from different brands that work with RewardStyle.
How does RewardStyle choose influencers for their sponsored posts? Simple, they choose bloggers based on the number of sales they drive on the platform! You don't need to drive sales to a particular retailer, you just need to have an audience that likes buying things from your content!
For example, if you drive lots of sales to Nordstrom, a fashion brand like Banana Republic might offer you a sponsored post since it's clear your audience likes fashion shopping.
If you want to do more sponsored posts through RewardStyle, then drive up your sales any way you can!
Takeaways
ShopStyle used to provide a better overall user experience for publishers, but RewardStyle offers much better payouts, which is the real reason why we use these programs in the first place. However, both platforms have greatly improved since 2018, and they are really neck and neck when it comes to experience and payouts.
When deciding which network is the best for you, consider your audience. Do you run a product-focused blog that reaches consumers when they are in a shopping frame of mind? Or do you provide a more passively enjoyable blog? The former would be better suited to RewardStyle, while the latter would likely find more success on ShopStyle.
RewardStyle used to be great for readers who intend to make purchases, while ShopStyle was better for click-happy readers. Now it's really a toss-up!
If you're not sure which platform you're suited for, then test them both out!
In summary, now that both networks are operating on a CPA model, your blog needs to be pushing for the sale of products in order to have success on these platforms. Because of the fast performance, back-end stability, and similar commission rates, I primarily recommend ShopStyle to any beauty, home and fashion bloggers looking to make money with affiliate marketing.
Truthfully, the best option is to join both networks and compare commission rates for the merchants you link to most!