Because RewardStyle is a relatively new affiliate network and fairly exclusive, there isn't a ton of in-depth information about this amazing affiliate network around the web. I had a ton of questions when I first started using the program, so I thought I'd share my personal experience using RewardStyle in the hopes of helping other bloggers navigate this profitable platform.
I run an interior design and home decor blog which I started in 2014.
If you don't have a blog already, then please read how I started my blog.
I didn't work on my blog continuously though, so the first time I applied to RewardStyle I was actually denied! I gave up for a while, and then started to work on my blog again this past October 2016, after letting it go stale for the previous 18 months or so.
Getting Accepted to RewardStyle
I sent in an application to RewardStyle at the beginning of February this year (2017). A few days later on February 10, I received an email that my application had been approved!
I immediately got to work on updating my links from ShopStyle over to RewardStyle and adding widgets where I could. I started to familiarize myself with the platform and the various tools it offers. It took me a couple weeks to update all my links so they passed through RewardStyle, as well as add product widgets to posts that didn't have them before.
Making Sales
My first sale came through on March 9. I'll never forget it because I was standing on the sidewalk in New Orleans on a super hot day when I got the email from RewardStyle:
Congrats – you're making sales!

Congratulations, you've made a sale. We will send you payment via Paypal once you've closed over $100 USD in commissions.

Best,
The rewardStyle Team
A Wayfair sale I had generated came out to a $23.45 commission to me. It was music to my ears (eyes?), that's all I can say! And how nice of them is it to notify you by email of your first sale? Brilliant.
I didn't make another sale for another two weeks after the initial sale, but it didn't matter – I was hooked! After those two weeks passed, sales started to roll in pretty regularly every few days.
Waiting for Sales to Close
Sadly, it wasn't only up from there though. On April 19, I experienced my first "Return," which meant one of my readers returned a product to the merchant. Luckily it was only a measly $4, so I wasn't too bummed about it. What's nice is that you can see which product the Return came from, so I matched it up to a sale that was made 9 days prior for $40. This likely means the consumer purchased several items and returned 1. Not too bad!
Sales have continued to roll in the past few months, but I'm still owed far more money than I've been paid by RewardStyle, which is typical in the early stages of a blog. Most affiliate programs have a standard waiting period before commissions are paid out. This typically encompasses the time the merchant allows consumers to return the product (varies by retailer), in addition to the time it takes the merchant to pay RewardStyle.
When I emailed RewardStyle about this, my account manager responded:
Happy to clarify:

It takes between 60-120 days for sales to close, depending on the retailer!
In my experience with Wayfair, that first sale didn't move into the "Closed" phase until Thursday May 19, 71 days from the purchase date, or just over 2 months later. The second and third sales (from March 25 and 27 respectively) "Closed" on Thursday June 15, or 82 days from the earlier sale. Surprisingly, just two days later on June 17, the next sale from April 3 was marked "Closed" 75 days later.
RewardStyle Commission Rates
RewardStyle doesn't publicly share their commission rates, but I can say that they are extremely competitive. Depending on the retailer, you could receive anywhere from 7-20% of the sale commission for the most popular retailers. Some brands offer more commission, but they are generally less popular and thus, you'll have a harder time bringing them sales. I personally have found the most success linking to high-volume retailers through the RewardStyle platform.
Receiving RewardStyle Payments
RewardStyle only makes payments via Paypal once you reach the $100 threshold. Be sure to sign up for an account because this is the only payment processor they allow you to use. At that point, payments are made on Friday every two weeks, and a $1 charge is incurred for each payout.
On Friday June 30, I finally received my first RewardStyle payment! Paypal sent me the following email: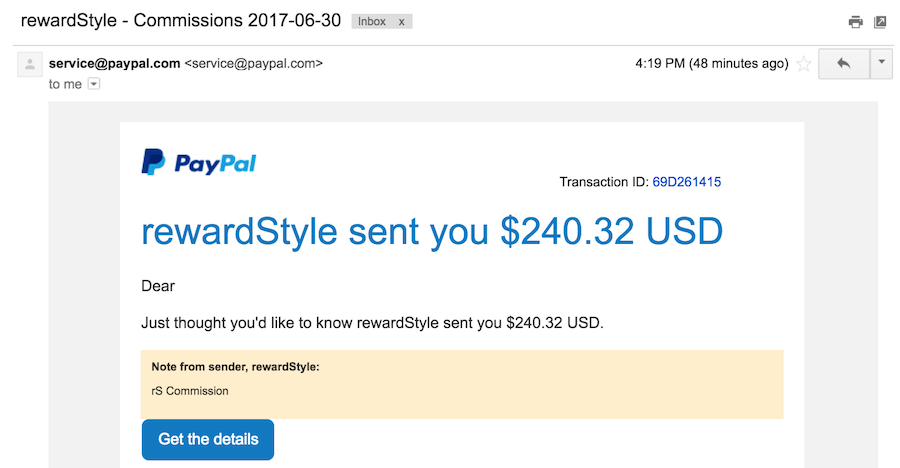 Between the day I was accepted to RewardStyle and the day I got my first payment, 140 days had passed, or 4 months and 20 days. The wait was totally worth it though!
So there you have it. That's my experience earning money with RewardStyle. I hope this inspires you to apply to their network!
Feel free to leave a comment below with any questions!
9/9/2017 Update: My first West Elm sale from the spring has finally been marked "Closed." It was made on April 13, and marked closed on September 9, 150 days later. Obviously waiting 5 months to be paid is a huge let down, but there isn't much I can do. My commissions from West Elm have been quite large happily so I will continue linking to them. I'm still waiting on Serena & Lily sales to close as well so I'll be sure to write an update when they do.
9/11/2017 Update: My Serena & Lily sale from May 4 has finally closed, just over 4 months later.