February 2019 Income Report
With February over, it's time to share my monthly blog income report! I try to share these as quickly as possible, but some of my affiliate income reporting can be delayed by about 5 days, so I decided to wait and make sure all my sales had been posted before sharing my blog income this month!
If you are new here, then please head over to my first income report where you can learn how I started and grew my blog income from zero to more than $1,000 per month in extra income! You can also read my guide to starting a blog to learn the ins and outs of setting up a new blog for profit.
This past month, I accomplished quite a lot! Here's an overview of some of the projects I worked on during February:
Optimizing the Footer of my Blogs
I never really paid much attention to the Footer of my blogs but last month, I started adding a couple links to the main categories of the site within the footer, as well as some key articles beneath each category. You can see on this blog what I mean by scrolling down to the footer!
This is good for a few reasons:
It shows Google that these are important topics and articles on your site.
2. It gives readers more chance to click through to another page on your site when they reach the bottom of an article.
This is also part of my larger Pillar Content project, which I will share more details on as soon as I can!
Tracking Mailchimp Sign-up Form Locations
I also installed code that tracks the signup location for Mailchimp forms on one of my blogs. Before I had 5 or so different sign-up forms that all funneled my new email subscribers into one list. I had no way of telling which forms performed best, and which performed worst. So I found a way to track each sign-up form by location to see which spots get me the most sign-ups! In Mailerlite, this is pretty easy, but for some reason, Mailchimp requires you to do a lot more work to track and see this information. I'm just glad it's done and out of the way now!
Schedule Pins for Free
In January, I discontinued my Tailwind subscription for this blog. Since I don't publish on here very often and the income stemming from this particular blog is quite low, I decided it just wasn't worth the cost anymore. Don't get me wrong – I still love Tailwind to the moon and back. I use it on my other 2 image-heavy blogs and it's worth every penny. For this text-focused blog, the situation is just different.
So since then, I've been looking for ways to schedule pins for free! Luckily I found multiple ways to do what I want, and I shared them all with you guys a few weeks ago in this post! I hope you found those pin scheduling tips useful!
I Quit My Job
Last but not least, I wanted to formally announce to you guys that I quit my job! I haven't decided whether or not to share the full reasons why (it has more to do with external factors than just blogging, though my blog income certainly made the decision easier!), but if that's something that would be interesting to you guys, then please let me know in the comments!
Income
Ok let's jump into my February blog income!
| Source | Income |
| --- | --- |
| AdSense | $75.69 |
| Mediavine | $438.78 |
| RewardStyle | $622.07 |
| ShopStyle | $208.96 |
| Amazon | $49.13 |
| Skimlinks | $53.87 |
| Shareasale | $0.48 |
| Viglink | $6.44 |
| Total | $1,455.42 |
Expenses
No major expenses this month as most are paid upfront. My blogging expenses to date are:
Aside from those blogging expenses, I previously owned a computer and paid for wifi that I use to run my blog! I also use a professional Nikon camera to shoot some photos, but you can definitely get by with a smartphone camera at the beginning!
Traffic
I totally slacked in February on the home decor blog and traffic was down by about 20% compared to the previous month!
Sometimes I think I'm totally nuts for running multiple blogs and honestly, I probably wouldn't do it this way again if I could start over, but that's an article for another day!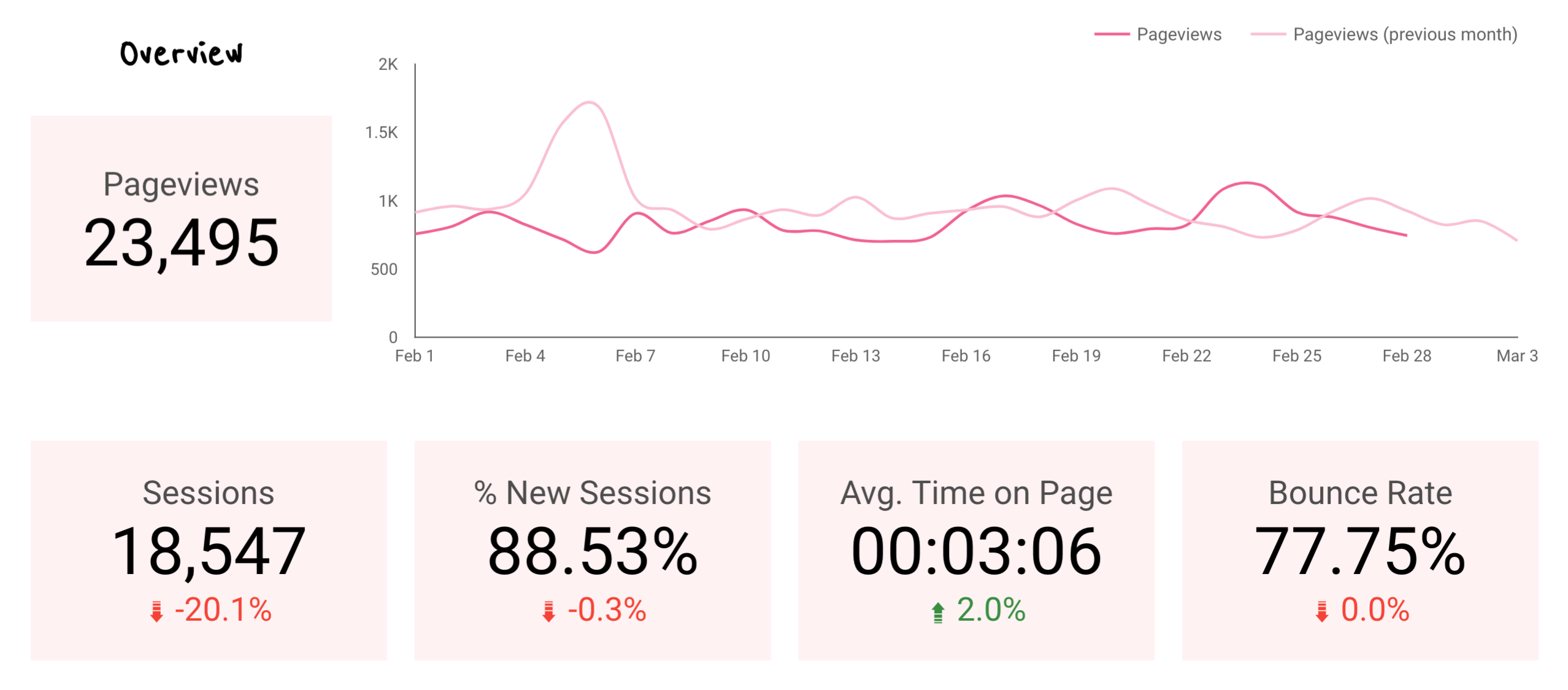 Thankfully, the effort I put into my travel blog is starting to pay off and traffic was up 20% compared to the previous month!
It's still moving along much slower than I would have anticipated (my goal was to reach 25K sessions before the end of 2018 so I could apply to Mediavine with this blog, BUT I still haven't reached that goal. Much of my travel content is summer-focused and so my traffic understandably nosedived in winter.
I will keep you guys updated on the progress here.
Plans for Next Month
March is already almost over, so I'll be posting another income report for you guys soon enough. I don't have any major plans for this month aside from keeping an eye on my travel blog traffic.
One of the hardest things for me to manage with this blogging endeavor is prioritizing short-term gains versus long-term passive income.
For example, I know publishing articles on the home decor blog with affiliate links will result in short-term income, but I also want the passive income that comes from advertising which is why I have been pushing so hard to get the travel blog into the 25K session range for Mediavine ads.
That's my biggest struggle right now – finding the balance between those income streams.
If you guys have any advice for me, please, don't hesitate to share! xx