LTK Affiliate Program Review: How to Join and Make Money
The LTK (formerly known as LIKEtoKNOW.it) affiliate program is a platform that allows influencers, bloggers, and content creators to monetize their content by earning a commission on product sales they help generate. LTK is a part of the rewardStyle network, which is an invitation-only, global influencer marketing platform founded in 2011 by Amber Venz Box and Baxter Box in Dallas, Texas.
To summarize the LTK affiliate program: When influencers join the LTK affiliate program, they can create shoppable links for products featured in their content, such as blog posts, Instagram photos, or YouTube videos. When their followers click on these links and make a purchase, the influencer earns a commission on the sale.
I earn a full-time income from the LTK affiliate program so I know the program inside and out. If you're curious about this platform, I'll dive into the details of how to join this affiliate program and make money from it below.
What is LTK?
What is LTK? LTK stands for "like to know," a reference to the app's beginnings as an app that allowed users to like Instagram posts in order to find out the products included in them.
Is LTK an affiliate program? Yes, LTK is an affiliate program for creators as well as a shopping app for the public.
LTK offers an easy-to-navigate platform that makes it simple for influencers to create shoppable links, track their earnings, and access analytics on their performance. LTK partners with thousands of retailers, allowing influencers to promote products from a diverse range of brands and categories, including fashion, beauty, home, and more.
The LTK shopping app enables the public to shop directly from the app, streamlining the shopping experience for followers and increasing the likelihood of a successful referral. Creators and influencers can customize their LTK profile and content to align with their personal brand and aesthetic.
As a bonus, LTK provides opportunities for high-performing creators and influencers to collaborate with brands on sponsored content and campaigns.
How to Join LTK
How do I become an LTK affiliate? To join the LTK affiliate program, influencers need to receive an invitation or apply for membership through the LTK website. If accepted, they gain access to the tools and resources necessary to start earning commissions on their content.
Is it hard to be approved for LTK? LTK is somewhat exclusive so it's somewhat difficult to be accepted. You need to show the LTK team that you have high-quality, original content as well as an eager and engaged audience.
How many followers do I need to start LTK? You can join LTK with as few as 10,000 followers. The amount of followers you have is less important than how much your audience is engaged with your content.
Brands on LTK
What are the LTK affiliate program brands? There are hundreds of well-known brands on LTK, many of which you'll recognize! LTK also works with smaller, start-up brands but the companies that perform best are large, household names.
Here is an idea of the brands you can earn commission from on LTK.
Fashion Brands on LTK
Nordstrom
Macy's
Bloomingdales
Beauty Brands on LTK
Home Decor & Furniture Brands on LTK
Walmart
Target
Wayfair
Pottery Barn
West Elm
Williams Sonoma
Serena & Lily
Can I link to Amazon on LTK? Yes, Amazon is part of the LTK affiliate program, and you can link to Amazon via your LTK app or using the Link Ninja extension on your desktop.
LTK Commission Rates
What are LTK's commission rates? The rates depend on the retailer's agreement with LTK and unfortunately, LTK isn't transparent about their contracts at all. 
LTK gives its influencers a range of commissions that the influencer can receive: low, medium, and high.
Low commission retailers pay less than 7%. Medium commission retailers pay out between 7 and 11%. High commission retailers pay more than 11%, but LTK doesn't tell its influencers how much higher the commission can go, which is a shame.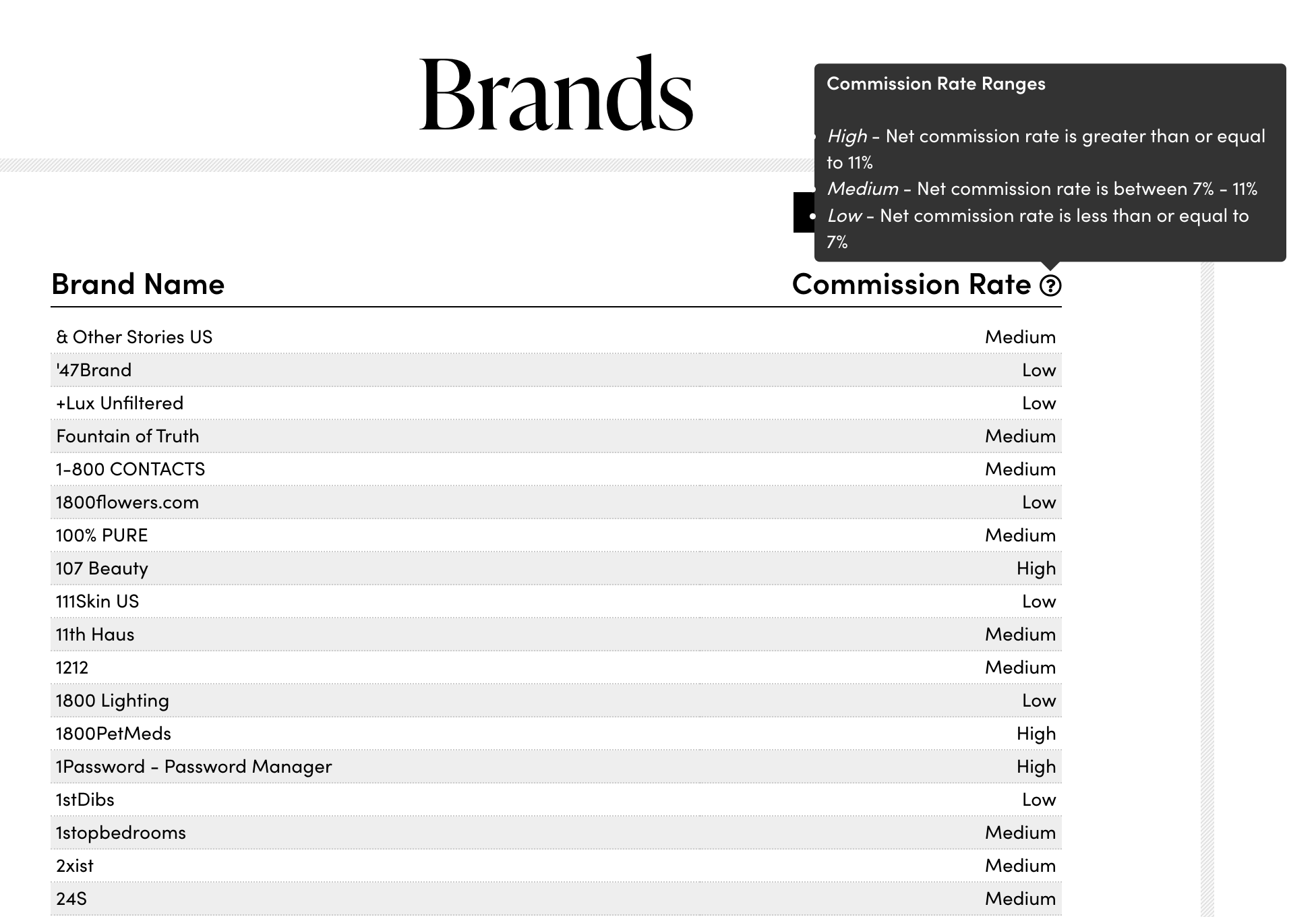 LTK Payout
How does LTK pay you? Once you earn more than $100 in closed commissions, LTK makes payments to creators via PayPal.
Here are the steps to receiving an LTK Commission Payout:
Earn a commission from a participating retailer
Wait the 90-180 days it takes for the commission to "close," meaning the customer hasn't returned the item and LTK has received your commission payment from the store
Check your PayPal account for your payment. LTK makes payments to its creators every other Friday year-round.
The Bottom Line
LTK is a fantastic platform for earning a living as a blogger. If you have a passion for fashion, beauty, and home decor, it's a great way to make money as a content creator. The platform skews heavily female, though men are, of course, allowed to join.
How much money can you make on LTK? Top influencers can earn well over $10,000 per month making LTK one of the most profitable fashion affiliate programs.
I highly recommend the LTK affiliate program if you are a female content creator or influencer!