January 2019 Income Report
January flew by faster than I ever could have imagined. I began the year by coming up with a new productivity plan, which I'm excited to share with you guys in the coming months. I think it worked out quite well and I feel January was one of my most productive months in a long time! The efforts paid off. Despite my so-so blog traffic in January, I had my best blog income month since May!
New around here? The income reported in this post is mainly from a home decor blog I run. You can read the full backstory in my first income report. I've since launched a travel blog and small fashion blog which account for less than 10% of the income reported below. My income is reported as it is generated, not paid out.
I spent most of January building up my collection of pillar posts on my home decor blog.
The idea is that many internal links will be pointing to these core posts.
Most of them are over 1,000 words long so they are truly cornerstone content.
I published a total of 34 blog posts across all my blogs during the month of January.
I accomplished quite a bit in January aside from publishing posts. Here are a few blog updates from the last month!
Amazon OneLink
I finally got around to signing up for Amazon OneLink – an improvement of the Amazon Affiliate Program which converts your Amazon links to the local country of your visitors. Right now I only have affiliate links for US-based Amazon shoppers. Now that I have Amazon OneLink, if someone in the UK, for example, comes to my site, they will be directed to their local Amazon website and I will receive credit for any purchases they make.
This had been on my to-do list for a while, so I'm glad I finally got around to setting it up. I signed up for all the countries which were available to me: United Kingdom, Canada, Italy, France, Spain, Germany, and Japan. So far, I have only earned extra commission in Germany, but I will keep a close eye to see what other countries I can generate additional income from using Amazon.
Affiliate Program Changes
In January, I learned an important lesson when it comes to affiliate program management. By chance, I happened to click on one of my RewardStyle affiliate links in a post about sofas, where I discovered that the link no longer worked, and took me to a dead end page. It turned out that One Kings Lane had been removed from the RewardStyle network, and I had no idea! I had to update all of the links in my posts that were going to One Kings Lane and change them to pass through Skimlinks. I was really disappointed that RewardStyle did not proactively notify me of this change. I'm pretty sure I generated commission from One Kings Lane in December, so I'm guessing that the change has been very recent.
In any case, the important lesson here is to make sure that all your links still work in your top performing posts!
Another thing to keep an eye out for is items you linked to that are no longer manufactured, or sold out.
A blog is truly a living thing, and as much as I wish we could just write posts and forget about them, the fact is that we need to constantly maintain them if we want to keep our income!
Secure Using HTTPS
Another long overdue item on my checklist was converting my first website (the home decor blog) to HTTPS. I had tried to convert my site to HTTPS back when Google started showing warnings to readers about visiting "unsecure" sites, but I ran into an issue due to a previous hosting provider I used (GoDaddy). I kept getting the error message "Sorry, but you have to change your domain name here." with a link that went nowhere when I tried to change the WordPress Address (URL) and Site Address (URL) on the "General Settings" page of my website. After some trial and error, I ended up removing a GoDaddy folder in the wp-content folder of my website which solved the problem!
Email Marketing Updates
I sadly discovered in January that you can no longer create a free custom email address using Zoho! So I've been experimenting with other companies that allow you to create custom domain email addresses and forward the messages to another email inbox. You can also create or respond to emails using your custom email address. It seems to be a good workaround for the time being!
I also learned that you cannot use Custom Fonts (not even Google ones!) in emails. I have to say I was really shocked upon learning this. I'm mostly surprised that email clients have not updated their systems to allow for custom fonts the way that web browsers do.
Anytime you see an email with a custom font beyond Arial or Times New Roman, there's a good chance that it is actually an image that the brand created and embedded in their email!
Ok, enough news. Let's jump into my January 2019 blog income!
Income
| Source | Income |
| --- | --- |
| AdSense | $20.83 |
| Mediavine | $441.02 |
| RewardStyle | $1,089.47 |
| ShopStyle | $20.11 |
| Amazon | $57.44 |
| Skimlinks | $84.77 |
| Shareasale | $.68 |
| Viglink | $2.41 |
| Total | $1,716.73 |
Expenses
No major expenses this month, except for a few Tailwind renewals. Other than that, I prepaid for my hosting plan late last year, and renewed my domains through Namecheap last year too!
Traffic
Traffic was up to 29,625 from 28,014 last month, December 2018. 60% of my traffic came from referrals, of which the majority has come from Pinterest! You can read about my Pinterest traffic strategies on this blog. 30% of my traffic came from Google, which I think is a healthy amount.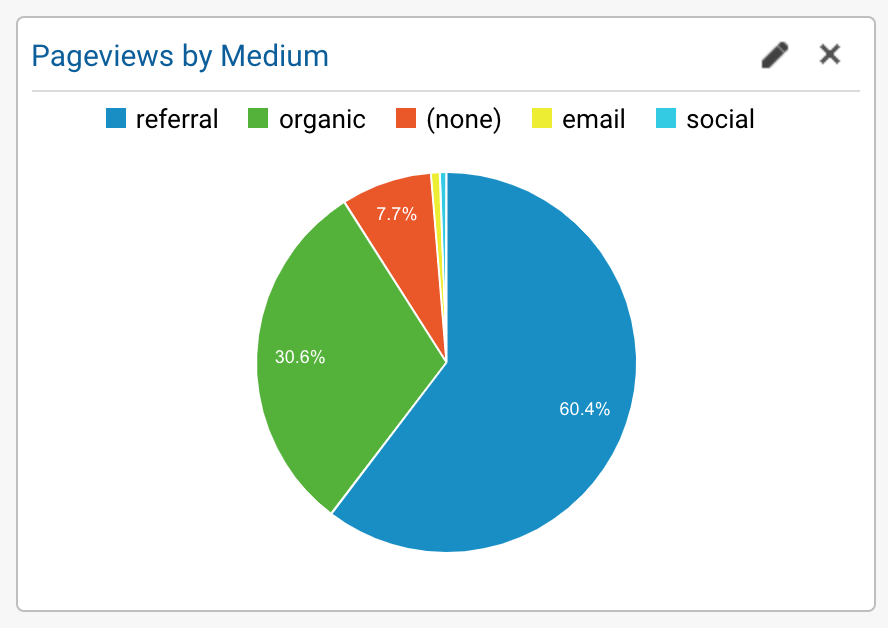 Plans for Next Month
I don't have any major plans for February, but I'd like to keep up the momentum I've built during January. Chipping away at the content goals I have for my blogs will likely take up the majority of my time.
I hope this income report was useful to you! I'd love to hear about your blog income in January. Feel free to leave me a comment below! 🙂