Want to know how to structure a blog post for SEO and your readers at the same time?
Starting a blog is an endeavor that requires you to master multiple skill sets. While these tasks are usually divided up between several people in a traditional company, wearing many hats is something you just have to get used to as a blogger!
I'm guessing if you're here then writing isn't your strong suit. Maybe you prefer blog photography or maybe Pinterest promotion is your thing. Maybe I'm totally wrong and you love writing! You just want to learn how to write blog posts that stand out. In all cases, I'm going to share ten tips for writing blog posts that will wow your audience and make Google happy at the same time.
Craft the Perfect Blog Post Every Time
As mentioned in the title, this post is going to focus on two objectives: writing blog content your readers will love and structuring a post properly so it can get the best possible ranking in Google search.
Both points are equally important. We want readers to have a stellar experience reading our blog content and we want Google to easily recognize its value in the search algorithm.
How to Structure a Blog Post
When I first started blogging, I didn't really pay attention to the structure of my blog posts. I just wrote the content and then I created headings where I thought the post could use a break. I didn't think much about keywords and I certainly didn't consider SEO best practices for writing blog posts.
At the time, I was so laser focused on Pinterest that I didn't stop to consider Google. Looking back, I wish I had taken the time to learn how to structure my blog posts properly so I wouldn't have to go back and edit them all like I do now!
Headers
If I had taken the time to research proper blog post structure, I would have learned that you need to take advantage of headers to break up content on your blog.
Now, I was using headers – just not in the right way. My paragraphs were broken up with headers, but I used H4 because visually, the H4 appeared smaller and read better on my laptop.
This is a big no-no.
You never want to skip-level when it comes to your headers.
In case you didn't know, the title of your blog post needs to be formatted using the H1 header. In 99% of cases, your blog will already have this coded into your theme. In case you're unsure, you can check this yourself by visiting any blog post on your website, right clicking and selecting "View Page Source". Do a Command-F search for "H1" and make sure your blog post title is wrapped in the H1 header.
If it is, that's great!
H1 headers should only appear once per blog post, and once per page of your site.
Opening
Once you've verified the H1 header for your title, the opening paragraph should appear next, directly after your blog post title. The opening paragraph should be around 3-5 sentences long. Don't overwhelm your reader with a block of text from the get-go.
Include Your Keyword in the First Content Header
After your first paragraph, it's time to use your first header within your content. The first header on your blog post should be an H2 header and include the keyword you are targeting with the blog post. It does not have to be a full sentence. Your first header should be direct and to the point. It could be something as simply as "Make More Money".
If you need to break down content within your H2 section, then you should use H3 headers. Once that section is complete, you can add your second H2 heading and repeat the process. All headers should be broken up with at least a few sentences of text.
Personally, I don't use more than two levels of headers (H2 and H3). Beyond that, I typically use bullet points if I need to convey certain things within an H3 header section. The decision is entirely up to you, and you have a few more headings to play around with (H4, H5 and H6) should you need them!
Congrats! This combination of headings and paragraphs will form the basic structure of your blog post!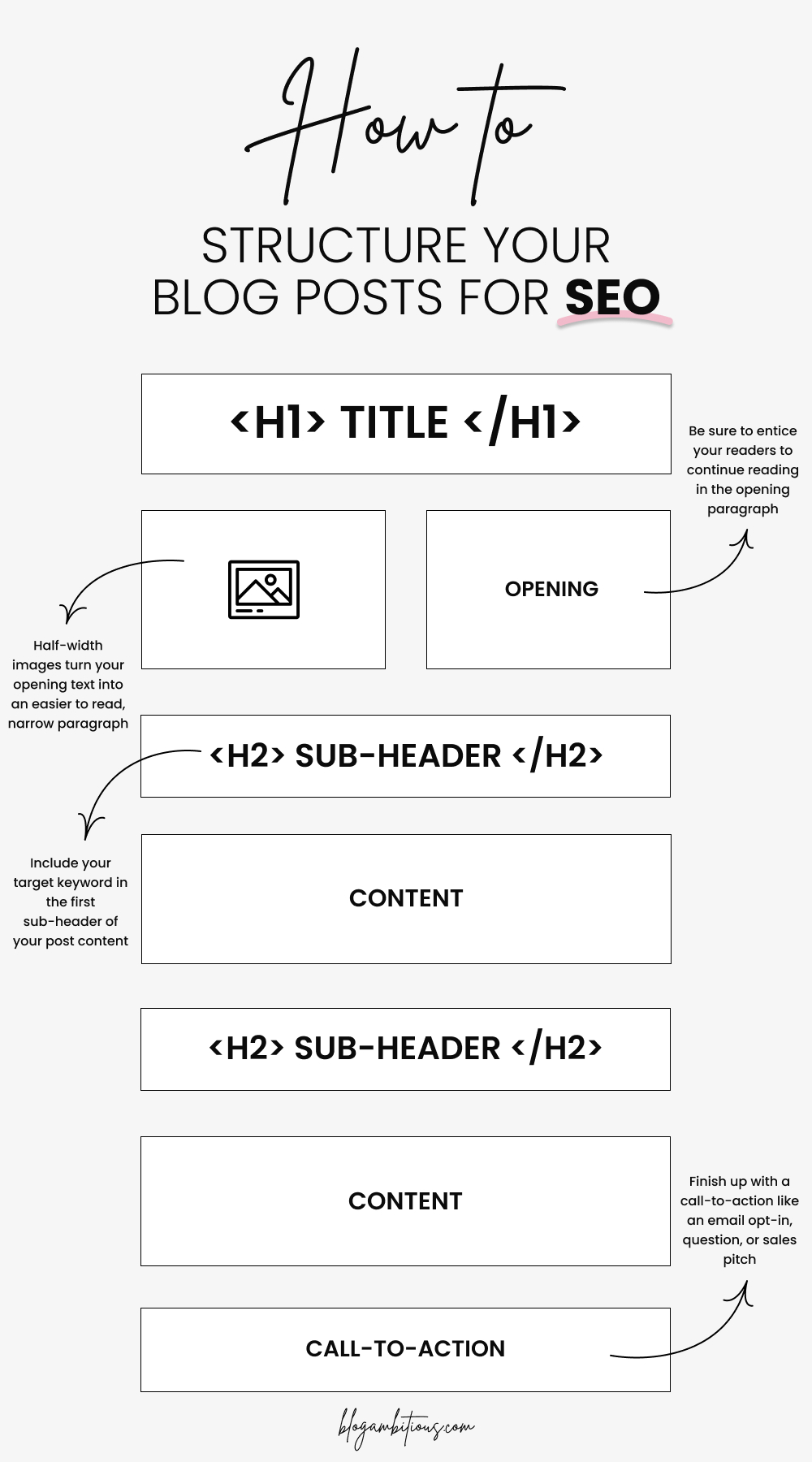 How to Write Amazing Blog Content
Now that you know how to structure a blog post, it's time to get to writing!
Know Your Audience
The first step to writing blog content is to know your audience. Having a specific blog niche helps, but you really want to dig into who your ideal blog reader is. Many people start blogs and write to a reader that is similar to them. That's a great start, but try to dig even further and create several theoretical personas for the different types of readers that would find your blog relevant.
Ask yourself questions like: Who is reading my blog? What stage of their life are they in? How much money do they earn? What are their daily challenges?
Defining your audience will help you write the perfect blog post for that person. Many people fall into the trap of writing a blog post that could appeal to anyone, but as the saying goes: Trying to please everyone will end up pleasing no one.
Here's an example: Let's saying you're writing a post about saving money. You might call it "The Little-Known Way to Save Boatloads of Cash" and say to yourself, who doesn't want to save money? That may be true and this post may attract readers, but those readers will certainly not be as engaged as a post like "The Little-Known Way that Fashionistas Can Save Tons of Money in NYC."
People reading the second post are much more likely to take action on what you have to say whether it's buying a product or signing up to your email list.
Write a Commanding Title
A blog post is only as good as its title. If you can't write an attention-commanding title, then there's a good chance no one will click through to the blog post itself. Your title should be clear, catchy and perhaps display a sense of urgency. Listicles, or articles written in the form of a list, are extremely popular.
10 Ways to Do X
12 Best Y
20 Ideas for Z
While you're drafting your blog post, it's totally fine to use a "working title" that may change. You can always finalize the title later on once your blog post content has been written.
In fact, the majority of the time I am drafting my blog posts, the temporary title I use rarely sticks. I typically draft my posts in a Google Doc with several possible titles listed at the top of the draft. I often decide upon the final title on the day of publishing!
Outline Your Post Before Writing
Outline your posts before writing them so you know what topics to write about and when. Often times, when I'm faced with a massive subject (such as this one!), I get overwhelmed just thinking about where to begin, what points I need to make, and in what order the information should be presented.
Since I started outlining my blog posts before writing them, my blog content creation process has gotten immensely easier! I simply create my headers in a Google Docs document and begin filling in the post content in between each header. If I know I need to add an image or an opt-in form, I write something like [image] on a separate line to remind myself to include that element before publishing.
Aim for Long Form Content
After outlining your blog post, it's time to start writing.
Feel free to add new sections as you see fit. Aim for producing high-quality, long-form content. While it's true that Google loves articles that are 2,000+ words, don't add irrelevant content to your blog post just to reach a certain word count.
Aim to produce detailed content that addresses all aspects of the topic on which you are writing without putting in fluff.
If you want to check your grammar as you write, then install the free tool Grammarly to your browser to correct misspellings and incorrect grammar as you type!
Solve a Problem with Actionable Advice
The best blog posts solve an important problem for the reader. Ensuring your blog post provides clear and actionable steps for how the reader can solve that problem is the key to the perfect blog post that will keep your readers coming back for more!
Break Up Long Paragraphs
In the age of YouTube channels and Instagram Reels, it's hard to keep a user's attention. When faced with a big block of text, readers will typically read the first sentence, and skim the rest.
In order to keep your readers' attention, it's better to write in small, short paragraphs of no more than 3 sentences each.
Some bloggers even publish just one sentence per paragraph!
Link Within When Appropriate
Internal linking is a powerful way to keep your readers engaged and improve your SEO. If you mention a word that you have another post about, then link to that post within your blog post.
Don't go out of your way to link to all your other blog posts. Just do it when it makes sense! For example, in the paragraph above, when I have a blog post on improving SEO, I will go ahead and link the words "improve your SEO" to that post.
Internal linking shows Google that this topic and post is important to your site. It also helps your readers learn more about the points you mention. Lastly, it helps reduce your blog's bounce rate!
Include a Call-to-Action
All blog posts should include a call to action. If a reader made it to the body of your blog post, it means they're interested in what you have to say and you should take advantage of that interest! Some bloggers include a CTA half way through their content, and others include it at the end.
Here are a few CTAs you could use in your blog posts:
Post a question to your readers and ask them to leave a comment with their thoughts
Ask them to share this post with your friends
Give them a freebie for opting in to your mailing list
Send them to your shop to buy something related to your post
Each of these ideas is a great way to engage your reader while you have their attention.
---
Writing blog content is tough but with practice it gets easier! All of the points mentioned will become second nature to you over time, but for now, I hope this post has helped you become a better blogger. If you found this post useful, then please don't hesitate to share it using the buttons below!